May 9th - Breakfast Meeting with CISAL - Spark Affiliated Event
Description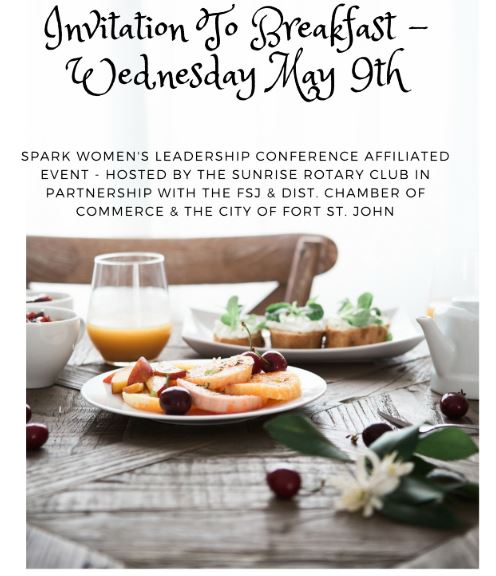 Join Keynote Speaker: Paula Lopez Vendemiati (CISAL Manager, Colombia) to learn about the fascinating CISAL program and how the community of Fort St. John is involved.
From May 6 - May 13 women from Peru and Columbia will tour local resource extraction facilities and visit non-profit organizations. They will also meet with local First Nation, business, and community leaders to discuss inclusivity, Women Empowerment and Gender Equality.
Fort St. John participated in a Federation of Canadian Municipalities (FCM) program to share its expertise and leadership in resource economy management, economic development and gender equality with local government officials in Peru.
The relationship helps build more sustainable and inclusive communities in resource-based regions in Columbia and Peru through partnerships and learning opportunities from their Canadian counterparts.
The Sustainable and Inclusive Communities in Latin America (Communidades Inclusivas y Sostenibles en América Latina) (CISAL) is a five-year program of FCM. It involves a number of municipalities from B.C. and across Canada that have experience successfully diversifying their local communities from single-employer and/or resource-based economies. The long-term outcome is that vulnerable groups within communities in South America impacted by the mining sector enjoy increased social benefits and sustainable, and inclusive economic opportunities by learning from Canadian municipalities that faced similar challenges.
In 2017 Mayor Lori Ackerman signed an agreement with the mayors of Chumbivilcas province in the Cusco region of Peru to work in the strengthening of the planning of local economic development and the inclusion of women in municipal development processes.
Mayor Ackerman, senior city staff, and local economic development officials traveled to the Cusco region to assist local governments with sustainable economic development planning, government transparency and accountability in mining areas, and shared best practices in effective local government operation.
The travel was funded by FCM through grants provided by Global Affairs Canada.



FAQs
Where can I contact the organizer with any questions?
Please call the Fort St. John & District Chamber of Commerce at 250-785-6037 or email info@fsjchamber.com with your questions. Megan and Lilia would be pleased to help.
Is my registration/ticket transferrable?
Yes your ticket is transferrable but it must be for the same event. Cannot transfer registration or hold over for a future event.
Can I update my registration information?
Yes you can update your registration directly or by contacting the event organizer.
Do I have to bring my printed ticket to the event?
Please bring your printed ticket to the event. The Chamber will have a backup registration tracking sheet at reception in case you arrive without your ticket.
What is the refund policy?
Our seat count is given to the hotel on the Friday prior to our Speaker Luncheon date. Therefore, we ask that refund requests are submitted in writing to info@fsjchamber.com on or before 10:30 am that Friday. Thank you for your understanding.