May 5: THE TREE OF LIFE: AN EXPLORATION OF THE ARCHETYPE

Saturday, May 5, 2012 from 10:30 AM to 4:00 PM (EDT)
Event Details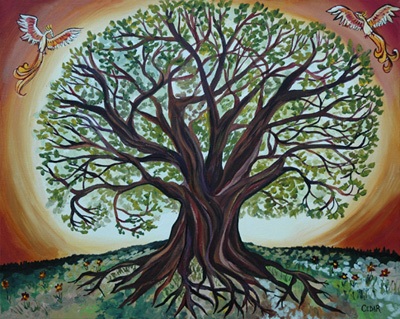 May 5, 2012
Saturday 11:00 am–4:00 pm; Sign in 10:30 am
Brunch, Movie and Discussion
Riverside Hotel, Ft. Lauderdale
Admission: $60; Student $45 (Add $9 for 3 CEUs)
THE TREE OF LIFE: AN EXPLORATION OF THE ARCHETYPE
Patrick Parham, M.A., and Brenda Astor, RN, DCN
CJSSF Board Members
"Where were you when I laid the foundations of the earth…While the morning stars sang together and all the sons of God shouted for joy?" —The Book of Job
As a symbol, the Tree of Life, with its many branches, can represent good and evil as well as the interconnectedness of all of life on the planet. As a film, The Tree of Life depicts the history of the universe and life as we know it. Through beautiful imagery and classical music and starring Brad Pitt, Sean Penn and Jessica Chastain, it tells the story of growing up in a smallTexas town in the 1950's. The young protagonist has an internal dialogue asking existential questions of God. The film's themes are about archetypal love, loss and forgiveness, about relationships between fathers and sons, and about a mother's love.
The producer, Terrence Malick, is an enigma. A Harvard-educated, Oxford Rhodes scholar who taught Philosophy at M.I.T., he has only produced six films over four decades as a filmmaker. The latest, The Tree of Life, won the "Palm d' Or " atCannes and has received three Academy Awards nominations including Best Picture and Best Director. One critic said, "A wonderment of life's experience", another "Personal impressionistic work" and another, "Essential viewing for serious moviegoers."  Since this is not a movie in the traditional sense, we want this to be very experiential. Come and see what wells up in you. After the screening we will break into small groups for sharing. Brenda and Patrick will have a dialogue about their felt responses, and then offer time for sharing together. Please join us for this exceptional afternoon.
Learning Objectives: Following the completion of this program, participants will be able to:
Deepen their understanding of the power of Jung's emphasis on intrapsychic dialogue;
Demonstrate familiarity with the complexities of archetypal energies confronted on the path towards adulthood and individuation, including love, loss, forgiveness, and parental-child relationships; and
Appreciate the relation between maturity and the awareness of the inter-connectedness of paradoxical and archetypal life experiences.
Patrick Parham, M.A., is an instructor at St. Thomas University's training spiritual directors program and is the Treasurer of the Jung Center's Board.
Brenda Astor, R.N., DCN, is the founder of Wise Woman Associates and Healing Arts Associates, a consulting practice for creating Integrative Healthcare programs and providing individual consultations to soothe stress and create effective coping strategies. She serves as Chair of CJSSF Board of Directors and has been a Board Member for many years.
When & Where

Riverside Hotel
620 East Las Olas Boulevard
Fort Lauderdale, FL 33301


Saturday, May 5, 2012 from 10:30 AM to 4:00 PM (EDT)
Add to my calendar
Organizer
Center for Jungian Studies of South Florida
The Center for Jungian Studies of South Florida, Inc. is a non-profit educational association that serves licensed mental health professionals and the greater community by fostering the study of the psychology of Carl G. Jung. The Center presents educational services including lectures, seminars, discussions and workshops to address the psychological, social and spiritual issues of our time while providing a forum for personal reflection and development. For more information: Call the Center's Message Phone:954-525-4682 http://www.jungcentersouthflorida.org
May 5: THE TREE OF LIFE: AN EXPLORATION OF THE ARCHETYPE