May 23 Webinar Conversation: John Boyd CoFounder ShopSavvy: Future of Mobil...
Description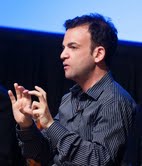 Join us Wednesday, May 23 from 10am-11am PT for a Webinar Conversation and Q&A with John Boyd, co-founder of ShopSavvy.
As the No. 1 mobile shopping app with 20 million downloads, ShopSavvy is paving the way for the future of shopping.
John will give you his detailed perspective and answer audience questions on where shopping is going as it goes mobile, current trends, future of shopping, payment and local retail.
Have another meeting at the same time - No worries! All Registrants receive the Webinar Recording (A Huge Bonus)

Register Now and learn about the future of Mobile Shopping and Payments.
Ask your Question to John NOW on Facebook.
John is the co-founder and COO of ShopSavvy. He has been a founder or early employee of three technology startups, all three of which achieved successful exits. Previously, John Founded BCN, which was sold to T-Mobile for $140 million plus in 2001. John was an early employee at wireless startup Omnipoint (now T-Mobile) and WNP Communications (sold to Craig McCaw). John has served in functional areas including business development, strategic marketing, strategic positioning, operations, finance and as a founder.
John also has several years' experience as a Venture Capitalist for an institutional firm with over $1 billion under management and as an individual investor. John has invested and worked with companies across multiple sectors including wireless, enterprise software, supply chain, communications, energy and e-commerce. John has served on the Boards of eRealty and Factory Logic software, as well as several companies across multiple technology sectors.
As a strong believer in the importance of public service, John spent several years in economic policy for the White House and the US ITC. John earned an MBA from Columbia University in New York City. John's B.A. is in international studies and economics.

* Webinar Twitter Hashtag is: #greenstardigital
* Webinar url will be sent to all attendees 1 week before the event
* Follow on Twitter @GreenStarSol
* Can't attend in person? Eventbrite Registrants will receive the Webinar Recording Url
* Like on Facebook and share with friends/colleagues to join the discussion and keep updated on the latest news and updates!