Description
Luongo Ukulele Experience presents Maximum Ukulele
This ten hour workshop is the ultimate ukulele training day for inspired ukulele lovers with intermediate skills. Internationally renown ukulele director and teacher Peter Luongo draws from over 30 years of unsurpassed teaching and directing experience to extract the best of your inner musician. You will learn, practice, and perform skills far beyond those you would encounter in any other workshop.
This program is designed for 4 types of ukulele loving individuals:
• Players interested in becoming performers, in our performing ensemble experience.
• Teachers wanting to increase their repertoire of instructional techniques and strategies.
• Enthusiasts looking to enhance their musicianship and performance skills and take their experience of the ukulele beyond hum and strum.
• Luongo Ukulele Ensemble members looking to continue training without the demands of the Ensemble program.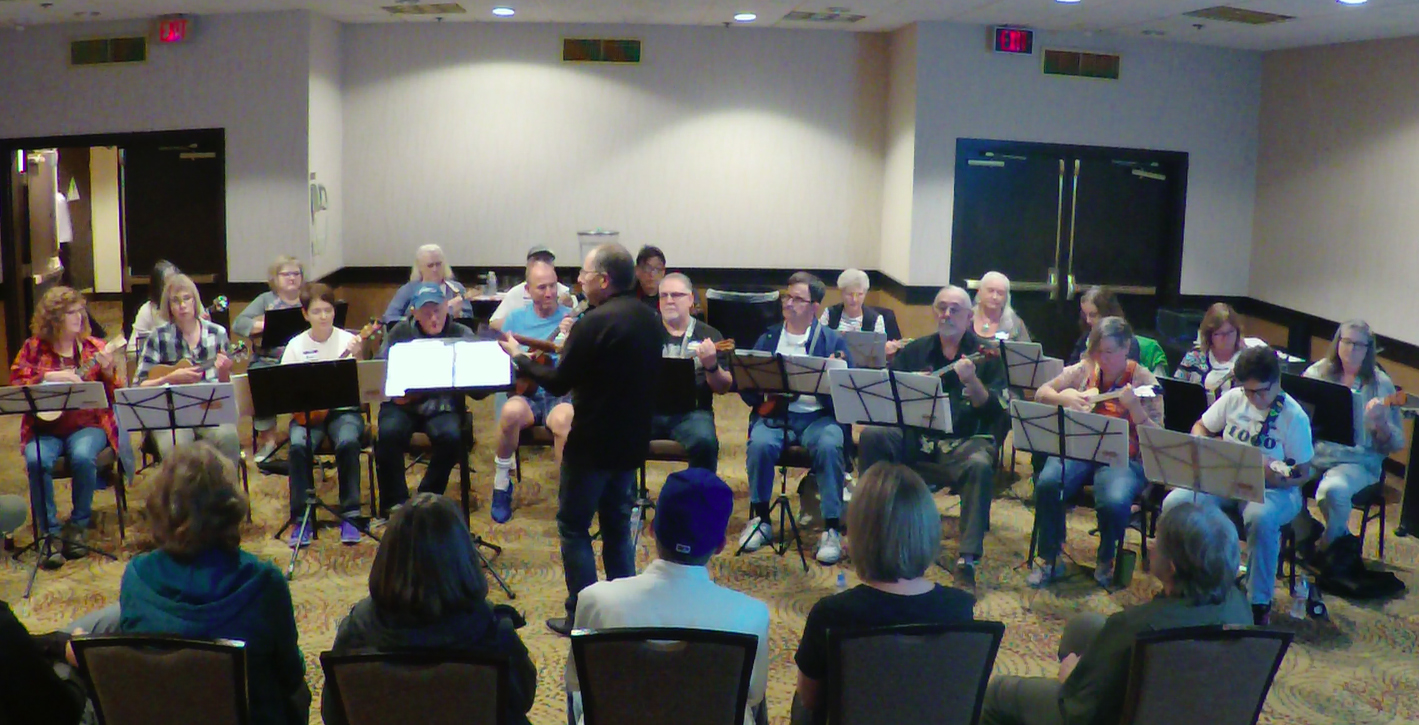 Small class size...Maximum Attention!
Ten hours with Peter Luongo and your ukulele is an experience in itself! But in our small classes, instruction is intensified, each student is heard, and their interaction with Peter is part of the learning process. A common remark at the end of the day is, "I'm exhausted, but exhilarated at how far I've come in one day!"

Lunch and supplies are included. Hotel room suites are available at a group rate discount through the Hyatt Place, email playukemail@gmail.com for group code and details.
For more information, visit http://luongoukulele.com.
Returnee Discount!
Previous attendees and ensemble members past and present receive a $50 discount. BRING A FRIEND: Previous attendees who bring a new attendee receive an additional $50 refund! After registration email playukemail@gmail.com and request your refund.
Cancellation policy:
Reservations may be canceled and refunded up through 30 days prior to any LUE session without penalty.
Within 30 days of the session's initial date, through one week prior, cancellations will incur a 20% cancellation fee, as many fees with the venue are based on attendance reservations and are no longer refundable to us. No refunds will be made within 7 days of the session. All cancellation fees may be applied to future registration. Email playukemail@gmail.com to apply fees.