Description
You're probably not that excited to talk about retirement.

We get it. It's a lot to take on. That's why we're offering a hands-on workshop covering a host of topics important to anyone over 50. After all, income and health are two of the biggest concerns of most Americans set to retire (or already retired), so we're going to tackle both issues using:

• Live instruction, videos, and a take-home workbook presented in an engaging, easy-to-understand format.
• An opportunity to receive a customized retirement income plan that you can immediately put into action.

Let's see if we can't make this whole retirement thing a little less scary.


WORKSHOP DETAILS
More than 80% of Americans are worried they won't have enough money for retirement—and over 78 million Baby Boomers are set to retire in the next decade. You can do the math: that's a lot of overwhelmed, underprepared people.

Advance planning is essential, and the decisions you make now can have a tremendous impact on the benefits you stand to receive over your lifetime. It's important to know all of the strategies and alternatives available to you, so you can make informed choices and stay in control of your money.

At this exclusive, 100% free event, you'll learn about important topics in a relaxed environment with others like yourself. We promise we're not selling a product—and you're not obligated to do anything to participate.

WE'LL DISCUSS:
• How to make the most of what you've made, and how to navigate your retirement income outlook.
• Claiming strategies and planning techniques to help you get the most out of your Social Security benefits.
• How to take advantage of spousal benefits.
• Important changes in 2017: new Social Security rules and how they affect your filing options.
• Strategies to grow your assets and protect your portfolio against stock market volatility.
• How to combat longevity and inflation to avoid outliving your retirement savings dollars.
• Strategies that can help you reduce your taxes and get closer to a potentially tax-free retirement.
• Required Minimum Distributions (RMDs) from retirement plans.
• Understanding potential risks in retirement and how to avoid them.
And more! If we can't make retirement exciting, we hope we can at least leave you feeling more in control of your future.

SEATING IS LIMITED. REGISTER TODAY TO GUARANTEE YOUR SPOT!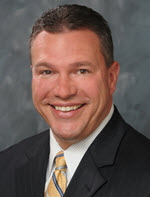 ABOUT THE PRESENTER
Jeff Everson is known for offering clients his unique approach to financial planning, utilizing tax strategies and distribution techniques. Throughout his life and career, he has been committed to helping others reach their own personal and financial independence. Jeff began his career in 1997 at a large financial firm, where he quickly moved up the ranks to become a manager of the office. In 2000, he decided to leave the firm and start his own business; he's been an independent adviser for 17 years now. He strives to provide high quality service to his clients by staying informed and continuing his education.