Maximizing Donor Retention: Keeping Those Who Love Your Cause!
Description
Regional Conversation: "Maximizing Donor Retention"-Keeping Those Who Love Your Cause!
(An educational partnership of the Center for Strategic Philanthropy & Civic Engagement and SIP at NLI)
You've got them, you're certainly grateful for them, and you definitely want to keep them! Maintaining donor relations is one of the most critical aspects of fulfilling your mission. Our panel of experts will bring your personal insights and real-life success stories on maintaining donor relations, the best ways to show your love, and their tips to keep the donor dollars flowing your way.
This event includes free lunch, free parking, and is OPEN to all nonprofit employees, volunteers or board members.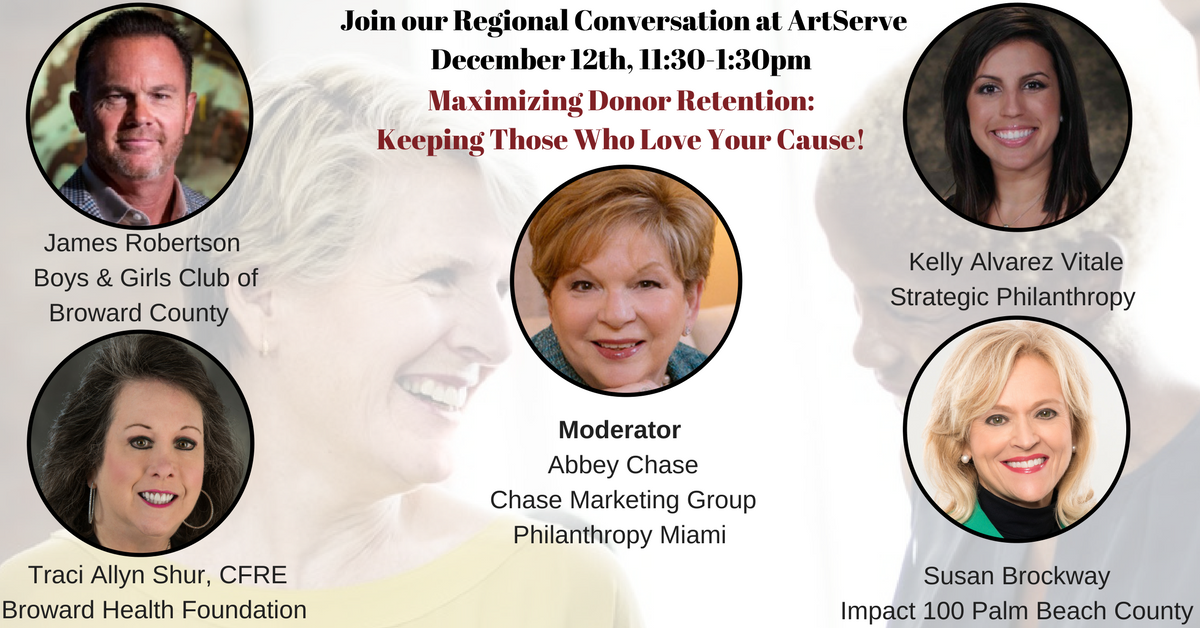 Moderator:
Abbey Chase, President and CEO of Chase Marketing Group and Program Manager of Philanthropy Miami
Panelists:
Traci Allyn Shur, CFRE, President of Broward Health Foundation
Susan Brockway, Board Member Impact 100 Palm Beach County
Kelly Alvarez Vitale, President and Founder of Strategic Philanthropy
James Robertson, Executive Leader, Boys & Girls Club of Broward County and former CEO/President of Allegiance Crane & Equipment
Space is limited, so snag your seat now ... for this popular quarterly South Florida event!