Join us for a lively discussion that will combine industry leading thinking with practical takeaways for your organisation.
About this Event
No business has escaped disruption during the Covid-19 pandemic; no sector has been unaffected, digital remote working is now part of life and online retailing has come of age. The businesses that survive and flourish in this radically changed environment will be the ones who can rethink their relationship with their customers. As disorientation clears and the customer habits of the new normal emerge, there are big lessons to learn and advantage to be gained. In this webinar we will explore how changing expectations from customers are creating opportunities for the business who are ready to seize them. We will look at:
The convergence of human and digital interaction into a seamless customer experience
The increasing demand for B2C level experience in a B2B customer setting
The evolution of home technology and connected devices and their impact on customer experience
Join us for a lively discussion that will combine industry leading thinking with practical takeaways for your organisation.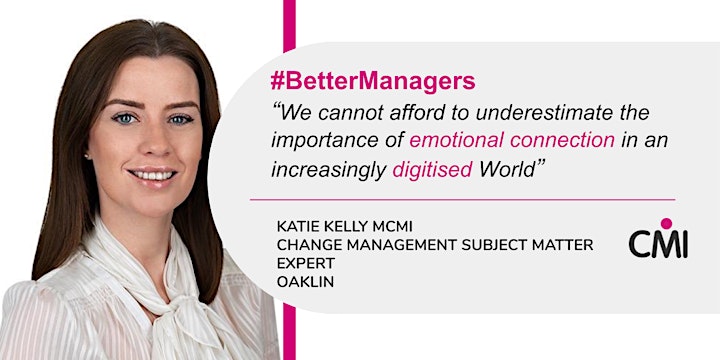 Katie Kelly MCMI,
Change Management Subject Matter Expert, Oaklin
Katie is a passionate and dynamic Business Transformation leader who is obsessed with the human side of change and continuous improvement. Katie is a Management Consultant at Oaklin and has successfully led numerous change management workstreams for largely technology centred Transformations across a breadth of industries both as an external consultant and through change management lead roles internally.
Katie has focussed her people change expertise recently by digitising the end-to-end customer journey at a financial services organisation as well as improving the end-end-customer journey at a global aerospace manufacturer during the pandemic.
Katie also sits on the CMI London Board. Katie is passionate about ensuring traditionally under-represented groups have a voice and support network in the workplace, particularly in industries and functions where challenge of workforce diversification may be further compounded, such as Digital and Technology.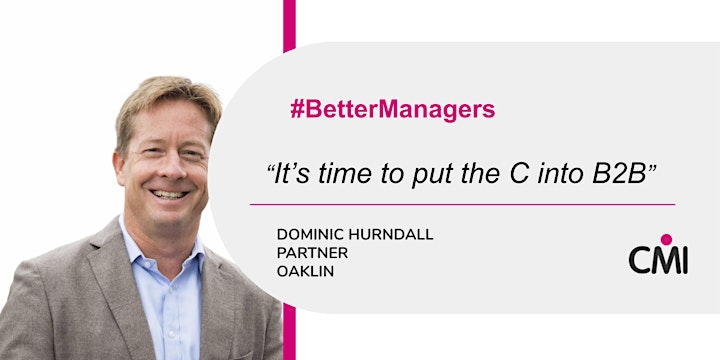 Dominic Hurndall
Partner, Oaklin
Dominic helped to set up Oaklin in 2009 and established the US office in 2013. He is a graduate of Durham University and an alumnus of London Business School. He also spent over six years in the military before starting his consulting career at Accenture. Dom has Board level experience in government departments and FTSE 100 companies, frequently working on strategy, outsourcing and transformation and communications. He has worked extensively in energy, aerospace, automotive and the public sector. Dom also spends a lot of his time risking his neck racing sailing boats, whenever work allows of course.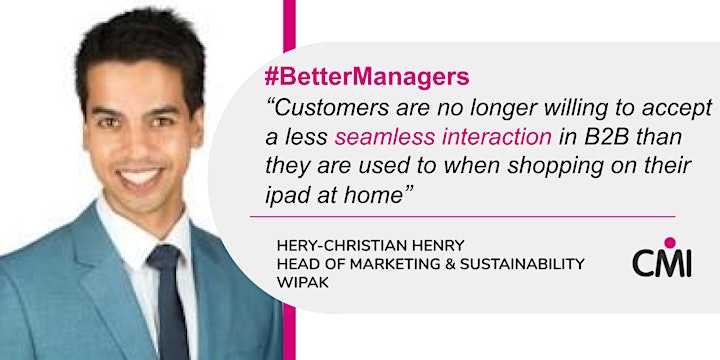 Hery-Christian Henry
Head of Marketing & Sustainability, Wipak
Hery-Christian Henry is an Executive with experience as a private company director and start-up CEO with a passion for public speaking. Hery is the current Head of Marketing and Sustainability at Wipak, a flexible packaging company aspiring to be the world's first carbon neutral company in its industry.