Maximizing Collaboration in The New Hybrid Workplace
Maximizing Collaboration in The New Hybrid Workplace
About this event
Back in the office space together? It's likely that we are going to disagree about this, that and everything. We know perspectives have shifted. Here are ways to collaborate effectively instead of enduring bruised feelings, confusion, and wasted efforts.
Our capacity to be empathic colleagues in these times of exceptional flux remains as vital as it ever was. As more and more organizations embrace a hybrid model of operation, new challenges emerge that require both the consideration of empathy and the practical skills to collaborate.
If you are interested in the future of work and simple but innovative ways to approach life's daily hurdles, please join us. You will leave with a clearer sense of the challenges that the hybrid world brings, a contextual understanding of conflict and how humans move beyond the pain of the past, as well as a practical exploration of both empathy and collaboration.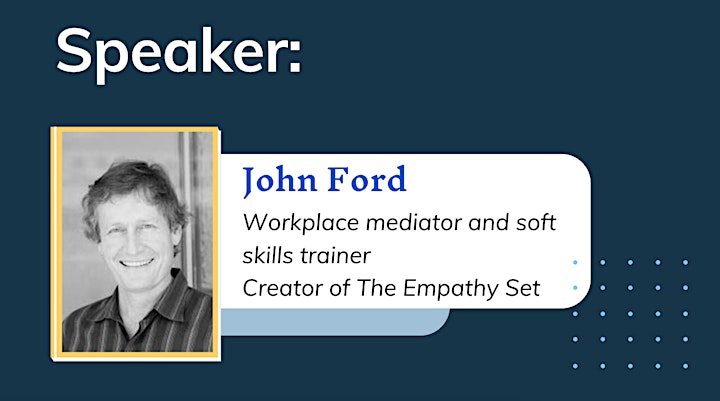 John Ford
John is an experienced workplace mediator and soft skills trainer based in California who has successfully mediated hundreds of workplace disputes since 1996. He is the author of Peace at Work and the creator of The Empathy Set: feelings and needs cards for emotional intelligence and empathy. In addition, John has provided soft skills training to thousands of employees at all levels in the workplace, across a wide range of industries, including health and elder care. John teaches negotiation at UC Hastings School of Law and taught mediation to graduate Business and Psychology students at Golden Gate University from 2010 to 2016. He is a past president of the Association for Dispute Resolution of Northern California (ADRNC) and was the managing editor of mediate.com from 2000 to 2010.
Organizer of Maximizing Collaboration in The New Hybrid Workplace
Established in 1901, Golden Gate University is a non-profit private institution that is dedicated to helping adults achieve their professional goals. GGU provides high quality, practice-based undergraduate and graduate educational programs in law, taxation, business and related professions in a learning environment that embraces professional ethics, diversity and innovation. Among its many distinctions, GGU has been ranked since 2016 as the nation's #1 University for Adult Learners by Washington Monthly.