Event Information
Refund Policy
Contact the organizer to request a refund.
Eventbrite's fee is nonrefundable.
Build the attitude and embodied wisdom you need to deliver future-proofing change, innovation, and transformation to survive in VUCA
About this Event
"An outstanding framework and powerful tools. A huge impact!" President, Kellogg's
Watch the Intro from the Course Leader
Join us to develop A Transformation Mindset for leading change, innovation and transformation
Discover how to break through even the most difficult problems creatively by developing a 'transformation mindset'
Understand the critical difference between 'technical problems' and 'transformational challenges'—and which mindset/brain network to use to solve each
Understand why a transformation mindset requires emotional intelligence, embodied wisdom, and psychological safety
Learn tips, tools, and hacks to get yourself—and your team—into a transformation mindset to deliver urgent change, creative solutions, customer insight, and innovation
"A pronounced and profound impact. Exceptional." CEO, HSBC
Course Overview
Short Course
2 x 4hr Masterclass Sessions
Thursday June 17th 8am-12pm PST, 4-10pm GMT
Thursday June 24th 8am-12pm PST, 4-10pm GMT
Plus Leadership Lab
"Challenged us to work on ourselves as leaders and lead the change. The value of the transformation tool was spot on!" Senior Vice-President, SAP
Course Content
Workshop 1: Thursday June 17th
Going beyond a growth mindset to cultivate a 'transformation mindset': a mindset that allows you to lead and support the innovations and transformations that your organization must deliver to survive in the fast-changing VUCA reality
The key characteristics of a 'transformation mindset': shifting easily and elegantly between implementation and innovation; between delivering at pace and adapting to fit rapid change; between getting stuff done rigorously and reflecting and connecting with colleagues and customers
Why the transformation mindset sees a critical difference between 'technical problems' and 'transformational challenges' that you face as a manager/leader
The different modes/brain networks you need to use within the transformation mindset to drive both continuous improvements and creative breakthroughs
Why your emotions and sensations, not your will, largely determine which mode you are in and what thoughts you can have
Why you need to give yourself and your team time, space, and permission to 'reflect and connect' to deliver innovation and transformation
Transformation Tools/ Micro-Habit for practice during the week
Workshop 2: Thursday June 24th
The emerging science of embodied wisdom and the role that our bodily sensations (interoception)play in successfully cultivating a transformation mindset
Why developmental fixations (protective patterns we developed to cope with challenges) block the valuable fluidity of the transformation mindset—and how to approach breaking through them
Key cognitive biases to be hyper-aware of that distort the cognitive coherence of the transformation mindset—and how they lead to dangerous groupthink that can make even the smartest leader fail
How to preempt the biological and psychological impacts of stress, overwhelm, and uncertainty on your transformation mindset—so you can nurture the resilience and coherence needed for successful decision-making
Ways to develop emotional stability and psychological safety to nurture the transformation mindset in yourself and others
"What a brilliant presentation about transformational leadership. I truly enjoyed the theory and all the insights you provided us with. THANK YOU!" Senior Leader, Pfizer
Course Structure
The course contains 2 x 4-hour live masterclass sessions. There will be a Leadership Lab to bring your challenges and questions to the course leaders.
All content and tools are powered by our unique methodology Bio-Transformation Theory & Practice®. 30 years in the making, BTTP is a cohesive and coherent brain-based and heart-led methodology for driving transformation as fast as humanly possible.
"They go deeper and clearly make an impact on me and others. Looking forward to seeing the seeds grow in me and my organization." Vice-President, Merck
Course Leaders
Nick Jankel
Leadership development pioneer, seasoned executive coach, internationally-acclaimed keynote speaker, disruptive innovation expert, TV transformation coach (BBC, MTV), Triple 1st Cambridge University in medicine and philosophy—Co-Creator of Bio-Transformation Theory & Practice®.
Alison McAulay
Embodied transformation coach, transformational leadership expert, trauma-based therapist (Biodynamic Craniosacral & yoga therapies)—and Co-Creator of Bio-Transformation Theory & Practice®.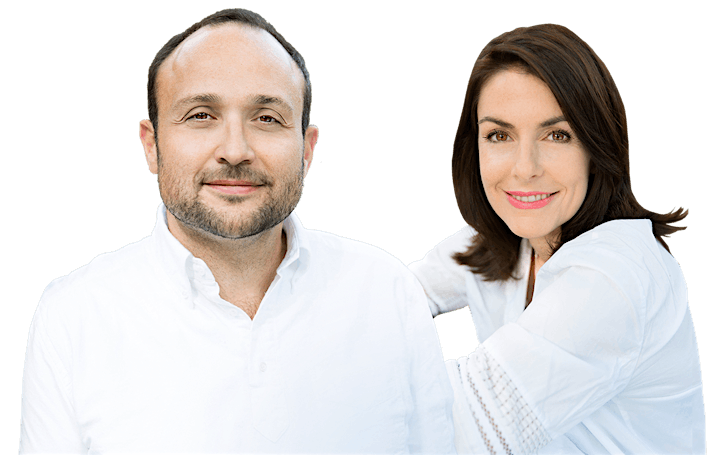 Location
Refund Policy
Contact the organizer to request a refund.
Eventbrite's fee is nonrefundable.