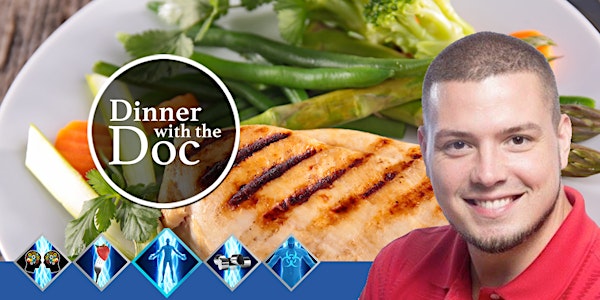 Maximize Your Health Dinner
When and where
Location
Diner Bakery Co. 3150 Cobb Pkwy NW Kennesaw, GA 30144
Description
Hi, my name is Dr Andrew St Bernard and I am on a mission to help people experience greater health and a more purpose filled life.
If you truly want to learn how to improve your health and find the energy, create the physique and unlock the mental capacity to live your best life than I would like to buy you a special dinner.

What Happens At the Dinner?
Enjoy an amazing dinner with healthy ingredients & recipes that taste great and provide the nourishment your body needs.
At this event, I will be going over strategies to optimize your health and life. In particular, you will learn 3 major things:
1) The Secret Keys to Abundant Health and an Abundant Life
2) Important Action Steps to Live Your Best Life
3) How to Avoid Chronic Disease and Take Back Control of Your Health
Hear incredible testimonies of people who have lost massive amounts of weight, doubled their energy levels and reversed chronic diseases. Come and enjoy a fantastic evening out while learning how you can dramatically transform your life, improve your health and stay strong for a lifetime.
About Dr Andrew St Bernard, DC
Dr Andrew is passionate about helping people achieve their God given health potential. Dr Andrew graduated from Life University with honors and has worked and trained under some of the top doctors in the world of chiropractic and natural health care.
Dr Andrew is a renowned speaker and has had the privilege of teaching and leading people in corporations, schools and community organizations. He loves to give back to his local community through dinner and lunch and learn events.
Dr Andrew is a husband to Candace and a father to Gaby, Charlotte and Genevieve. He enjoys strength training and taking care of his body and spending time with his family. He is active in his church and is passionate about praying with his patients and seeing God use him to make a difference in people's lives.