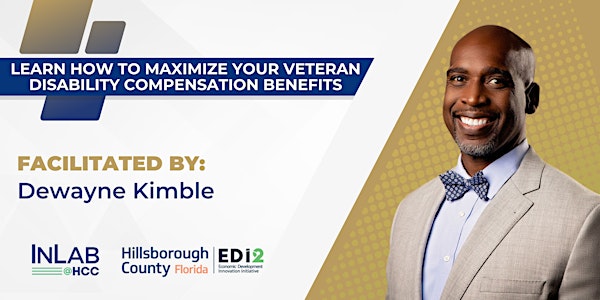 Maximize Veteran Disability Compensation Benefits
Maximize Veteran Disability Compensation Benefits
By Hillsborough Community College (HCC) - InLab
Date and time
Thursday, June 15 · 7 - 8am PDT
About this event
The purpose of this workshop is to provide veterans with valuable insight into the VA Disability Compensation Benefits, particularly regarding aspects that may not be commonly understood.
In this workshop, veterans will gain a basic knowledge on:
- Learning what VA disability compensation benefits are
- Learn how to apply for compensation benefits
- Learn what new and prescribed forms VA uses
- Understand some of the codes and regulations used by the VA as it pertains to claims processing.
- Pro's and Con's of having a basic knowledge of the claims process.
- VA Acronyms
- Understand what additional benefits (Federal and State) for veterans that are considered permanent and total by the VA.
- Communication avenues with the VA
- Information needed to change/correct military discharge and correction of military records.
About Your Facilitator
Dewayne Kimble is a US Army veteran that was born in Sikeston, Missouri and raised in Charleston, Missouri and Chicago, Illinois. Before joining the army, Dewayne focused on his education, earning a Bachelor's of General Studies from Southeast Missouri State University and a Master's in Business Administration from William Woods University.
He spent four and a half years in the Missouri Army National Guard as a Combat Engineer, and six years in the United States Army as a Battalion Fire Direction Section Chief. While serving in the Army, he was stationed at Ft. Sill, Oklahoma, Ledward Barracks (Schweinfurt, German), and Ft. Hood, Texas (1CAV Leads the way).
After the military, he continued his education and worked for Proctor & Gamble as a Production Technician. He also worked for Kraft Foods/Oscar Myer as a Business Unit Coach and Operations Supervisor, Tropicana Products, as an Advisor and Start-Up Leader, and The Department of Veteran Affairs as a Journeyman Rating Veteran Service Representative.
The latter allowed Dewayne to become directly involved in the VA Disability Compensation Claims decision process. This provided him with invaluable insight into the necessary paperwork and processes Veterans go through while trying to receive compensation benefits. This inspired him to create KMD89 VA Claims Consulting. Dewayne is determined to "LEAVE NO VET BEHIND". He has created an understandable process that alleviates stress and helps EDUCATE Veterans on how to successfully maximize their VA disability compensation benefits.
"The VA claims process was a long, confusing and frustrating process for me. I don't want any veteran to go through what I went through with my VA claim."-Dewayne Kimble
About the InLab@HCC
The InLab@HCC provides access to tools and resources that promote the creation of ideas, and development of social impact business models.
By infusing interdisciplinary elements, workforce preparedness, STEM resources and social entrepreneurship into all its programming the InLab has obtained national recognition through organizations including The National Association of Community College Entrepreneurship, Intuit Education, NASA Tech Transfer University and Syracuse University's Institute for Veterans and Military Families, among others.
Our Vision: Equity and Prosperity for All
Our Mission: To educate, fund, and support aspiring entrepreneurs and entrepreneurship educators. Learn more about the InLab@HCC at https://www.hccfl.edu/academics/inlabhcc
Connect with the InLab@HCC on Facebook, Instagram, Twitter, and/or LinkedIn
About Hillsborough Community College
Founded in 1968, HCC is currently the fifth largest community college in Florida's State College System, serving more than 42,000 students each year at its five campuses, three centers and online platform. HCC offers more than 200 academic options including the associate in art and associate in science degrees, college credit certificates, postsecondary adult vocational certificates, advanced technical diplomas and certificates, as well as continuing education and lifelong learning courses. The College has an annual budget of over $135 million and employs more than 2,200. Over 84 percent of HCC graduates stay in the local community, and together, HCC and its former students contribute more than $1.3 billion in added income and economic impact to Hillsborough County.
About the organizer
The InLab@HCC is a collaboration between Hillsborough Community College (HCC) and the Hillsborough County Government. The InLab is the centralized hub for all things related to innovation, creativity, entrepreneurship, and social venturing offered at Hillsborough Community College (HCC). Through four program areas (Academics, Community Events and Workshops, Veterans entrepreneurial services offered through Operation Startup, and the Research Institute, which is a design thinking center of practice for the National Association for Community College Entrepreneurship – NACCE), the InLab@HCC provides the community with a rich mixture of high impact advisory services, robust collection of innovative workshops, co-working space, subject matter expert entrepreneurs-in-residence, formal college credit entrepreneurship programs, business funding opportunities, design thinking services, academic research project initiatives, and an array of informal non-credit structured programs. We help early stage entrepreneurs take action on their business ideas.