Sales Have Ended
Registrations are closed
We will have other events. Please feel free to contact us directly or search CBDG, Inc. Sandy Curtiss 847-766-0100 Sandy@ChicagoBDG.com
Sales Have Ended
Registrations are closed
We will have other events. Please feel free to contact us directly or search CBDG, Inc. Sandy Curtiss 847-766-0100 Sandy@ChicagoBDG.com
Join us for a fun and interactive workshop as Mark Kohler breaks down how to utilize tax & legal strategies to increase YOUR cashflow.
About this event
Whether you are looking to increase the cashflow in your household, get out debt, start a new business or are a seasoned business owner looking to take things to the next level... this workshop is for you!!
Mark Kohler is a best-selling author , national speaker, radio host, writer and video personality for Entrprenuer.com, real estate investor and senior partner at KKOS Law firm.
Mark is a personal and small business tax and legal expert, who helps clients build and protect wealth through wealth management strategies, and business and tax remedies often overlooked in this challenging, ever-changing economic climate.
He has helped tens of thousands of individuals and small business owners navigate the maze of legal, regulatory, and financial laws to achieve greater success and wealth.
His workshops are fun and interactive and he takes the "scary" out of pretty overwhelming topics.
Come hang out with us and learn:
New strategies to maximize your cashflow by minimizing what you pay in taxes.
Strategies to incorporate for getting out of debt
Integrating asset protection and privacy
How to legally move from taking 5 - 15 deductions to taking advantage of over 450 expenses and deductions as a business owner?
Foundational tax and legal strategies in a fun and interactive way.
How and when to form a business.
What entity structure to utilize and why.
How to turn that business into the cornerstone of your wealth management program.
GET IN THE KNOW!!! :)
Register for this FREE, full day intensive workshop ASAP!
WE WILL CONTACT YOU 48 HOURS BEFORE THE EVENT TO MAKE SURE YOU HAVE THE LINK AND ANSWER ANY QUESTIONS.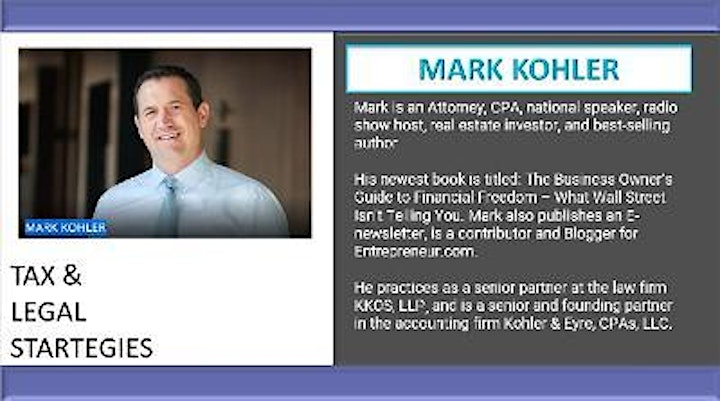 Organizer of Maximize CashFlow by Minimizing what you pay in Taxes:Tax&Legal WorkshopRC
The Chicago Business Development Group (CBDG, Inc) is a community-based organization that focuses on education and support for entrepreneurs, business owners, and real estate investors in our local and nationwide communities.
We provide a positive and supportive environment for people to:
network with like-minded individuals
learn new concepts
practice skillsets
share ideas
identify problems
create solutions
implement strategies
share resources