A musical cycle that immerses the listener in a mystical act, sparking off the imagination and opening up unknown emotional conditions.
About this event
TOP 5 of the best performances in 2019 by Joep Christenhusz in NRC Handelsblad.
Concert | CD release
The "Todos los fuegos el fuego" is a unique musical work. Never before have two saxophone quartets collaborated on a piece of such difficulty and length (85 min.) with the usage of the saxophones from the soprano down to the bass saxophone.
The "Todos los fuegos el fuego" project was initiated by two Dutch saxophone quartets - Amstel Quartet & Keuris Quartet and composer Maxim Shalygin. With this project, creators want to expand the possibilities of saxophone performance and contribute to the creation of an international saxophone repertoire.
The piece was inspired by "Todos los fuegos el fuego", arguably the most enigmatic book by the great Julio Cortázar. All the short stories in this collection share an entrance into a parallel, magic reality, sometimes near to ours, sometimes strikingly different from it. Suite's overall structure consists of eight parts, performed by eight saxophone players — as many as there are stories in the book. The saxophone is chosen for a reason, since, for all his knowledge and passion for music, jazz claimed the most of Cortázar's attention. Jazz, and accordingly the sound of the saxophone, was his muse and a constant presence in many of his most well-known fiction.
Introduction speech & 85 min. performance without intermission
Image: Grycko Visuals \ Design: Anna Lee
"...an idiom in which the most diverse stylistic elements entered into a peculiar symbiosis. Endlessly rising clusters, pulsing tone tapestries in a minimalistic cut, poetic-melodic intermezzi, and a quasi-orthodox hymn running aground in a quarter-tone yowl. Assisted by the phenomenally playing Keuris and Amstel Quartets, he moulded it all into a perfectly logical, resolute discourse: There's no other way than this." NRC Handelsblad
"Devastating, breathtaking. It's not difficult to point out the most impressive concert in November music. That was the fiery Todos los Fuegos el Fuego, for 8 saxophones by Maxim Shalygin. Shrouded in black and barefoot, he directed the musicians with measured gestures. They played on Saturday for over an hour with almost superhuman dedication and control. The musicians also regularly switched to other saxophones, allowing the sound colours to constantly change. The music was intense, shifting from understated beauty dry rattling rhythms and harsh, brutal sounds. A stirring event, on that the listeners could all agree." Brabants Dagblad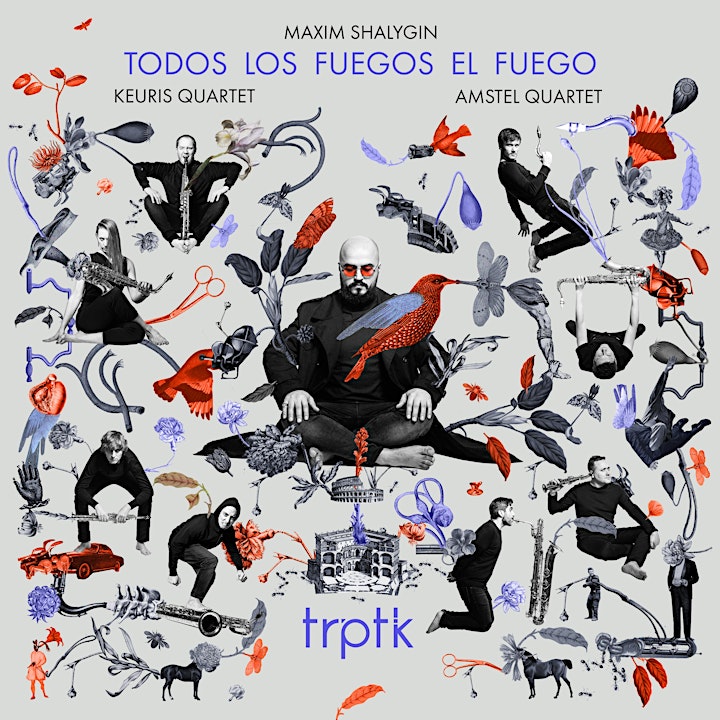 Organizer of Maxim Shalygin "Todos los fuegos el fuego" | CD presentation