Description
4.3 Wednesday (Reggae)
Nectar & SolidSound present:
MAX ROMEO
& DUBTONIC KRU
Nectar Lounge
412 N 36th St
MAX ROMEO
Max Romeo (born Maxwell Livingston Smith, 22 November 1947, St. D'Acre, St. Ann, Jamaica), is a reggae and roots reggae recording artist who has achieved chart success in his home country, and in the UK. The singer who put the rude in rude boy, Max Romeo was responsible for launching an entirely new sub-genre of reggae, whose overtly suggestive lyrics caused an outcry but took a massive hold of the music scene regardless. Yet innuendo was the least of the singer's stylings, previous to the release of his infamous "Wet Dream," Romeo had garnered a string of sweet hits with the vocal trio the Emotions. And once the nocturnal naughtiness faded, the singer established himself as one of the most important figures in the roots scene. He left home at the age of 14 and worked on a sugar plantation outside Clarendon, cleaning out irrigation ditches, before winning a local talent competition when he was 18; prompting a move to the capital, Kingston, in order to achieve a successful musical career.
In 1965 he joined up with Kenneth Knight and Lloyd Shakespeare in The Emotions, whilst also working as a record plugger for Ken Lack's Caltone label. The group were unsuccessful in auditions for other producers, but Lack offered them an audition after overhearing Smith singing to himself as he worked one day. In 1966, the group had their first hit, with the Lack-produced, "Buy You a Rainbow". The Emotions went on to have several hit singles and by 1968, the singer, by this point known as Max Romeo, felt confident enough to launch a solo career. Working with producer Bunny Lee, the young star recorded a number of pop songs, mainly love ballads, but they failed to be popular and so he returned to The Emotions, now recording for Phil Pratt. During this time he began work as a sales representative for Bunny Lee and did some recording with The Hippy Boys, which would later became The Upsetters.
Later on in 1968, Romeo wrote new lyrics for the rhythm track of Derrick Morgan's "Hold You Jack" and handed them over to Lee. Morgan, who was due to add his vocals to the track, ultimately gave it a miss, as did several other vocalists (including John Holt and Slim Smith), leading the producer to turn to Romeo to sing the lyrics he had written. The result, "Wet Dream", was an instant hit in Jamaica, although in the UK it was met with a BBC Radio ban, despite Romeo's somewhat-disingenuous claim that the song was actually about a roof that has a leak. Still, the ban only made it more popular and the single charted in the Top Ten, in the UK Singles Chart, spending almost six months therein, before featuring on his LP, A Dream, which included several follow-up singles in a similar vein, such as "Mini Skirt Version", "Fish in the Pot", "Belly Woman", and "Wine Her Goosie". A UK tour also met with Romeo being banned from performing at several venues, although many allowed him to play, the singer staying in the UK for eighteen months.
In 1970, Romeo returned to Jamaica and set-up Romax, an unsuccessful record label and sound system. Following which, he recorded several singles, mainly with old producer Bunny Lee, before going on to work a host of other producers including Niney Holness. This was followed by a period of which saw the release of a series of politically charged singles, most advocating the democratic socialist People's National Party (PNP), which chose his song, "Let The Power Fall On I", as their campaign theme for the 1972 Jamaican general election. Romeo joined the PNP Musical Bandwagon, travelling around Jamaica, playing on the back of a truck. After this, Romeo recorded a number of religious songs, until he worked with producer Lee "Scratch" Perry, producing the classic singles "Three Blind Mice" (an adaptation of the nursery rhyme with lyrics about a police raid on a party), "Sipple Out Deh", and "Chase the Devil". A remixed version of "Sipple Out Deh", entitled "War Ina Babylon", was another popular track in the UK, the first fruits of his deal with Island Records, and was followed by an album of the same name, and a follow-up single "One Step Forward". Shortly after this the pair fell out, leaving Romeo to self-produce his follow-up album, Reconstruction, which could not match the success of its predecessor. Perry's animosity towards Romeo was demonstrated by his single "White Belly Rat", with Perry also writing the word 'Judas' over a photograph of Romeo on the wall of his Black Ark studio.
He moved to New York City in 1978, where he co-wrote (with Hair producer Michael Butler) the musical, Reggae, which he also starred in. In 1980 he appeared as a backing vocalist on "Dance" on The Rolling Stones album Emotional Rescue. In 1981, the favour was returned when Keith Richards (of The Rolling Stones) co-produced and played on Romeo's album, Holding Out My Love to You. The rest of his output during the decade went practically unnoticed, with Romeo finding work at a New York electronics store. He returned to Jamaica in 1990, and began touring and recording more regularly. He visited the UK again in 1992, recording the albums Far I Captain of My Ship and Our Rights with Jah Shaka. In 1995 he recorded Cross of the Gun with Tappa Zukie, and he joined up with UK rhythm section/production team Mafia & Fluxy in 1999 for the album Selassie I Forever. His music has been sampled by other artists; The Prodigy sampled his track "Chase the Devil" for their 1992 UK Top Ten hit "Out of Space". Kanye West has also used samples from it to produce Jay-Z's hit song "Lucifer", which appeared on Jay-Z's 2003 release - The Black Album."Chase the Devil" is featured on the reggae radio station K-JAH Radio West in a popular videogame Grand Theft Auto San Andreas, released in October 2004. Romeo's single "Sipple Out Deh" appeared in John Peel's Record Box.
One of Jamaica's most provocative lyricists, a singer who gave us such enduring songs as 'Chase The Devil' (which was sampled in the song 'Out of Space' by The Prodigy and the song 'Lucifer' by Jay-Z), 'Public Enemy Number One', 'One Step Forward' and 'Three Blind Mice'. It was Romeo who first introduced Britain to the concept of rude reggae with 'Wet Dream', which, despite a total radio ban, reached number 10 in the UK charts in May 1969.
In 1972 Romeo began working with producer Lee "Scratch" Perry. 'Babylon Burning', 'Three Blind Mice' and 'The Coming Of Jah' all maintained his star status in Jamaica between 1972 and 1975. Revelation Time was one of the best albums of 1975, and 1976's War Ina Babylon was hailed by the rock press as an all-time classic reggae album. Two outstanding contributions that will remain classic recordings from the so-called 'golden age' of Jamaican reggae music.
In 2019 Max Romeo can be found in the studio working on a new album also touring internationally with his children Xana Romeo, Azizzi Romeo & Romax Romeo. Available for booking festivals and venues.
DUBTONIC KRU
Imagine heavy baselines, one drops, psychedelic guitar riffs, echoing keyboards, popping percussion and conscious lyrics

Now imagine roots reggae, imagine dub, rock…

Put them all together and you get a new breed of Jamaican music called DubTonic Kru

Like their style of music, Dubtonic is a mixture of two words "DUB", relating to the heavy drum and bass aspect of reggae music and "TONIC", referring to medicine. The eclectic blend of music and musicians are certainly medicine to one's soul and after listening you simply just want more of this TONIC

It's then no surprise, the level of positive energy that is shared through music between "Dubtonic Kru" and their listeners everywhere they perform.

Their versatility and capability in being able to serve the right dosage to their varying audiences was the edge they had over their counterparts when they were voted BEST NEW BAND IN THE WORLD" 2010 - 2011 at the Global Battle of the Bands World Finals in Malyasia, February 2011. After a fierce musical showdown of different genres that involved national finalists from numerous countries, the Executive Judges made the unanimous decision that awarded Dubtonic Kru top honours.

Founding members of Dubtonic Kru, "Jubba" and "Stone", a dynamic Drum & Bass duo, who over the years contributed to the development of modern Roots Reggae, with their unique sound and approach that intertwines Jubba's mesmerizing Reggae/Jazz Fusion drumming with Stone's groovy, yet pulsating bass lines. The Duo has gained about a decade and a half of experience from touring and or recording with the legendary likes of Max Romeo, U-Roy, Burning Spear, The Mighty Diamonds as well as modern day artistes such as Bushman, Junior Kelly, Richie Spice and Lutan Fyah . A significant milestone in their careers was the composition of the "I Swear" rhythm, that took the Reggae arena by storm featuring artistes such as Richie Spice, Chuck Fenda, Sizzla among others.

With the addition of longtime friend and versatile guitarist Jallanzo, who added his strong vocal ability and the young, talented Luke Dixon on work stations, Dubtonic Kru became a more complete music machine Another turning point of the group's dynamic came with the addition of very unique and powerful singer to round out the already electrifying dub compositions with sometimes spoken words and song writing by Jubba and Jallanzo. Kamau, "the Quiet Warrior", brings a revolutionary voice to the Kru. Their songs and spoken words are consciously thought provoking, while their rhythm/dub section walks through the passage of time with a gritty sound that rolls stones and break fences. Some of their popular numbers like Sunshine Girl, Born Jamaican, World Crisis, Balance and Natty Dread are testimony to the group's versatility.

2010 could be comfortably dubbed their year as they were also honoured by the United States House of Representatives and was presented with a Congressional Proclamation by Congress woman Yvette Clarke for their contributions through music to varying communities. The same year, they were awarded the Simba Award by CPR (Coalition to preserve Reggae Music). Certainly, their successes have given rise to a resurgence of bands on the local scene in Jamaica and they were once again honoured with the Jamaica Star's "People's Choice Award" for "Band of the Year".

The Kru continues to give medicine to audiences through remarkable performances locally and across the
world and solidifying their place in the Global music scene.

They are certainly dedicated and poised to raising the bar and keeping it interestingly spontaneous!
Dub and Tonic, the Dubtonic Kru is dedicated to keeping Bands and Reggae Alive…

Stick around for the ride.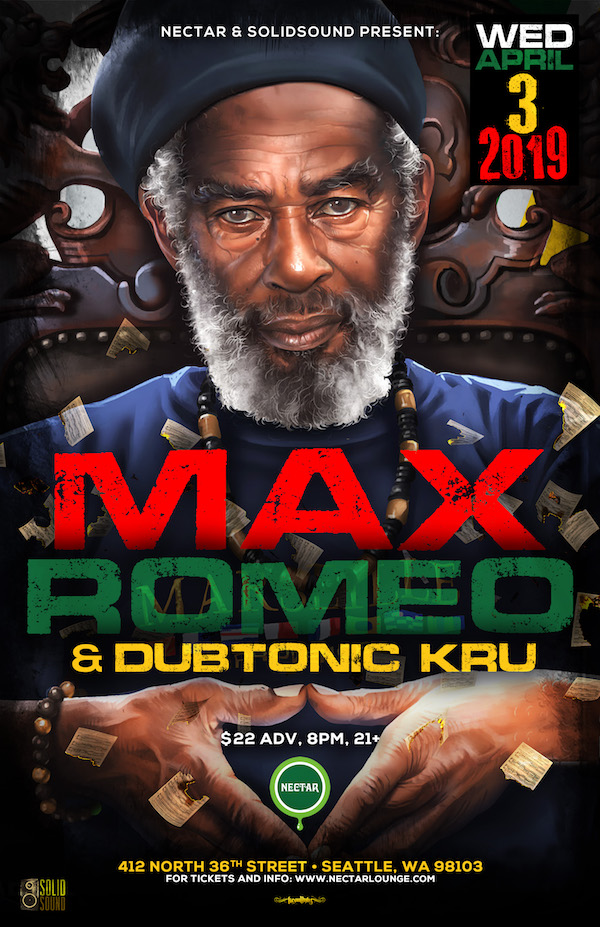 Performers
Date and Time
Location
Refund Policy