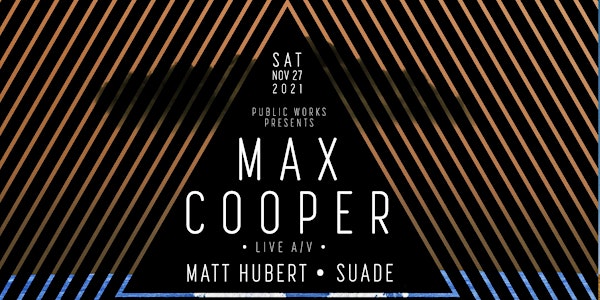 Max Cooper (Live A/V) at Public Works
Max Cooper (Live A/V), Matt Hubert & Suade
When and where
Location
Public Works 161 Erie Street San Francisco, CA 94103
Performers
Headliners
More Performers
About this event
Saturday November 27th, 9pm - 3am
Main Room / 21+ / Limited Capacity
LINEUP:
➩ Max Cooper (Live A/V)
➩ Matt Hubert
➩ Suade
━━━━━━━━━▲━━━━━━━━━
When you purchase tickets to this event you'll automatically be signed up for LOCAL 161, our SMS community where you'll get special invites + guestlist + other perks as a thank you for your support. You'll receive about 4 messages per month, message and data rates may apply, and you can text STOP to cancel at any time.
━━━━━━━━━▲━━━━━━━━━
In accordance with San Francisco's new mandate, we're now requiring attendees to show proof of full vaccination to take part in any indoor festivities at Public Works.
You must still wear a mask while indoors, so don't forget to bring yours!
Public Works continues to follow all city health mandates, and these policies are subject to change at any time. Please visit https://sf.gov/ for the latest rules and regulations.
Max Cooper BIO:
Strip away the awe-inspiring AV spectacles, the peak-time DJ voyages in front of huge crowds the world over, the lofty certifications bestowed upon him by platforms of both academia and electronica – at the core, Max Cooper's mission as a musician, a DJ and an interdisciplinary artist is all about provoking a greater understanding. So why is the man himself a touch misunderstood?
For once, this is a case of scaling down, rather than up. There is no need to over-play the hand; Max Cooper has been a prominent culture figure of the 2010s. Few have been so successful in interrogating and furthering the intersection between electronic music, visual art, technology and science in the past ten years. As a DJ and live performer, he has featured at nearly every major festival and club that one could list. An instalment in the BBC Essential Mix series; a Cercle livestream inside the Musee Bourdelle that reached hundreds of thousands of fans; 'Glassforms', a reinterpretation of Philip Glass' work; and even a collaboration with Zaha Hadid Architects, mapping projections onto an 18th century castle, variously speak to his thrum of high-profile activity in recent years. Cooper has an arms-length wingspan of achievement. Yet the grand question that keeps his mind ticking as the 2020s begin is, in his own words, "a question of communication."
Cooper wants to present a diverse palette of experiences without diminishing them – to show you his world on multiple levels, without it ever appearing daunting. And it shouldn't be daunting: Cooper's music is lush, emotive and grand, and the way he brings this to life, using everything from binaural sound positioning to 360˚ visual panelling, is meticulous, technical and often powerful to behold. But all the elements are highly accessible. You could, after all, walk through the Aether installation Cooper worked on with Architecture Social Club, or feel the ripples on your fingers when 4DSOUND speakers pushed swells of bass and soaring arpeggios outward from his equipment and into the physical space.
All this adds up to a classic case of electronic exploration that makes use of available technology while referencing that which came before it, and does so in a human way. Cooper points to the groundbreaking artistry of Chris Cunningham's music videos, and the marriage of score and cinematography in the motion picture Koyaanisqatsi, as blueprints for what he sets out to achieve. "There are often no characters and no speaking, it's just really impactful storytelling through the medium of abstract visuals and audio," he says. "That is what I fundamentally aim for. I want to communicate something strong. I want to make an impact on people. And if something is fruitful, I am keen to learn. It's all a matter of trying as much as possible."