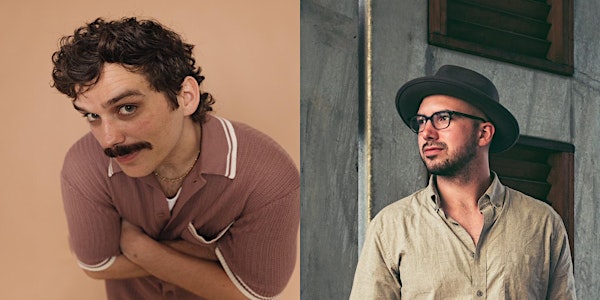 Location
Eddie's Attic
515 B North Mcdonough Street
Decatur, GA 30030
Max Boyle & Alex Guthrie at Eddie's Attic in Decatur, GA!
About this event
Max Boyle
With a versatility and range unparalleled by most, Nashville-based musician Max Boyle brings a rare and special voice to the world of contemporary pop music. Influenced by staples like John Mayer, Allen Stone, Jason Mraz, and Ed Sheeran, Max combines his own unique sense of style and soul with his undeniable raw vocal talent and dedicated skill as an instrumentalist and songwriter. Wielding a voice both rich and bright, emotional and inspiring, Max anchors his songs in meaning and experience—something many pop artists tend to miss. Max's easy, crystal-clear falsetto and full lower range pair to create an exciting dynamic that never falls into the realm of predictability.
Growing up in Toledo, Ohio, Max was reserved about his musical and vocal talents. But after sharing a few videos on social media to warm reception from friends and community, Max began stepping into his own as an artist. After joining a local gospel choir and performing publicly for the first time at age 18, Max discovered his passion for performing and began developing his raw talent through vocal lessons, guitar lessons, and writing songs as a daily practice. Just a few years later, Max launched himself onto the stage of NBC's hit series The Voice where he received mentorship from the likes of John Legend, Kelly Clarkson, Usher, and Taylor Swift. Max finished among the show's Top 13 contestants in 2019.
Aside from his time on The Voice, Max has garnered over 2 million streams to date, with his song "Angel" topping the list at 1.4 million streams. Some of Max's other notable accomplishments include performing on stage with Mike Posner at the University of Dayton (Max's alma mater), singing the "National Anthem" at major events such as the Detroit Lions' Game, and headlining the opening concert for the Promedica Winter Concert Series at the Peristyle Theater at The Toledo Museum of Art.
A skilled instrumentalist, empathetic songwriter, and refined vocalist, Max Boyle's talent is holistic and obvious. Perfectly hitting the mark for stripped-down, thoughtful folk songs as well as up-beat, sun-drenched pop drivers, Max shows clear mastery of his craft and will certainly continue making a name for himself as an exciting new voice in post-pandemic Nashville and in the world of contemporary music at large.
Max Boyle's latest single, "Fire Away," is now available for streaming on Spotify.
Alex Guthrie
Alex Guthrie is a singer-songwriter based in Atlanta. With the infusion of different genres such as soul, folk and rock, Guthrie brings audiences together through brilliant lyrics and an expressive voice.
Guthrie recently competed on Season 17 of the Voice, advanced to the LIVE shows and placed in the Top 16. Some other notables for Alex include being named Atlanta's Creative Loafing 2018 Americana Artist of the Year, singing the National Anthem at SunTrust Park for the Atlanta Braves, being voted "Most Popular" Emerging Artist at the 2018 Summerfest in Milwaukee, opening for Smash Mouth at the Coca Cola Roxy for the Arby's Foundation Dream Big Event, and has been noted as "the guy from the Jennifer Hudson commercial." The now-infamous American Family Insurance commercial that features him playing in Atlanta's Woodruff Park when the Grammy Award-Winning singer Jennifer Hudson surprises Guthrie and sings along to Bill Wither's beloved "Lovely Day." The commercial has played on national television and radio, resulting in new opportunities and heightened awareness for Alex Guthrie, his band and his music.
Guthrie and his band have performed events that include but are not limited to the 30A Songwriter's Festival in Florida, Wire and Wood Songwriter's Festival in Alpharetta, GA, Wheeler Opera House in Aspen, Co, Jammin' Java Listening Room in Vienna, VA, the Elbo Room in Chicago, IL, City Winery in Atlanta, GA and Eddie's Attic in Decatur, GA.
In the early stages of his career, Guthrie released his first album, Lessons Learned, and also scored the Atlanta Braves Band of the Year in 2014. In 2015, Guthrie and his band were awarded the Georgia Americana Artist of the Year — another astounding achievement bringing his music much-deserved attention and recognition. Within a short span of time, Guthrie was opening up for national touring artists including renowned BMLG Records recording Artist Drake White, RCA recording artist Bleachers, and famous Atlantic Records recording Artist Kelly Clarkson.
Singer-songwriter Alex Guthrie continues to impress and defy conventional expectations, making waves as he makes great music.
More at alexguthriemusic.com.