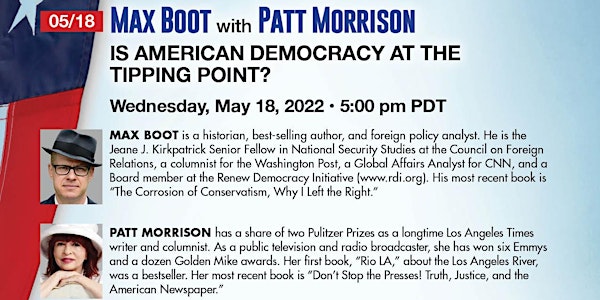 MAX BOOT: IS AMERICAN DEMOCRACY NEAR THE TIPPING POINT?
WAPO COLUMNIST MAX BOOT WILL DISCUSS THE TIPPING POINT FOR OUR AMERICAN DEMOCRACY AND WHAT MUST BE DONE TO SAVE IT.
About this event
Max Boot
MaxBoot is a Russian-American author, consultant, editorialist, lecturer, and military historian.He worked as a writer and editor for Christian Science Monitor and then for The Wall Street Journal in the 1990s. He is now Jeane J. Kirkpatrick Senior Fellow in National Security Studies at the Council on Foreign Relations and a contributor to The Washington Post. He has written for numerous publications such as The Weekly Standard, the Los Angeles Times, and The New York Times, and he has also authored books of military history. In 2018, Boot published The Road Not Taken, a biography of Edward Lansdale, and The Corrosion of Conservatism: Why I Left the Right .Boot has received numerous awards as an historian, author and journalist. The World Affairs Councils of America named Boot one of "the 500 most influential people in the United States in the field of foreign policy."
Boot earned his BA at University of California, Berkeley (BA), his MA in History from Yale University (MA) and attended the London School of Economics