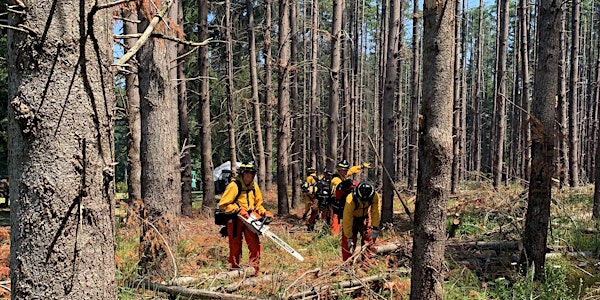 Multiple dates
MAWS 2023 - Metro Advanced Wildland School
Metro Advanced Wildland School - 2023
Date and time
June 9 · 7:30am - June 10 · 6pm PDT
Location
Molalla Fire Department 390 North Molalla Avenue Molalla, OR 97038
About this event
The Metro Advanced Wildland School (MAWS) is an opportunity to work on Task Books in specific performance demonstration areas that are typically difficult to accomplish. The school is not designed to complete all of the required performance areas in the Task Book.
Date: June 9th or June 10th, 2023. Your choice - you only attend one day.
Time: 0730-1800
Positions Covered:
Fire Fighter Type 1 (FFT1)
Engine Boss (ENGB)
Strike Team / Task Force Leader (STEN)
Highlights of MAWS:
Firing Operations
Aerial Operations
Drafting & Engine Operations
Portable Pumps & Sprinkler Kits
Mobile Attack
Structure Prep & Triage
Weather
Supervision and Tactics
Hand Lines and Mop Up
All Attendees: You must arrive with a Task Book initiated by your respective agency. The instructors and supervisors (Cadre) managing the school will sign and complete ONLY the areas of the Task Books in which they can specifically observe performance. The Cadre cannot "sign off" a Task Book for completion - completion and final sign off certification of any Task Book for any position is the responsibility the trainee's home agency.
ALL attendees are required to participate for the entire day.
Complete wildland PPE is required.
All attendees must bring food and water for the entire day.
All attendees must have their Chief or Training Officer complete a Declaration of Certification that details what apparatus will be sent with the crew and to what level the trainee is certified. This must be completed within 30 days or the registration will be rescinded. (The link to this form will be located on your confirmation e-mail)
Firefighter Type 1 & Engine Boss Attendees: You should provide a suitable apparatus from your agency (Type 3 or Type 6 Engines Ideally). NOTE: Engines will be required to DRAFT from portable tanks for refill.
Strike Team/Task Force Leader Attendees: You must show up with a fire department vehicle and NOT on an engine with the crew. There is also a mandatory ST/TF Leader pre-briefing with the Cadre at the Molalla Fire Dept at 0630.
Designated Signers: We are also asking agencies to provide a "Designated Signer" who can facilitate actual Task Book sign-offs. MAWS will work with students who are unable to provide their own Designated Signer.
Note :
Training will be conducted on the use & coordination of Air Resources. It is the responsibility of the Home Agency to coordinate with the Designated Signer to determine the completion of this task.
This class is FREE to attend and is hosted by the Molalla Fire Department. It is sponsored by the Northwest Association of Fire Trainers (NAFT). Additional support provided by the Department of Public Safety Standards and Training (DPSST) and the Oregon State Fire Marshal's office (OSFM).