Description
Join the celebration Saturday August 18th!
Our Annual Harvest Festival raises funds to support critical needs for the underserved population, such as healthcare and education. We also raise funds for scholarships which help high school graduates further their education and attend college.
Each year all of our Mexican-American vintners come together in Napa Valley to share some of California's best wine, enjoy great food, live music and support a worthy cause.
Featuring our LIVE Salsa Orchestra, Aztec Dancers, and Ballet Folklorico!
Guests will sip and savor wines and artisan bites from award-winning Latino winemakers and chefs while enjoying live music and entertainment, as well as bid on silent auctions.
A sampling of our Harvest Festival artisan bites:
Pork Tomales
Ceviche Tostada
Dungeness Crab Cakes
Chicken Mole Sliders
Salmon Tartar + English Cucumber
Heirloom Tomato Salad
Burrata Cheese + Peaches Flat Bread
Ahi Poke
2:00pm - 5:00pm Harvest Festival @ Oxbow Commons
6:00pm - 8:00pm VIP Winemaker's Dinner @ Celadon
New This Year! Winemaker's Dinner
The Mexican-American Vintners will host an exclusive Winemaker's Dinner - only 35 seats available to the public!
This intimate dinner will take place at Michelin-Guide-Recommended Restaurant Celadon, in a charming courtyard setting on the Napa riverfront, directly after the Festival. Prepare to be wowed by an array of wine personalities, exquisite food and, of course, unforgettable wines!
Five-Course Tasting Menu by Chef Federico Guillen :
PRIMERO
flash fried calamari, chipotle chili and honey glaze;
SEGUNDO
stone fruit salad, burrata cheese, champagne vinaigrette;
TERCERO
risotto, wild mushrooms, english peas, asparagus, carrots, parmesan;
CUARTO
roasted chicken breast, fingerling potatoes, pole beans, meyer lemon-caper jus;
-or-
braised short ribs, mashed potatoes, summer squash, red wine jus;
QUINTO
gelato, sorbet, or chocolate-hazelnut mousse bar, raspberry coulis.
The new Winemaker's Dinner will offer guests unmatched tasting experiences in both wine and food, as well as a more intimate experience with our Mexican-American world class wines. Only 35 seats are available to the public.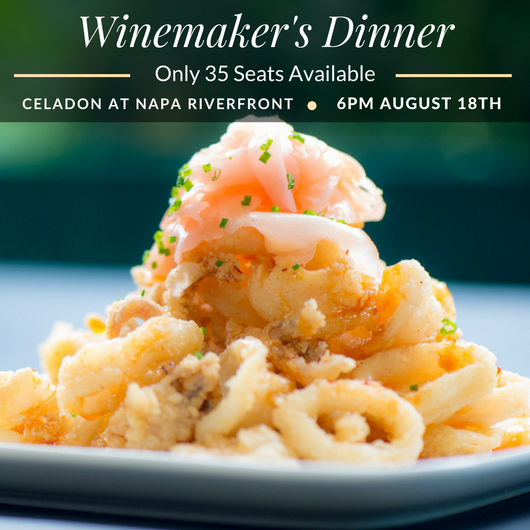 ---


Tickets:
$100 Early Bird Festival Passes
$125 Festival Passes (after August 2nd)
$150 Winemaker's Dinner
$275 Festival Pass + Winemaker's Dinner
Supporting Wineries:
Bodega de Edgar
Ceja Vineyards
Delgadillo Cellars
Encanto Wines
Herencia Del Valle
Honrama Cellars
Jose Wine Caves
Justicia Wines
Llamas Family Wines
Maldonado Family Vineyards
Mario Bazan Cellars
Mi Sueno Winery
Renteria Tres Perlas
Rios Wine Company
Robledo Family Winery
Scallon Cellars
This year's Harvest Festival benefits a very worthy cause, Napa Valley's Puertas Abiertas Community Resource Center. Puertas Abiertas serves more than 1,200 Napa Valley families annually with accessing health care, social and education services, improving quality of life, and increasing self-sufficiency. Some specific programs they provide to the underserved in our community include: PTSD workshops, college readiness programs, citizenship legal services, and women's support groups, to name a few.
Interested in becoming a sponsor?
Community Sponsors gain All-Access Passes, VIP tables, Bottle Service, PR, and attend a Private Winemakers' Dinner at Celadon, a Michelin Guide Recommended restaurant. If you're interested in becoming a Sponsor, contact MAVA at (707) 253-8466 or lilia@herenciawines.com.