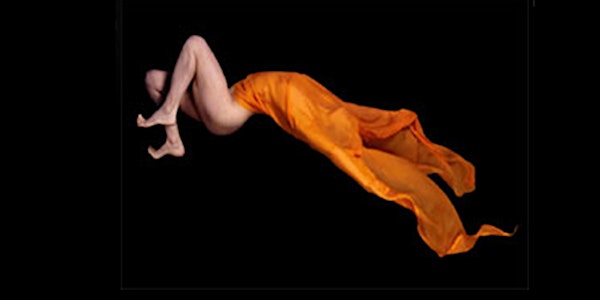 Maureen Fleming Masterclass - Dancing the Internal Body
When and where
Location
Studio 206 2637 27th Avenue South Minneapolis, MN 55406
Refund Policy
Contact the organizer to request a refund.
Description

October 4-6, 2019 | Friday 7–9 p.m., Saturday 10 a.m.–3 p.m., Sunday 10 a.m.-1 p.m.
Maureen Fleming is an American choreographer and performance artist whose surreal movement poetry gives birth to a new vision of the body. In this workshop, Fleming will share her distinctive approach to alchemical movement, which opens crevices within and creates an embodied transformation. She will guide you to your deepest creative core, helping you discover and reveal the transcendent that resides in physical form. Her discipline imbues catharsis and alchemy into strength, flexibility, and balance.
---
"Maureen's 'inside-out' training enables you to access deep energetic states to move the body ... — a completely innovative and pioneering method. An event not to be missed."
Deborah Jinza Thayer, former student
---
This deep, regenerative inner work allows for a more complete realization of your personal and creative vision and is geared for dancers, directors, actors, singers, butoh enthusiasts, therapists, and anyone interested in discovering their movement potential. This introductory workshop is the first step in Fleming ElastxxTM (patent pending) Teacher Training Program and culminates in: Level 1 certification: includes Elastxx ($140 value) and manual.
YOU WILL LEARN:
– FLEMING ELASTXXTM (patent pending) - an original training method that initiates movement and voice from the innermost layer of muscles. Using an elastic exercise device, invented by Maureen Fleming, strength and flexibility are developed through the targeting of core muscles, in particular, the psoas.
– THE 10 IMAGES - transformative imagery that helps you move past the physical form and create a useful alignment that can be applied to all movement and vocal training.
– PARTNER MASSAGE - incorporate stretching and shiatsu techniques to increase joint flexibility and unlock energy blockages.
– HOW TO HARNESS the body's movement potential in a daily exercise practice that supports and extends the life of all performance training as well as every day movement.
---
WHEN: October 4-6, 2019 | Friday 7–9 p.m., Saturday 10 a.m.–3 p.m., Sunday 10 a.m.-1 p.m.
WHERE: Ivy Building for the Arts Studio #206 | 2637 27th Ave. S., Minneapolis, MN 55406
REGISTER: Eventbrite.com | "Maureen Fleming - Dancing the Internal Body" – $300 (work study discounts available)
CONTACT: Phone – 917.575.4969 | Email – odochris@gmail.com
---
ABOUT THE ARTIST
Maureen Fleming is renowned for her original form of visual theater. With the discipline of a classicist and the imagination of an iconoclast Fleming connects culture and art forms in an inter­disciplinary celebration of femininity and the universiality of the soul's journey. A Fulbright Scholar to Ireland, S. Korea, Colombia, and Latvia her solo and group works have toured spanning five continents including the Spoleto Festival in Italy, FILO Festival Brazil, Performing America's Tour Colombia, Argentina and Uru­guay, the O'Shaughtnessy Women of Substance Series in St. Paul, Jacob's Pillow Festival, Emerson Majestic and Institute of Contem­porary Art in Boston and NY City Center Fall for Dance Festival.
"She seemed to transcend the material world and enter the realm of pure spirit...wondrous choreographic metamorphosis." The New York Times
"Soul in free fall . . . startling brilliance." Minneapolis Star Tribune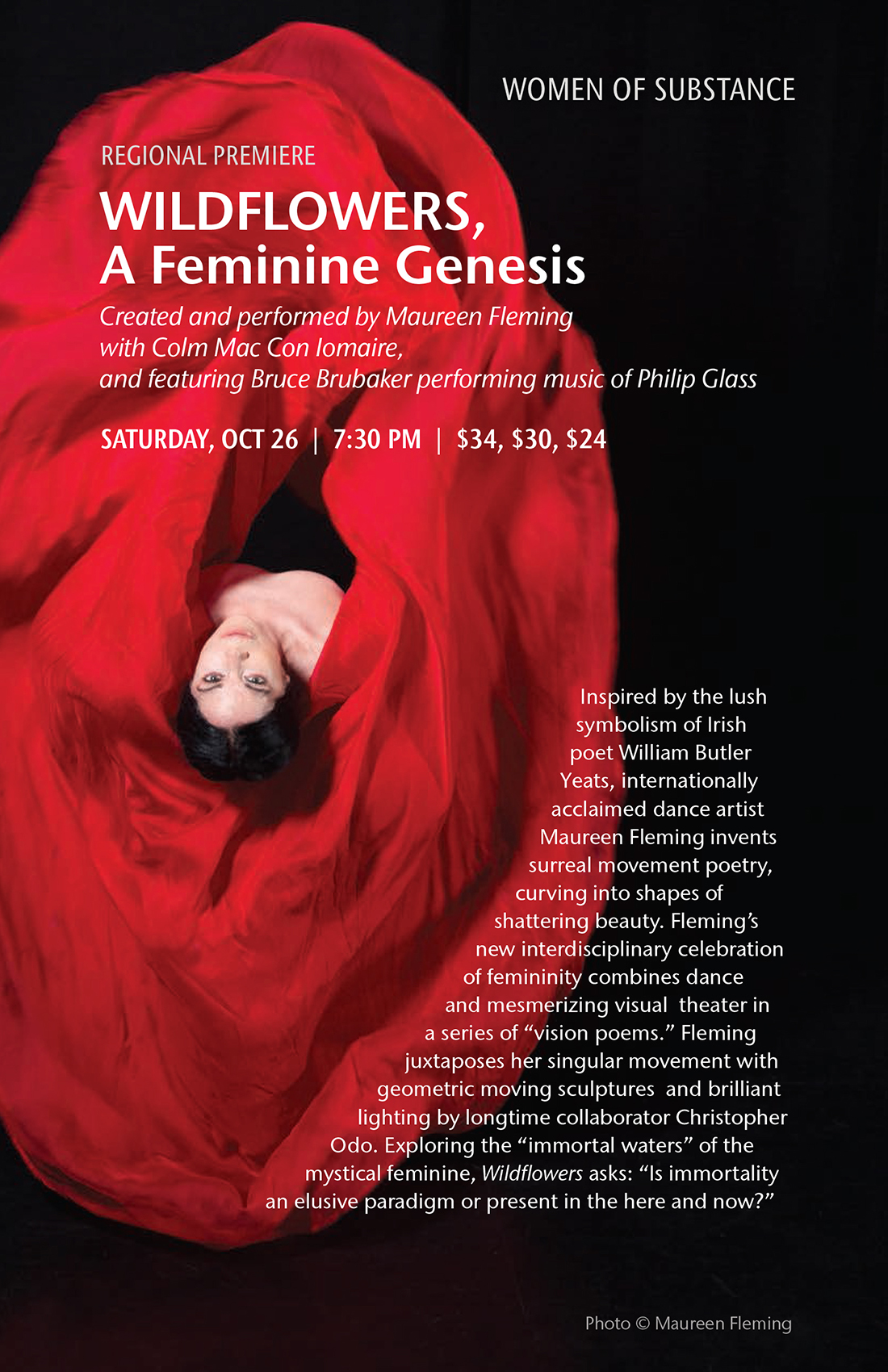 TICKETS : WILDFLOWERS, A Feminine Genesis