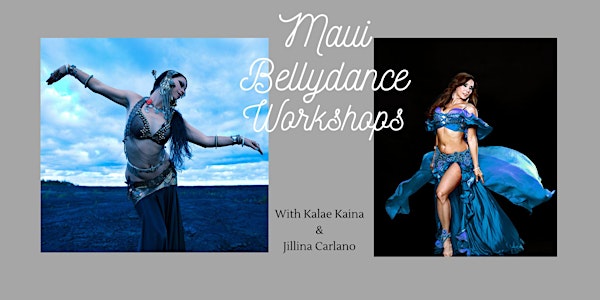 Maui Bellydance Workshops with Kalae Kaina & Jillina Carlano
Bellydance workshops with Jillina Carlano and Kalae Kaina on Maui April 29th 30th!
Date and time
April 29 · 10am - April 30 · 3:30pm HST
Refund Policy
Contact the organizer to request a refund.
Eventbrite's fee is nonrefundable.
About this event
Maui Bellydance Workshops with the talented Jillina Carlano and Kalae Kaina!!
April 29th and 30th
Please note, different studio locations for each workshop!
Meet the instructors
Jillina Carlano
Jillina has devoted her life to dance. With a background in Middle Eastern, Folklore, Jazz, Ballet, and Hip Hop, she creates a colorful MiddleEastern fusion repertoire that has inspired collaborations with some of the world's leading instructors and performers. Traveling extensively to create productions and teach seminars that embody her unique style of dance and dance education, Jillina also advocates a local dance community, owning the creative hub, Evolution Dance Studios in North Hollywood, California. Whether on stage, coaching one-on-one, or teaching a group of 1,000 students, Jillina's vibrant ability to connect with people on and off the dance floor continues to influence dancers and entertain audiences worldwide.
Kalae Kaina
Born and raised in Hawaii of native Hawaiian ancestry, Kalae has developed a deep love for belly dance. She is the Artistic Director and choreographer for Shakti Dance Movement, Honolulu's premier Contemporary Fusion Bellydance Company. Shakti Dance Movement has emerged from the underground club scene to the mainstream, performing regularly at nightclubs, community events, dance concerts, and private parties. The artistry she brings to her craft is evident in her work as a performer & choreographer. Fusion Bellydance is an integrative style that blends elements from other dance forms such as contemporary, pop & lock, flamenco, and classical Indian dance, to name a few. This fusion of dance styles, also called Transnational Dance, is Kalae's specialty. She has been studying Belly Dance for over 20 years and has a wealth of knowledge to share! She is currently teaching classes online via Patreon. Kalae Kaina has been sponsoring workshops and producing shows in Honolulu, celebrating dance, and supporting the arts within her community. Kalae's approach to belly dance is rooted in strong technique, drills, and proper execution of movement. She passionately believes in dance as a vehicle for mind and body connection.
April 29th and 30th Weekend bellydance workshop locations and schedule
Teacher: Kalae Kaina
April 29th
Workshop 10:00 am-1:00 pm
Social hang out 1:00 pm-3:30 pm (optional) Out to lunch (not included in workshop cost) & Exploring Iao valley
Location - Movement Resolutions Dance Studio in Wailuku (address will be provided after signing up)
Workshop Topic
Sleek Lines, Velvety Shapes, & Heavy Hits!  
In this contemporary Fusion Bellydance choreography, we will focus on the connective tissue between movements, the juicy transitions and subtle nuances that transform a standard sequence of movements into poetry. Concepts in musicality will also be presented, as we transition from following the melody, to the down beat, to highlighting various parts of the music. Have fun playing with dynamics as we shift from lyrical movement to pops and locks! This class is built for dancers who have some basic understanding of Bellydance vocabulary, options will be offered for all levels. 
Teacher: Jillina Carlano
April 30th
Workshop 10:00 am-1:00 pm
Social hang out 1:00-3:30 (optional) Champagne brunch!
After dancing in the ocean front studio with sprung floors, 
we will enjoy a Champagne brunch, followed by relaxing time 
in the  pool, jacuzzi and cold plunge. (included in workshop cost)
 Location- Seaside Studio Kapalua (address will be provide after sign up)
Workshop Topic 
"Modern Arabic Bellydance"
Dance to the hottest new music! Lots of innovative steps, juicy hip technique and floor patterns.
 A blend of lyrical and sharp moves to take your dance to the next level.
Prices:
Kalae's 3 hour workshop $75
Location: Wailuku (address will be given after singing up)
Jillina's 3 hour workshop & champagne brunch with pool, jacuzzi and cold plunge $120
Location: Seaside Studio Kapalua (address will be given after singing up)
Package price for both workshops and locations $150
About the organizer
6 Week Bellydance Series with Lynette Day