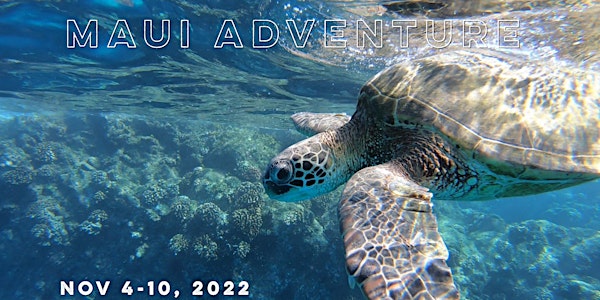 Maui Adventure
Maui Wowie! We'll be your personal guide for this trip of a lifetime in the epitome of island paradise! Just pack your bags, we got you.
When and where
Location
Ka'anapali Beach Hotel 2525 Kaanapali Parkway Lahaina, HI 96761
About this event
Join us for an unforgettable 7-day tour on Maui, the epitome of island paradise! Our adventure covers many areas of the island's diverse and spectacular land and seascapes, giving you a taste of all the richness the Valley Isle offers. It's the most exotic, yet still domestic! Activities include private excursions with our small travel tribe like paddle boarding, surfing, cultural experiences, hiking, yoga, downhill biking, snorkeling, private boat charter, outrigger canoe paddling, relaxing beachside, and more! Most importantly, take advantage of our supportive group environment, fostering a transformational traveling experience with lifetime connections!!! Our trip is suitable for all fitness and experience levels, with a focus on fun and empowerment. Just pack your bags and let us handle the rest.
Booking and Details Here
Why Maui?
Maui is often referred to as the "golden child" of the Hawaiian archipelago. From volcanoes and rainforests to waterfalls and colorful sand beaches, it's the epitome of the perfect paradise. Maui has more than earned its reputation as No Ka Oi (The Best). Here's why: the island has the most natural diversity, with the highest concentration and variety of exotic Hawaiian landscapes. This includes white, black, and red sand beaches; jungles, rainforests, high mountains, lavascapes, and more within 17 climate zones (no, that's not a typo!) …and most of it is accessible! Essentially, Maui is like taking all the Hawaiian Islands and throwing them in a blender, making it ideal for a first-time visit to the islands or for repeat offenders. There is so much vibrant color with stunning and rare varieties of flowers and flowering trees that thrive here, the consistent presence of rainbow prisms across the sky, and the bluest blue of the Pacific. And we've yet to touch on it's richness in Polynesian culture and tradition, abundance of marine life (who doesn't love the adorable green sea turtle?), and mouthwatering cuisine. Don't be shy, it's okay to daydream about the buttery smooth Maui avocados, sweet and aromatic mangoes, organic produce, free-range meats, and 'oh-so-fresh' seafood that Maui offers island-style foodies and culinary enthusiasts. It's no wonder that Maui attracts visitors from all over the world and has been voted "Best Island in the U.S." by Condé Nast Traveler readers for more than 20 years.
What's Included:
Accommodations 7 days/6 nights at Ka'anapali Beach Hotel
Transportation: Airport transfers and all on-island transportation
Meals: 6 breakfasts, 1 dinner, 1 lunch
Vendor Tips (for captains and instructors)
Vendor Taxes and Fees: 20% of cost*
SUP and Snorkel Tour at Olowalu
Surf Lessons w pro Austin Kalama
Catch & Cook: Hawaiian-Style Dinner
Outrigger Canoe Paddling & Cultural Experience
Haleakala National Park and Downhill Bike Tour
Boat Snorkel & Optional SCUBA charter
Wainapanapa State Park Tour
Your Ultimate Vacation:
Our planned activities above are just the beginning of many offerings in Maui and you may do as many or as little as you like. Our hotel is conveniently located so it's easy to be independent and do as your heart desires. We are walking distance from boutique shops, 5-star restaurants, ocean-front tiki bars, and world-famous Ka'anapali beach. Play a round on a world-class golf course and charter a fishing boat. Or simply relax with your toes in the sand and a tropical cocktail in hand. Read a book on your lanai, take a dip in the pool, or treat yourself to a massage. Lahaina town is just a 5 minute ride away with tons of establishments, parks, historic sites, and the harbor. This is your vacation - you can have whatever you like!
Your Guide:
"I have been traveling to Hawaii since 2005, when I took a summer job after college. The natural beauty, lifestyle, and culture stole my heart and 3 months turned into a life-changing 2 years. I worked as a tropical flower farmer and in my free time I hiked, snorkeled, and SCUBA'd every inch of this incredible dot in the Pacific. As an avid traveler, who's explored many places, I can testify that Maui is something special, a spiritual destination that will fill your soul. It's what keeps pulling me back and why I've chosen to develop an adventure here for like-minded people. Our journey elevates well being and consciousness and that's why we do it again and again, in the spirit of L-I-V-I-N!." - Jessica Cichra, your experienced guide and certified instructor. She has led many adventure travel trips domestically and internationally since 2012.
Pricing: from $5000
Booking and Details Here