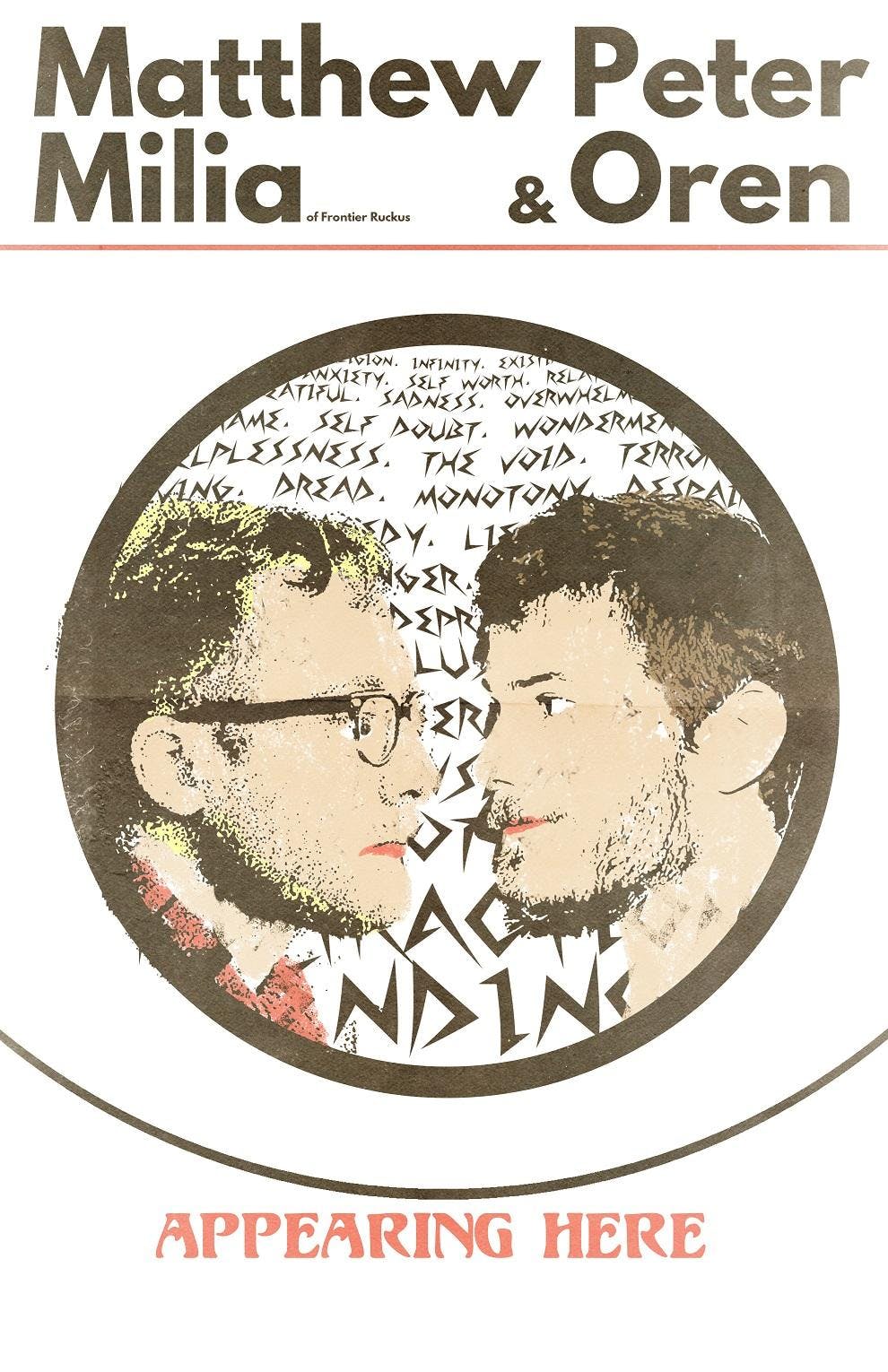 About this Event
Co-headlining slice of heaven with MATTHEW MILIA (lead singer & songwriter of FRONTIER RUCKUS) and commanding vocalist/songwriter PETER OREN.
Hailing from Rock City itself, MATTHEW MILIA embarks on a solo quest as FRONTIER RUCKUS takes a quick break from touring to work on their 6th LP. His songs ring a familial feeling of innocent warmth, so intimate, so forward and unapologetic that it seems like MILIA has been reading our inner most personal thoughts since childhood. His relatable charm can attract even the most solemn and solitude listener but it's his soaring melodies and excruciatingly empathetic folk riffs that keep us entranced. 
Indiana-born, everywhere-based singer-songwriter PETER OREN possesses a remarkable singing voice, low and deep and richly textured: as solid as a glacier, as big as a mountain. After releasing his full-length debut in 2016, the eloquently spare Living By the Light, full of road songs and wanderers' laments, he began playing more live shows, just him and his guitar on an empty stage. Soon OREN attracted the attention of Ken Coomer, the drummer for WILCO and a producer in Nashville. Together, the duo assembled a backing band featuring some of the city's finest session musicians. Now we get to cozy up and witness OREN in full-fashion hot off the release of his new album, Anthropocene. 
CAROLINE CAMPBELL is a singer-songwriter living and working in Chicago. Having studied opera in college, her voice is often an instrument in itself, lending a supple and sophisticated quality to her melodies. Her wide range and heartfelt lyrics create a sound that is atmospheric yet grounded, but always hopeful.