Description
Did you consciously design your company's culture from Day One? Or, are you like most leaders of startups, and hoped a thriving culture would develop by itself — and now struggle with the less-than-optimal results?
A good salary and benefits used to be enough. But today, employees expect those
AND
a great, thoughtfully designed culture. If your current workplace experience isn't making you or your employees happy, serving the best interests of your customers, or ensuring the growth of your business, it's time to purposefully start designing the culture you want ASAP with some simple, but effective hacks.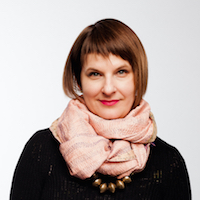 Annette Ferrara, Experience Director, IDEO
An award-winning writer, experience designer, and former MATTER marketing extern, Annette believes in the power of stories and cultural rituals to unite communities and inspire action. For the past decade at IDEO, she's used a human-centered design process to create hundreds of unique, meaningful experiences that not only make IDEO's cultural values tangible, but have lasting positive impact on individuals, teams, and the company as a whole.