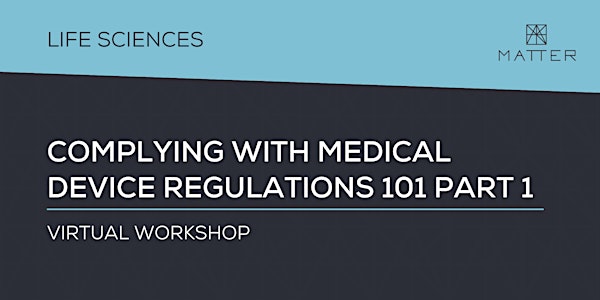 MATTER Workshop: Complying with Medical Device Regulations 101 Part 1
MATTER members and partners: use your discount code for 100% off registration price. If you don't know your code, email info@matter.health.
Refund Policy
Contact the organizer to request a refund.
Eventbrite's fee is nonrefundable.
About this event
This workshop is part 1 in a multi-part series. Keep an eye out for announcements for the next part.
Building a new product has never been easier or less expensive: Engineers can jumpstart development with 3D printers and advanced manufacturing techniques while software tools — such as Jira, Salesforce and Quickbooks — help companies get things done more efficiently and developer tools — such as AWS and Google Cloud — have revolutionized the way companies are formed and products are brought to market.
However, working in the medical device space is an entirely different story. Due to the regulations and compliance elements involved with medical device development, the process is expensive, slow and difficult. There are also fewer "off the shelf" tools available to help navigate the process.
This workshop will help you make sense of what is required when planning to commercialize your medical technology. Topics will include FDA product classification, regulatory pathways, quality management and an overview of engineering and compliance activities required for clearance.
Join this workshop for:
An understanding of FDA device classification
An overview of the paths to clearance
An introduction to quality management and quality management systems
Learning the how and why agile development teams can and should start quality and regulatory activities earlier than they think

ABOUT THE FACULTY
Sabrina Varanelli is an experienced robotics engineer specializing in the development of medical and surgical robotic systems. Her unique interdisciplinary background in medical device development includes expertise in both the engineering and the regulatory and quality aspects of device development. She holds dual undergraduate degrees in robotics and mechanical engineering from Worcester Polytechnic Institute and also a dual Master of Science in robotics engineering and automatic production systems through the European Master on Advanced Robotics program.
Before specializing in the medical space, she worked on robotic systems in a variety of industries including defense, bomb disposal, infrastructure and the oil and gas industries. She has worked on a wide variety of medical robotics projects including laser surgery for ear, nose and throat applications, medical rehabilitation exoskeletons and minimally invasive robotic surgical systems. Her experiences in the medical space led her to found Nemedio to solve the unique challenges that medical device companies face when bringing new products to market.

This workshop is part of our Life Sciences series.
Workshops in this series are designed to help life sciences entrepreneurs tackle challenges across the commercialization journey, from selecting a contract research organization for preclinical studies through structuring intellectual property, setting up a quality management system and preparing assets for acquisition.
Learn more in our Workshop Catalog.