Description
According to a 2016 KDnuggets poll, Python is the second most used Analytics and Data Science Software next to R and is experiencing double-digit growth in usage among data scientists. Unlike R, Python is a general-purpose programming language demonstrating advanced capabilities separate from analytics and data science, such as application programming interface (API) and website development.
This workshop continues the "Python for Actuaries" education series (see description for previous class here) by covering the advanced data analysis and manipulation capabilities of Python. Focus is placed on advanced data analysis techniques commonly encountered in actuarial practice. All data analysis is done within the context of analyzing healthcare claims data files common to actuarial work.
Learning Objectives
Cover advanced data manipulation capabilities of the Python Data Analysis (pandas) library including:

Melting and reshaping data that has already been pivoted

Advanced grouping and aggregation operations

Time series manipulation and window calculations

Show how R code can be integrated with pandas code using the rpy2 library

Introduce the following next generation data analysis libraries and implications for performance improvement for actuarial analytics

Dask

Arrow

Pandas2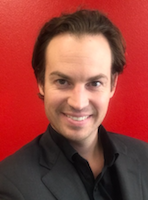 Founder, actuary and licensed broker at Validate Health, a member company of the HealthTech incubator MATTER in Chicago, IL. Validate Health provides cloud-based actuarial analytics and reinsurance procurement services to Accountable Care Organizations.
Andrew is also webmaster and predictive analytics track lead at the Chicago Actuarial Association, mentor for the Society of Actuaries non-traditional internship program and co-organizer of the Chicago InsurTech Meetup.
Andrew has been writing Python code since 2008 when he was employed as a software programmer at a leading Electronic Medical Records software company. He has used Python to scrape websites for data, automate data migrations, perform data analytics, fit statistical models and write website applications. His company, Validate Health, was named one of twelve Python-based companies selected for the 2016 PyCon Startup Row.