Description
The key to employee engagement is the relationship between manager and employee. So how do you improve the manager-employee relationship so the experience for both individuals is one of growth and meaningfulness?
Refound believes this relationship can be improved by giving managers the ability to provide employees and colleagues with high-value feedback and have effective one-on-one conversations.
In this interactive workshop, Jonathan Raymond will share how you can activate employee engagement in your organization by creating a culture of accountability and personal growth.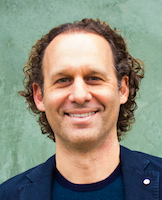 Jonathan Raymond is the founder of Refound and author of Good Authority: How to Become the Leader Your Team is Waiting For. After twenty years of not being able to decide whether he was a business development guy or a personal growth teacher, Jonathan stopped trying to figure it out and decided to do both simultaneously. Jonathan is the former CEO and chief brand officer of EMyth, where he led the transformation of a global coaching brand, and has worked in tech, clean tech, and the nonprofit world after graduating law school in 1998. He's madly in love with his wife, tries not to spoil his daughters, and will never give up on the New York Knicks. He lives in Ashland, Oregon, a lovely town that's too far away from a warm ocean.