Mattachine Series | To Be Accused: Government Crackdown & Homophile Resista...
Description
The second evening in a special three-part program series in April highlighting the history of the Mattachine Society, founded in 1950 as the first enduring homosexual-rights organization in the United States, told through episodes from a new podcast "Mattachine: A Queer Serial".
This program will feature the "Mattachine: A Queer Serial" podcast episodes titled "To Be Accused," "The Lavender Scare" and "Diversified Individuals." It will survey the Mattachine Society's early years, the entrapment of one of its founders by the police and the State Department's witch hunt for "sexual deviants."
Each program in the three-part series will feature an audiovisual presentation of the podcast, followed by community-based historian Joey Cain interviewing Devlyn Camp, the Chicago-based creator, producer, writer and host of the Mattachine serial.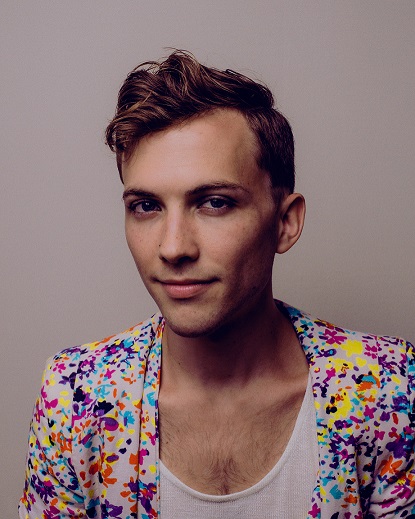 Podcast creator Devlyn Camp; used with permission.
Devlyn Camp, named one of the Windy Cities Times "30 Under 30", is an alumnus of Columbia College Chicago where they studied musical theater history, graduating with a degree in Writing & Producing for Television. Before pursuing a degree in Writing & Producing for Television, they studied musical theatre history with Albert Williams, whose guidance led to a passion for queer history. Devlyn covers the queer beat for the Chicago Reader and co-hosts and produces "They & Them", a queer talk podcast in Chicago. Devlyn also writes middle grade historical fantasy (featuring queer characters, of course) with their writing partner.

Joey Cain is a San Francisco-based community activist, researcher and historian. He has curated numerous exhibitions for the San Francisco Public Library including "My Days and Dreams: The Worlds of Edward Carpenter, Gay Freedom Pioneer," "In Paths Untrodden: Walt Whitman and the Radical Faeries", "Hymns to Hermes: The Poetics of James Broughton" and "Radically Gay: The Life of Harry Hay." He also curated an exhibition for the GLBT Historical Society Museum in 2017 titled "Lavender Tinted Glasses: A Groovy Gay Look at the Summer of Love".
Cain served for eight years on the board of directors of the San Francisco LGBT Pride Parade and Celebration Committee, including four years as president. He co-chaired the community committee responsible for commissioning a bronze bust of Harvey Milk for San Francisco City Hall. His writing has appeared in RFD Magazine, the Walt Whitman Quarterly Review and most recently in the collection The Fire In Moonlight: Stories From the Radical Faeries (White Crane Books, 2011).
Additional Links to the rest of the series:
Part 1 Thursday, April 4, 2019 - Mattachine Series | Dawn of the Movement: From Henry Gerber to Harry Hay
Part 3 Thursday, April 18, 2019 - Cracks in the Foundation: Splintering into Homophile Alliances
This series is cosponsored by the Calamus Fellowship.
LOCATION
The GLBT Historical Society Museum
4127 18th St., San Francisco
www.glbthistory.org
ADMISSION (Limited Seating - Must RSVP)
$5.00 | Free for members

JOIN THE GLBT HISTORICAL SOCIETY
Become a member of the GLBT Historical Society for free admission to the exhibition opening and other programs, free museum admission, discounts in the museum shop and other perks: goo.gl/WjkGSn