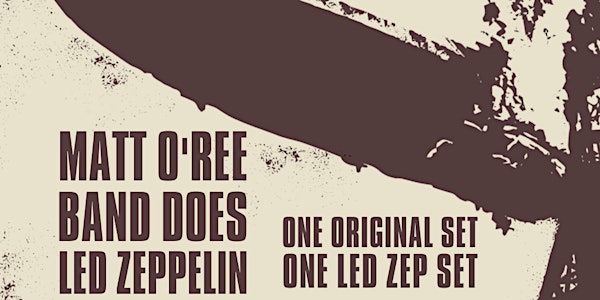 Matt O'Ree Band does Led Zeppelin
Location
Bright Box Theater
15 N. Loudoun St.
Winchester, VA 22601
Former Bon Jovi guitarist and NY/NJ Blues Hall of Fame inductee Matt O'Ree plays a smokin' hot original set, plus a rip-roarin' Led Zep set
About this event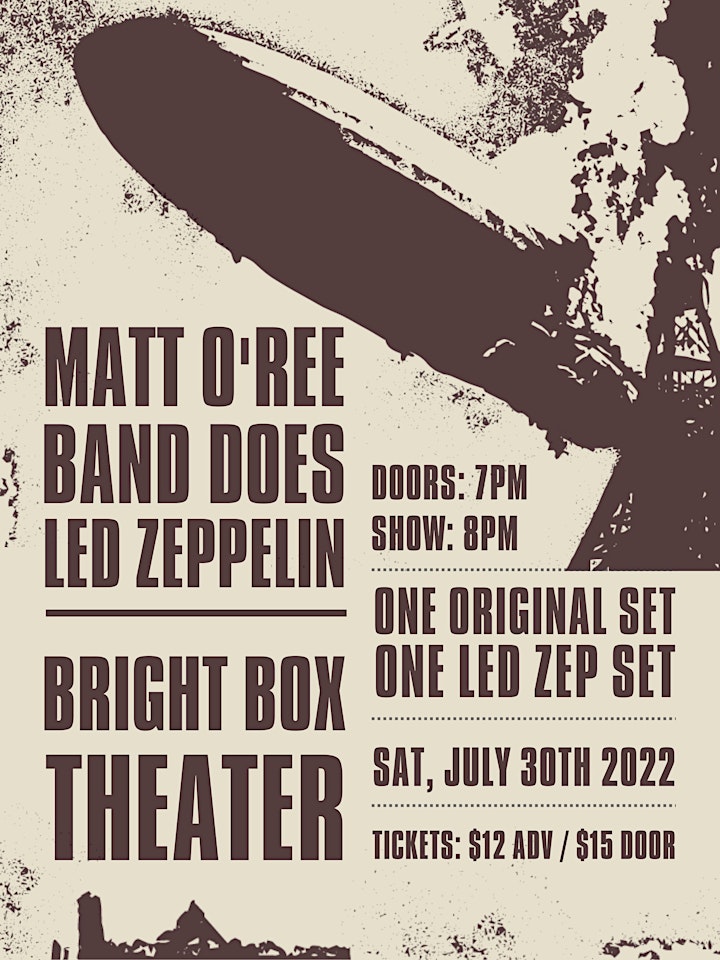 SATURDAY, JULY 30
GENERAL ADMISSION DOORS OPEN at 7PM
SHOW at 8PM
TICKETS
GENERAL ADMISSION: $12 + admission tax & processing fee
DOOR: $15 + admission tax
Advance ticket sales end at 5PM the day of the show. If tickets are not sold out by this time they will be available for purchase when the doors open.
ALL TICKET SALES ARE FINAL unless the show is postponed or canceled.
IMPORTANT INFO - please read!
This is an ALL-SEATED event in the theater
GENERAL ADMISSION - arrive early for best choice of seating
ALL AGES
FOOD & DRINK available for purchase
__________________________________________________
Over the past few years, The Matt O'Ree Band has done what most area bands do. They've played their shows, developed their sound, released their records and very quietly built a massive fan base in the process.
What makes this band different from all the others is that their local fan base includes Bruce Springsteen, David Bryan, and Steve Cropper, all of whom have volunteered to perform on the band's album, Brotherhood.
Prior to Brotherhood's release, Matt's talent was recognized globally when he got the nod to join rock legends Bon Jovi as their guitarist/backing vocalist on their 2015 stadium tour of the Far East.
When some of your biggest supporters have sold over 200 million units, you know you're doing something right.
In addition to being a creative songwriter, Matt was recognized by the industry as a guitar great after winning a national guitar contest hosted by B.B. King and John Mayer through Guitar Center and Guitar World magazine. Matt beat out over 4,000 competitors to win the grand prize which consisted of multiple guitars, an endorsement from Gibson, a shopping spree at Guitar Center and a new car from Scion. This major accomplishment was the spark that jumpstarted his career and gave his band momentum for their future success.
Growing up on influencers ranging from Jimi Hendrix, Cream, Led Zeppelin, Deep Purple, Rory Gallagher, ZZ Top, Robin Trower, Joe Walsh, and Stevie Ray Vaughan, the Matt O'Ree Band has taken all these diverse elements and forged a new iron.
Matt's writing is inspired by many life experiences and years of study from the ones that have written the book on how to play real guitar rock music. Not as a photocopy, but in a new light that hasn't been seen in quite some time. Now is the time for real music and real musicianship to make a resurrection.
Recently, the band has been promoting two new singles "Without You" and "Through Time With You" co-written and produced by John Ginty, B3 Organ player for the Allman Betts Band and the Dixie Chicks. The songs are an indication that the band is moving in a new direction forming a powerhouse team, blending Eryn's soulful vocals with Matt's gritty vocals and unparalleled guitar. Together these two front an incredible sound where the audience can feel the sparks between them. The chemistry on stage is unstoppable.
Eryn is an accomplished artist in her right. She won awards such as the BELK Southern Musician Showcase/Blues Artist as well as Asbury Park's Top Female Vocalist and Top Blues Band. She is also the youngest artist to be inducted into the NJ/NY Blues Hall of Fame and one of only three females who have been inducted. She has performed or opened for artists such as Don McLean, Gregg Allman, Johnny Winter, Robert Cray, Dr. John, Shemekia Copeland, The Gin Blossoms, Little River Band, Marcia Ball, Walter Wolfman Washington, Eric Lindell, Sonny Landreth, The Radiators, Johnny A and so many more. She also recently sang backup vocals with the Smashing Pumpkins on the Late Show with Stephen Colbert.
Together, the band takes their fans on a ride that hasn't been heard or seen at this level since the '70s. Their live show is like revisiting a Zeppelin concert at the Garden, and with Lex Lehman's smooth soulful bass, John Hummel's Bonham-esque drums, and Eryn's angelic and gutsy lead and backing vocals, Matt and company have built a foundation that can hold up the biggest house on the block.
________________________________________________________
FAQs:
Where do I park?
Bright Box is located at 15 N. Loudoun St. on the beautiful pedestrian mall in Old Town Winchester. The nearest parking is the Braddock Auto Park at 30 N Braddock St. This is about a block away from the venue. The parking garage does have several handicap parking spaces available.
Once you've parked in the garage you'll exit toward the pedestrian mall. Once you hit N. Loudoun you'll make a right and Bright Box will be on your right a few storefronts up, directly across from the Old Court House Civil War Museum
More information about the garage can be found here: https://www.winchesterva.gov/parking/garage-information
Is Bright Box handicap accessible?
Absolutely. The venue is handicap accessible and ADA compliant. The infrastructure in Old Town Winchester is friendly toward those with physical challenges or in wheelchairs. Park in one of the close-by parking garages and come to the main door at 15 N. Loudoun St. (the walking mall). We ask that you arrive when doors open, and we will be happy to escort you to a place best suited to your needs in the theater or to take you to the elevator to access the upstairs Out of the Box room.
Is there lodging nearby?
There are lots of great and affordable lodging options — from hotels and motels to camp grounds and bed & breakfast spots — just minutes away from Bright Box. Right around the block is the elegant George Washington Hotel, and Courtyard Marriott is quick drive and within a stones throw to the beautiful (and highly recommended) Shenandoah Valley Museum. Check out these websites to explore your options and discover all the wonderful opportunities in Winchester:
• http://www.visitwinchesterva.com/lodging/hotels-and-motels