About this Event
Matt Maeson
Growing up in Virginia, Matt Maeson got his start performing for inmates at maximum-security prisons across America at age 17. "I'd get up and do these acoustic songs on my guitar, and they're still the best shows I've ever done," says the Austin-based singer/songwriter. "You're playing for all these people who are treated like they're monsters, and it feels like spreading some light into a really dark place."
On his debut album Bank on the Funeral, Maeson uses his deeply incisive songwriting to explore the tension between light and dark in his own life. The album redefines the limits of the classic singer/songwriter's sensibility and shapes a sound that's richly textured and gracefully experimental. And with his soulful vocal presence, Maeson again reveals the raw-nerve vulnerability that prompted TIME to praise him as "never afraid to investigate his past and his demons, resulting in songs that are clear-eyed in their honesty and raw around the edges."
Centered on Maeson's candid storytelling and gritty poetry, Bank on the Funeral takes its title from its closing track: a quietly hypnotic number written for a beloved uncle, who was murdered when Maeson was six-years-old. "He was a criminal when he was younger, but once he got himself together he'd go out and minister to the people he used to hang around with -- the people the church would never try to reach -- and then one of those guys ended up going crazy and killing him," says Maeson. "What inspires me about him is how he'd go to the places no one else would go and talk about the things no one else would talk about."
Throughout Bank on the Funeral, Maeson brings a similar courage to his songwriting, imbuing every track with an often-brutal self-awareness. On the album-opening "I Just Don't Care That Much," he fires off a litany of confessions ("Maybe life was just a bet/That I lost to drugs and cigarettes"), brilliantly offsetting all that heavy-hearted deliberation with his bright melodies and upbeat rhythms. Later, on the fast-paced and horn-laced "Legacy," Maeson's spirited and sometimes-howled vocals relay some borrowed wisdom about self-salvation. "That song's about a night in Virginia Beach when I was drunk on the street with my friends, and an old man came up to us and started talking about life," Maeson explains. "The lyrics are basically me writing out everything I remember him saying." But for songs like "The Mask," the album shifts into moodier and more darkly ethereal terrain, a potent backdrop to his gently urgent vocal performance. "'The Mask' is about how everybody has a mask they wear and how that always roots back to something -- some point in your life where you started pretending, and then eventually started believing that's who you really are," Maeson says.
One of the most arresting tracks on Bank on the Funeral, "Beggar's Song" begins in hushed guitar tones and softly pleading vocals, then unfolds into a stubbornly hopeful epic with gospel-like intensity. "I wrote 'Beggar's Song' when I was broke and hungover at SXSW, and everybody was partying and I was just over it," Maeson remembers. "It's about spending the last two years on the road and what that's felt like -- that line 'I'm a beat-down, washed-up son of a bitch' has definitely been true on multiple occasions."
In the making of Bank on the Funeral, Maeson drew equally from his instinct-driven songwriting process and from the natural musicality he's honed since he was a little kid. Originally from Norfolk, Virginia, he was born into a music-loving family, including parents who played in heavy metal bands throughout his early childhood. The same uncle who inspired "Bank on the Funeral" gave Maeson a drum set when he was a toddler, then left his nephew his own drums after he died. At 15, Maeson learned a few guitar chords from his father and soon began writing songs, playing his first live gig at a Chick-fil-A open-mic night and then moving on to the penitentiaries. "My dad was a criminal growing up, but he ended up turning his life around and becoming a youth pastor," Maeson says. "Later on my parents started a prison ministry, and I went along with them to play my songs in the prisons."
As he built up his body of work, Maeson increasingly relied on songwriting as an emotional outlet. "I started getting into a lot of trouble, doing a lot of drugs, getting arrested," he says. "Music became a way of getting things off my chest, and I started writing with more honesty." In addition to working construction 12 hours a day and doing community service on his time off, he began traveling the country with a notebook and a guitar, often going back to play in the prisons where he got his start. In 2015 he began posting his songs online and quickly drew attention for "Grave Digger," a starkly powerful track about "trying to figure out how to navigate life after realizing that everything you were told growing up isn't necessarily true," according to Maeson. He soon signed a joint deal with Neon Gold/Atlantic Records, then made his debut with Who Killed Matt Maeson -- a 2017 EP featuring his breakthrough single "Cringe," which hit #12 on Spotify's US Viral 50. With his sophomore EP The Hearse arriving in spring 2018, Maeson next headed out on tour with Bishop Briggs and took the stage at major summer festivals like Lollapalooza and Bonnaroo.
In bringing Bank on the Funeral to life, Maeson continued to tap into the cathartic power of making music. "Songwriting's always been very therapeutic for me," he says. "Wherever I've lived, there's always been a secluded closet or bathroom where I could sing really loud and not bother anybody." And though he regards his songs as "conversations with myself," Maeson's underlying mission is to include others in that catharsis. "What I try to do is help people know that, even if their problems feel so specific to their lives, everyone's going through something that feels just as specific," he says. "If I can write about what's upset me or what I've learned from, and somehow help other people feel recognized and understood, that's always the ultimate goal."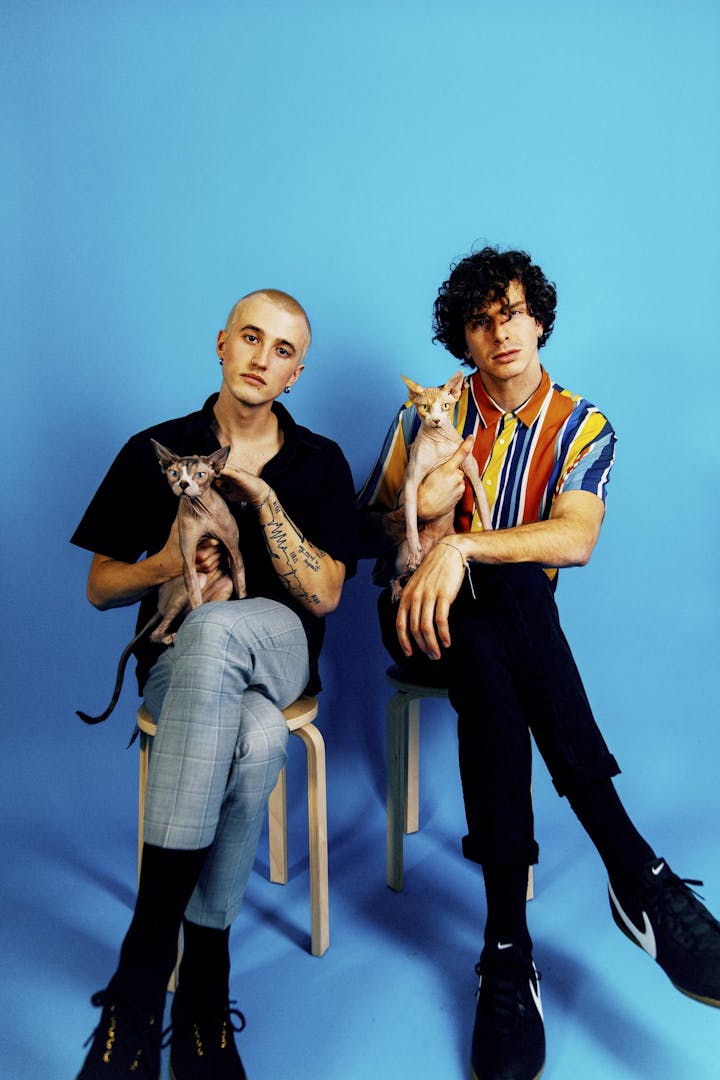 LA two-piece Moby Rich turn melancholy song craft into bold, pop hooks and visuals. Their debut single, Yoko Ono, is a euphoric-by-way-of-ethereal burst of joy; a love song (or at least their version) about finding someone to match your strange.
The pair -- Maxwell Joseph and Connor Pledger -- relocated to LA in 2015 from Indianapolis and Atlanta respectively in search of, well, anything. Connor initially made the move after a music mogul stumbled across a cover he uploaded on YouTube and invited him to Hollywood to join a "folk boyband" he was putting together.
Quickly realizing that was a bad idea, Connor began to do the rounds as a pop songwriter. "I'm living out here and I'm writing for pop artists and thinking something's going to happen, then a year goes by and I'm getting terrible depression. I don't know what the fuck to do with myself," he describes. "I've moved out here, I'm songwriting, nothing's happening, I have nowhere to stay. So I decide I need to do something, I need to get out of this funk."
In a moment of synergy, Connor began attending open mic nights around the town in which Maxwell was living. "I found this one particular night and the first time I went there was the time I met Maxwell," he describes. "We had a mutual friend who it transpired knew him from Indianapolis. So we meet and the first reaction we had was, 'Yeah that doesn't look like a guy I want to hang out with'."
"I think there was a little bit of facade on both of us," agrees Maxwell, who'd been attending the nights in the hope of finding somebody -- anybody -- to hang out with. "A lot of people go through that when they move to a town like LA. You just put on a very cold aesthetic. But it didn't take long for us to warm up."
The two began writing together and, as Maxwell puts it, realized "semi quickly, that we had this identifiable sound between the two of us." "The funny thing is, the music that we actually like, doesn't sound like the music we used to make," continues Connor. "And one of the cool things about this project is that it's the first project I would actually, honestly buy and listen to. Before I don't think I would have bought my own music."
The majority of the pair's tracks are written on acoustic guitar, the thinking being that if a song sounds good acoustic, it probably sounds good full stop. "Sometimes when you strip all the production from a song, you aren't left with much," says Connor. "We want to be able to play everything from just a guitar, all the way up to a full band show." While either one of them can bring the genesis of an idea, what's important is that they always both vibe on it. "If we don't, there's probably nothing to it," Connor simply states.
The pair sing every song in unison, (a sort of whole-is-greater-than-the-sum-of-parts attitude) which speaks volumes of their close, almost twin-like, friendship. "Where my vocal lacks, his vocal picks up the slack and vice versa," says Connor. "Almost like a yin and yang of vocal qualities."
Their writing process has always been a collaborative one. "I think we know when to take and give and it just speaks to how we balance each other out," states Maxwell. "There's a trust in the process that we have developed over writing together for a long period of time." Maxwell admits that while he may a bit more simplistic than Connor's "theatrical and grandiose" musical tendencies, it's this balance that makes Moby Rich the most exciting project either of them have worked on.
"We did all the vocals for this project, even up to today, on an iPhone 5," explains Connor. "We took those vocals and pan them hard left and right. We used old Fruity Loop plugins to create some of the sounds we have. We created samples of random noises we found while creating the project and used those with the iPhone to create sounds that would be absolutely original (i.e. a guitar solo performed by my refrigerator). So between the accidental sounds we made, and the absolutely deliberate sounds we wanted, it created the sound we have now."
The first insight into their unique sound comes in the shape of Yoko Ono, a melancholy pop banger that combines the euphoria of early MGMT with the laidback beat making of N.E.R.D. "Yoko Ono was the last song to be written for our EP," Maxwell explains. "I'd made a little track and sent it to Connor and we just started writing to it. We had a moment when we were doing the chorus where I was like, 'wow, this is really good'. And usually you don't have moments like that."
While neither can remember who came up with the "be my Yoko Ono muse" lyric, Connor describes how the song is basically "about finding the person that matches your weirdness. Whatever you attract in life, you want that other person to be your match. And you look at John and Yoko and you know the rest of the world didn't matter. The whole planet could have exploded and gone off into space and they'd still have been in love forever."
The video – directed by L.A. filmmaker Scottie Cameron – depicts the pajama-ed pair in motorized beds, driving through the streets of Los Angeles with sheets billowing in the air. You can read it as a reference to John and Yoko's famous "bed-ins" of 1969, or even the two of them living out their dreams. Really though, you get the impression it was just a good excuse to goof around. "We wanted something that shows our personalities," Maxwell admits, of the perfect foil to the bands occasionally moody synthetics. "Something that's a bit ridiculous."
"Humor, plain and simple, is what allows us to cope with life," Connor continues. "We don't enjoy writing bubblegum pop or songs about how everything is perfect. It's not. So, why write about a world that doesn't exist?" This level of honesty allows the duo to say what they want in a way that helps friends and fans cope with the realities of life. "Obviously, there is a lot of bullshit going on in the world right now. The way we often connect with people on that is through our lyrics but we also want to tap into the joy that music can bring."
The chance for that will come with an EP later this year. Maxwell describes how the band wants to use it to tour, to travel, to have fun. They want to connect with a fan base and say, as Connor describes, "'this is how I feel' within this weird gesture of creating a song."
"We try to let people know, in the music, that we don't know everything. We're not here to give answers," Maxwell says, as Connor picks up the theme. "We just want to say, hey, we feel the same way you do. I think that's where the beauty lies."
Venue Information:
Parking is available in side lot (by Exxon)
No Smoking/Vaping permitted anywhere inside venue
Bags/purses will be checked at the door.
Must have ID for entry
If you do not have access to a printer, we can scan ticket from your cell phone. Be sure to have your brightness turned all the way up at the door.
Children under 3 years old are Free.
Kitchen is open during all hours of operation.
Appropriate clothing required at all times (tops and bottoms covered).
Performers
Date and Time
Location
Refund Policy