Event Information
Location
Riviera Theatre - Jam Productions
4746 North Racine Avenue
Chicago, IL 60640
About this Event
No backpacks, bags, laptops or tablets allowed in the venue. For a full list of prohibited items, click here.
** Language is definitely not suitable for all ages because of Kim. **
MATT AND KIM
Website | Facebook | Twitter | Instagram | YouTube | Spotify | SoundCloud | Apple Music
Brooklyn duo Matt (Johnson, keyboards) and Kim (Schifino, drums), having met as students at Pratt Institute, soon began collaborating musically and were quickly recognized for their thunder-punching, melodic mix of indie punk and dance. Pitchfork described their sound as "melody so happily jerky and rhythms so dangerously spastic that you can practically hear paroxysmal crowds pogo-ing madly...Johnson sings and thousands of other kids in his zip code (and others like it around the country) feel like he's describing their Saturday nights." It wasn't long before Matt and Kim went on to a string of successful album releases and rose to the top as the go-to live band for raw exuberance and dance-ready anthems.
Their 2018 album ALMOST EVERYDAY (FADER Label) was written during Kim's extensive recovery after an injury in early 2017 sidelined the band for a year, the longest they had ever been off the road. They used that time to create one of their most personal albums to date. For the first time ever, friends contributed vocals to the album including Mark Hoppus, Clairo, Santigold, SWMRS, Flosstradamus and more. First single "Forever" was premiered on Beats 1 by Zane Lowe who chose it as his World Record. Post-release remixes of album stand out "Happy If You're Happy" took the song, the first love song Matt ever penned for Kim, to new heights. Also, Matt and Kim wrote and recorded "Come Together Now" for the LEGO 2 soundtrack.
Matt and Kim are known as much as being a non-stop touring phenomenon as they are known for their infectious, beat-driven anthems and explosive live shows. They have sold-out headlining tours across North America and wowed fans around the globe. They won the mtvU Woodie Award for "Best Live Performance", have performed on Jimmy Kimmel Live and The Late Show Starring Jimmy Fallon, sold-out headlining tours across North America, stole the show at multiple festivals including Bonnaroo, Coachella, Lollapalooza, Outside Lands, HangOut, Firefly and, internationally, at Big Day Out, Corona Capital, Pukklepop, Primavera and Fuji.
The Brooklyn duo are also viral video stars known for their innovative video concepts, from their captivating music videos to their "Matt and Kim Show Ya Stuff" vlog which allows fans a personal glimpse into their lives off the stage. Notably, Matt and Kim took home an MTV Video Music Award for "Breakthrough Video'' for their self-made video "Lessons Learned" in which they stripped naked on a wide-eyed walk through Times Square on a very cold winter day.
Matt and Kim recently started a podcast of their own, aptly titled The Matt and Kim Podcast, where the two of them discuss crazy hypotheticals. There are a lot of laughs, but the conversation is as thoughtful as it is fun. It's all very Matt and Kim. New episodes drop weekly.
To mark the anniversary of their sophomore album GRAND, Matt and Kim announced the GRAND 10 Year Celebration Tour where, for the first time ever, they will play their breakout album in full + a few fan favorites. Recorded by the duo in Matt's childhood home in VT, the album features "Daylight" recently certified RIAA platinum, "Lessons Learned" whose video won the VMA for Breakthrough Video and fan favorite "Good Ol' Fashion Nightmare".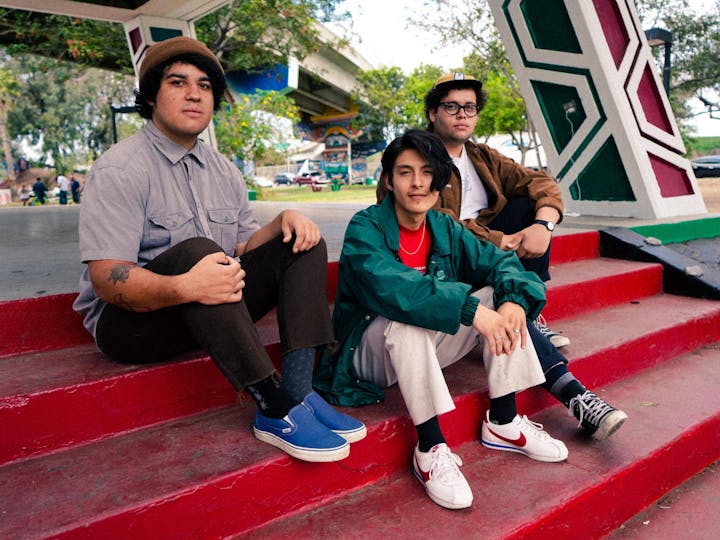 BEACH GOONS
Website | Facebook | Twitter | Instagram
Hailing from San Diego's Logan Heights neighborhood, Beach Goons was the brainchild of Pablo Cervantez, the band's vocalist, guitarist, and sole constant member. Beach Goons started innocently enough with Cervantez and a couple friends picking up instruments and playing out, hitting up any place that would have them, from their middle school to Logan Heights' library. As the band grew, their sound evolved with them. Their early singles showed a brash, garage-indebted take on punk, but by the time of BoiSad, the edges began to smooth, and more of Beach Goons' personality began poking through. For their new album, hoodratscumbags, Beach Goons didn't rush things, instead spending the better part of two years workshopping the songs until they became the most potent examples of what they wanted to express.
"Most of the songs were scrapped or I rewrote them," says Cervantez of the writing process. "It was just going to be an EP, but it got to a point where we had enough songs for it to be an album." The product of all that work is hoodratscumbags, which GRNDVW Recordings will release on September 7, and sees drummer Chris Moran and bassist David Orozco joining the ranks. Across the album's 10 songs, Beach Goons effortlessly blend genres, taking a bit from punk and surf, to authentically express their lives and where they come from. "We're from a Mexican community, we're all Mexicans, and we really love showing it," says Cervantez. "[Logan Heights] is the heart of Mexican culture, and the heart of Chicano culture, and I really want to emphasize this was our upbringing and this is who we are."
Songs like "A.M" and "The End" show the album's breadth, as Beach Goons write airtight pop songs, but come at them through the side door. The songs twist and turn, revealing their ability to surprise a listener without ever breaking their stride. "I feel more confident writing and releasing this than I ever have," says Cervantez of hoodratscumbags, and that's something that's noticeable on first listen. Beach Goons are pulling off moves that put them in a class of their own, taking the best of bands like Wavves, Joyce Manor, and Culture Abuse, and framing it in their own way.
"My family moved here, I'm first generation," says Cervantez, "I just want to show those people that if you come from these streets, if you come from these hoods, you can do it too." That sense of community, and Beach Goons' sheer excitement, permeates the entirety of hoodratcumbags. It can be heard in songs such as "Chunti," where Cervantez sings in Spanish and holds nothing back. It's moments like these that show Beach Goons for what they are: a band that's young, excited, and not afraid to show the world the full scope of themselves. Beach Goons will be touring in support of hoodratscumbags, including an appearance at Riot Fest in Chicago, spreading their message, and sharing their joy, with anyone that listens.
Date and Time
Location
Riviera Theatre - Jam Productions
4746 North Racine Avenue
Chicago, IL 60640
Refund Policy