Event Information
Location
Lovegrove Gallery & Gardens,
4637 Pine Island Rd
Matlacha, FL 33993
Description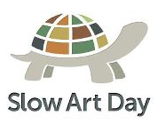 Lovegrove Gallery & Gardens
Art viewing: 11:00 AM - 1:00 PM
Lunch: 1:00 PM - 2:00 PM
At Miceli's Restaurant
Host: Leoma Lovegrove
leomalovegrove@gmail.com
Slow Art Day is a worldwide celebration of art that encourages people to look at art SLOWLY – and thereby experience art in a new way. You can see more about Slow Art Day and the mission behind it on our website: http://SlowArtDay.com.
As Slow Art Day approaches, you'll hear from your host with more information, as well as instructions about what to do when you arrive for Slow Art Day.
More info about Slow Art Day movement: facebook | twitter | tumblr
Date and time
Location
Lovegrove Gallery & Gardens,
4637 Pine Island Rd
Matlacha, FL 33993