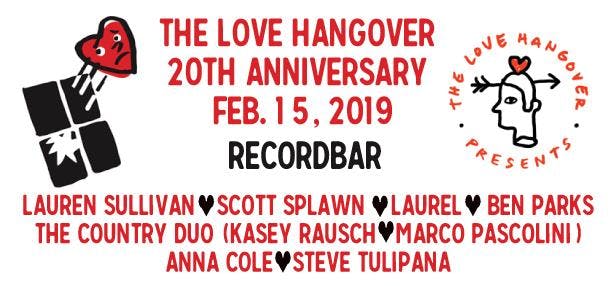 About this Event
6:00 DOORS
7:00 Lauren Sullivan & Scott Splawn
7:30 Laurel & Ben Parks
8:00 The Country Duo (Kasey Rausch & Marco Pascolini)
8:30 Anna Cole & Steve Tulipana
The Love Hangover 
20th Anniversary Showcase
Raleigh • New York City • Kansas City • Toronto • Providence
The day after Valentine's Day, February 15, 2019
http://www.thelovehangover.com/ 
The Love Hangover is having it's 20th anniversary. The showcases happen on the same night in Raleigh, NC, New York City, NY, Kansas City, MO, Toronto, Canada and Providence, RI. 
On this evening every year, the world weary and the true believers alike huddle in pairs, playing to those themselves a little tired and worn, whether from love itself or the lack thereof. Each show will feature noted musicians and performers, as well as luminaries from the local music scene, singing Eros-centric duets that range from poignant to comical to just plain naughty. Whether performing songs originally written for two – or just reinterpreted as such – these inventive, inspired pairings prove true to heart.
Lauren Sullivan & Scott Splawn come from the Lawrence based band, The Mad Kings. They put on an explosive live show, rooted in Blues, Rock-n-Roll, and Punk. Recently Lauren and Scott have extracted an acoustic trio version of the band with John Cutler.
https://www.facebook.com/themadkingsinnolaw/ 
Laurel & Ben Parks are the main songwriters in the KC four-piece Of Tree with John Bersuch and Scott Freeman. Laurel carves out violin melodies and shares lead vocals, soaring above the deep tones of Benjamin Parks and his haunting guitar.
http://oftreemusic.com/ 
The Country Duo, Kasey Rausch and Marco Pascolini, has been together since 2015. They play both Rausch's original songs and country classics. The Country Duo has recorded at the legendary Sun Studios in Memphis and appeared nationally on the television program PBS Sun Studio Sessions in 2017.
https://thecountryduo.com/ 
Anna Cole & Steve Tulipana performed together on Johnny Hamil's GAV7D album. Anna Cole is owner/curator of The Mulberry Room event space in the West Bottoms. Anna was in Anvil Chorus, took part in the Sticky Fingers tribute and was a skilled front-woman and bandleader for the supergroup Anna Cole & The Other Lovers. Steve Tulipana is co-owner of our host venue, the recordBar. He's a proud native of Mars (Pennsylvania). He's been a singer and instrumentalist in a long parade of music ensembles, everything from post-synth-noise-cock-block-rock, rock, to secretive avant-garde experimentalism. From Anna and Steve, expect the unexpected.
The brainchild of musician Richard Alwyn, The Love Hangover was first staged in Raleigh, NC in 2000, and expanded to New York City when Alwyn relocated to Brooklyn in 2003. Since then, the showcase has grown to seven different cities and has featured over 500 performers. Alwyn, a singer, actor, producer and writer of songs and stories, released the album Last Callers and Losers with Brooklyn/Amsterdam–based duo The King Canutes, and is currently at work with his band The Winter Drinks.
email: thelovehangover@thelovehangover.com 
Scott Easterday performed at The Love Hangover in Brooklyn in 2007 with Dana Kletter (Mrs. Moon) and has hosted the Kansas City chapter since 2008. Easterday is a singer-songwriter and fronts the band Expassionates.
https://scotteasterday.com/ |email: scotteasterdaymusic@gmail.com