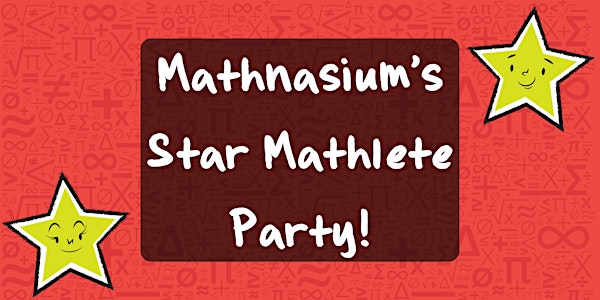 Mathnasiums of Dale City + Lake Ridge Star Mathlete Party! (Virtual)
Join us as we celebrate our students' hard work! We'll have fun and games and announce the winners of our $100/100 drawing!
About this event
Join us for a virtual party!
Challenge friends, fellow Mathletes, and Mathnasium Instructors to games like 4 Way Countdown, Pictionary, and Codenames!
Your students have been working hard and what better way to celebrate than with some fun?! We have a plethora of fun (and mathy!) games for students of all ages. There will also be contests and drawings throughout the event! On top of that, we'll be announcing the winner of our $100/100 drawing which students have been working towards all summer!
Friends, siblings and other family members are welcome to join! We ask that you register each child who plans to attend the event so we can plan accordingly. Friends and family are welcome to attend on the same device or separately. If you have multiple students joining from separate devices we recommend having them join from different rooms of the hours and wear headphones to prevent audio issues.
Please RSVP on Eventbrite so we can send you the link to our Zoom room!
Other Information
This event is designed for children who either attend the Mathnasiums of Dale City or Lake Ridge, are friends with current students, or live in the surrounding area. If you don't fall into any of those categories, please reach out to your nearest Mathnasium to check for similar events near you. You can find your local Mathnasium here.
If you find out that you'll be unable to attend, please cancel your registration so as to allow another family to attend in your place. Space is limited!
We ask that you don't share the link to the Zoom room with any families who are not registered for the event, as our space is limited and we may not have enough staff on hand to deal with unregistered attendees.