| | |
| --- | --- |
| Mathnasium Summer Math Camp | |
Event Details

Don't Delay! Call Today! @ (855) 331-MATH (6284)
(Click Here to watch our YouTube Commercial)
At Mathnasium, summer programs are easy as 1, 2, 3!
Step 1: Pick your Membership
Choose a membership based on your goals for the summer. Do you just want to keep some math juices flowing, or do you really have some catching up to do?
 6 – Week Membership
 8 – Week Membership
 Success Monthly Membership
(Note: 6-week and 8-week memberships do not have to be used in consecutive weeks. You are allowed vacation breaks and still be able to finish out the rest of your weeks.)
Step 2: Schedule your Math Skills Assessment
Our Math Skills Assessment will determine precisely what skills your student needs to get on track or move ahead. It is the basis of the customized curriculum. There is a $99 Assessment fee for all new students and will be due at the time of the Assessment. Current or returning Mathnasium students will not incur this fee again.
Step 3: Drop-In Unlimited/Flexible Visits
No appointments are necessary – you just drop-in when it fits in your schedule and we'll get to work! Come 2-3 times a week or come everyday, it's entirely up to you. Each Mathnasium session lasts...
Up to 60 mins for Elementary students

Up to 60 mins for Middle School students

Up to 90 mins for High School students
We also offer 3 Free Math Game Hours each week from 2:00-3:00pm. These game sessions are devoted to logic, geometry, and number sense. New games and old favorites will be played each week.
Join our Robotics Club on Thursdays or our MC2 Chess Club on Fridays. Additional Fees to join/attend these clubs.
View our entire summer schedule below or visit our website. 
Our Results
 
At Mathnasium, we help kids understand math by teaching the way that makes sense to them. Children who consistently attend our learning centers enjoy a transformative learning experience and make huge strides in the classroom. Multiple independent studies carried out by EyeCues Education Systems since 2004 have found Mathnasium to improve student performance on standards-based tests in 20 sessions or fewer.
HERE'S WHAT THE EXPERTS ARE SAYING:
A small investment in the summer really pays off in the fall!  
According to researchers at Johns Hopkins University, students "lose about two months of grade level equivalency in mathematical computation skills over the summer months." The summer slide can have long-lasting effects on a student's academic life. "Early summer learning losses have later life consequences, including high school curriculum placement, whether kids drop out of high school, and whether they attend college."
Choosing the right summer math program is essential to your child's success. Mathnasium students have shown significant increases in performance in fewer than 20 sessions. We have a proven track record of helping kids get ahead in math, improving their grades, and transforming their attitude toward math. Let us work with your child this summer and see the difference we can make!Can knowledge and effort actually be "lost" during the summer? The answer is yes. At the end of summer, many students perform one month behind their progress in the spring, according to a recent study. 

With no school stress or homework pressure to be concerned about, kids have a unique opportunity to prepare for the coming year without anxiety about keeping up with the class. Because new school material is at a standstill, everything kids do during the summer to build their math skills helps them get ahead!  This is your brain on summer - New York Times.

Third party studies show significant increase in grade level skills after just 3 months with Mathnasium. We'll help your child focus on keeping math skills fresh, getting a head start on next year's material, and improving math grades in the fall. 
We're experts in making math challenging and fun, even for students who are struggling or unenthusiastic about math. Our new YouTube series, Operation Mathlete, shows how transformative a fun math learning experience can be for a reluctant student. In the show, three middle school contestants, each struggling in math, compete to be the best mathlete and win $1,000 while learning about patterns, proportions, wholes and parts, percentages, and geometry. Watch their understanding and enthusiasm toward math improve with each of our creative challenges!
FREQUENTLY ASKED QUESTION:
Why do children struggle with math?
What we have found is that many kids are missing some key foundational math skills that make it very difficult to keep up in class. While most schools make valiant efforts to provide appropriate instruction, with class sizes of 20, 30, or as many as 40 students per class, the classroom teacher has no recourse but to be sure the entire class is moving forward and progressing, and can't possibly keep every child at the same level, throughout the entire school year.  Teachers are expected to cover vast amounts of material in a short period of time. So, if your child doesn't get a chance to master a skill for whatever reason, he has to just keep 'keeping on' without complete understanding as the class moves forward. As a result, we see too many kids falling behind in math.
What happens next? The class moves on... Multiplication facts, Fractions, Percentages, Decimals, Mixed Numbers, Exponents, Ratios, X=?, Divisibility Rules, Algebra, Geometry, Equations... Never slowing down to catch your child up! They feel confused, frustrated, embarrased, and all alone! They begin to expect and accept failure as the "New Normal." They lose all confidence in themselves and other grades begin to suffer. Is it any wonder why you have to fight with them to do their homework? With many kids, it is easier for them to fight you and not do the work than to put the effort into it only to see failure again... It just doesn't seem worth the effort for them after a while.
How does Mathnasium compare to private tutoring?
Mathnasium is NOT a traditional tutoring center; we are a Math Learning Center.  Unfortunately, in most cases,  'traditional tutoring' is a temporary fix for a long term problem. Tutors are simply putting out math homework fires only to see them flare back up the next day... or the next week. Tutoring may help keep your child's grade passing, it may get him through the next test or even the finals, but it is not going to be a meaningful long term solution in most cases, and is just kicking the can down the road without fixing the actual problem (i.e. fundamental math skill development!). Our ultimate goal  is for kids to be able to independently think on their feet mathematically, and solve problems on their own! Most likely, that is what your child wants too! And the Summer is the best time to accomplish this goal.
So is this One-on-One Tutoring?
 Another Great Question! Our Instructors are not just the average "Math Tutor"; We have brilliant, engaging, inspiring Math Experts that work one-on-one with students long enough to get them started and make sure they understand what to do. The Next Step is Very Important! The instructor steps back and lets your child work independently to give him or her the time to process this new information without the pressure and stress of being watched. In this way we develop true independence, so that students learn to solve problems on their own without additional intervention.  It also prevents a "Learned Helplessness";  a symptom where the student NEEDS the instructor sitting in front of him at all times as a crutch used in hopes of getting the final solution from the instructor - we want to prevent this!  Our Instructors quickly circle back to make sure students are making progress, being accurate, and being encouraged along with positive constructive criticism and praise to reward them for their efforts! If they need help we simply teach the lesson again (in a different way) without judgment or ridicule until they "Get it". This helps your child to become a "Confident, Independent Learner". As a parent  this is what I want. How about you?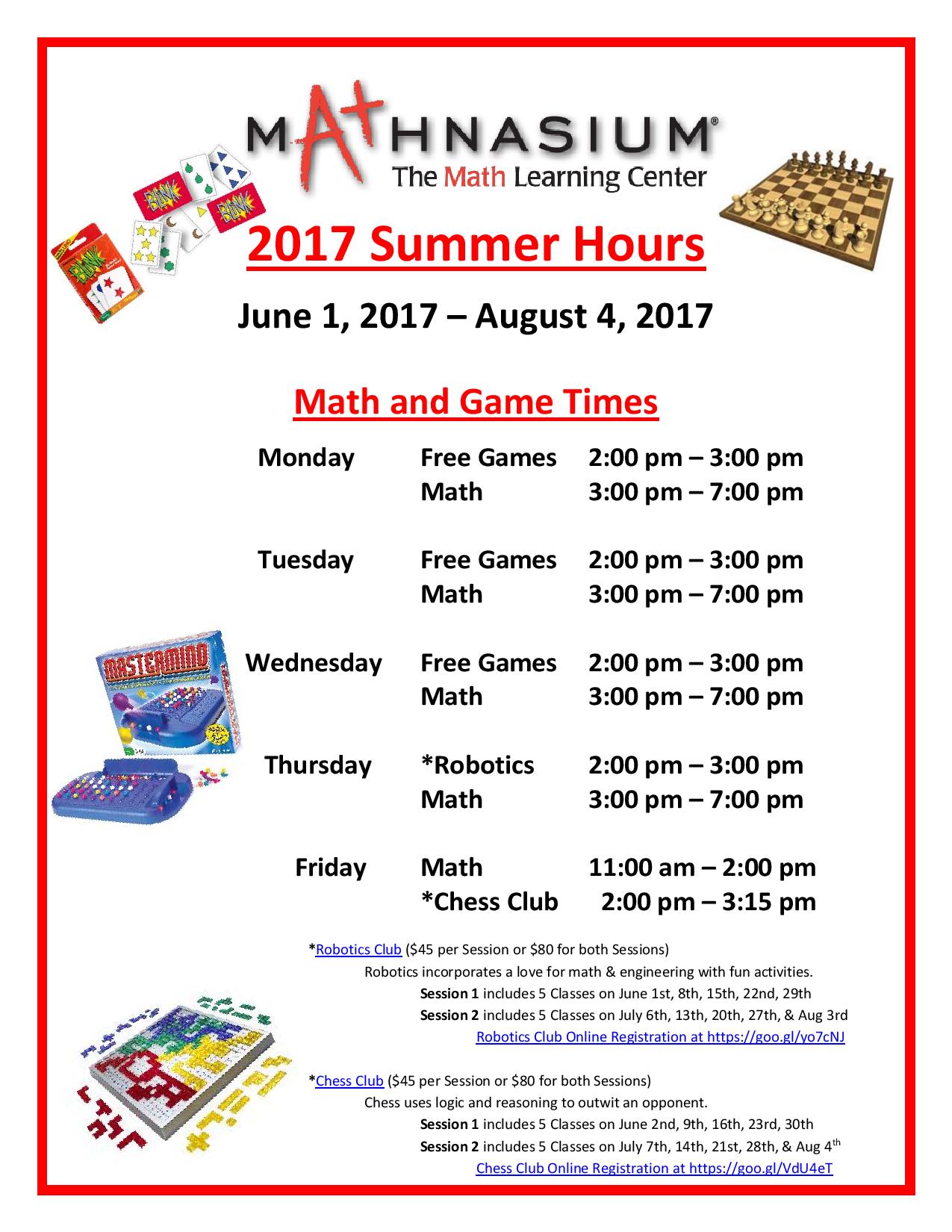 Where

Mathnasium of Columbus Bradley Park
6501 Whitesville Road
#Suite 100
Columbus, GA 31904


Organizer
Mathnasium of Columbus
Mathnasium of Columbus is your locally-owned, neighborhood Math Learning Center.
At Mathnasium Learning Centers, we make math make sense! Whether your child started out far behind or already ahead in math, Mathnasium will help them leap ahead because we know that any child can be successful in math—it's a matter of teaching it in a way that makes sense to them.
Our experienced math tutors utilize our proprietary teaching materials and techniques, The Mathnasium Method™, to deliver a customized learning plan designed to address each student's needs. Our instructional approach goes beyond traditional math tutoring to develop understanding and build a love for math.
If math is a problem, Mathnasium can solve it. Students will grow more excited and confident about math—and their grades will reflect that.
For students who already excel in math, the sky's the limit. They will work to expand their math skills and, with math learning made exciting, can see all the doors that being great at math can open.
Mathnasium Summer Math Camp