Mathnasium - Math Kangaroo Workshop (Grades: 1-6), 8- 90 Min Sessions
Description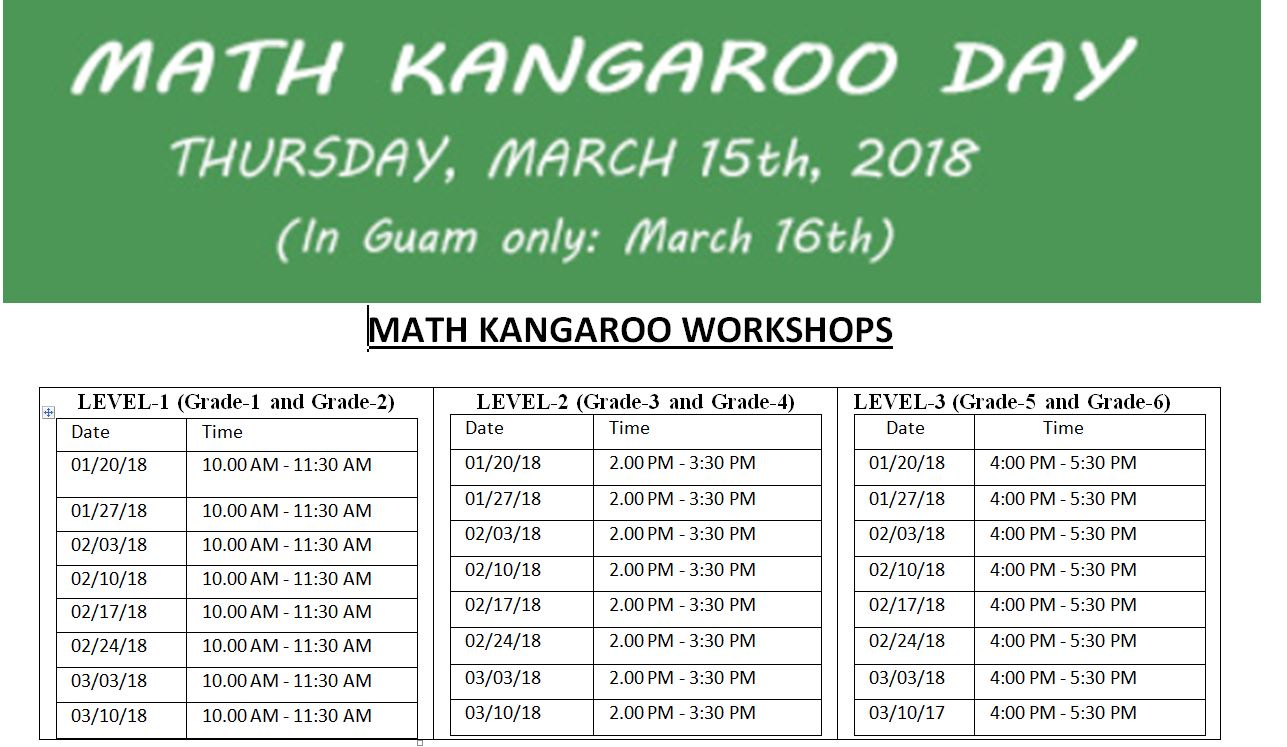 For more information, please visit:
Acton and Vicinity: www.mathnasium.com/acton, www.facebook.com/MathnasiumofActon or email us: acton@mathnasium.com.
Burlington/Lexington and Vicinity*: www.mathnasium.com/burlington/lexington, www.facebook.com/burlingtonlexington or email us: burlingtonlexington@mathnasium.com
* Burlington/Lexington Program timing may vary based on enrollment and other factors.
Payment and Other Info:
Fees for Math Kangaroo workshop is $175 for 8- (90 minute) Sessions for non-Mathnasium students.

For current Mathnasium Students, the fee is $100.

Workshop Fees can be paid for by the following options:

Paypal (Email id: acton@mathasium.com) by a Bank Account. If using a Credit card to make the PayPal payment, then please add 6% to the actual amount of the additional fee PayPal charges. For example, Mathnasium students using PayPal and paying through credit card should pay $106 instead of $100. Non-Mathnasium students using PayPal and paying through credit card should pay $185.50 instead of $175. If you use a bank account then this fee is waived.

Payment in the respective center: Cash/Personal check.

Eventbrite: Debit/credit card through EventBrite link (debit/credit card processing fee applies).

The number of Workshop seats is limited and the seats are reserved on the first come, first served basis. The seat for your child will not be reserved until the payment is received. We reserve the right to cancel a class if it does not have sufficient enrollment and will refund tuition, paid in full. REFUNDS WILL NOT BE GIVEN FOR ANY OTHER REASON.

Once registered, please send an email to the respective location with the following information. Name of your child, Grade, School. Students wishing to attend in Acton center should send an email to acton@mathnasium.com. Students wishing to attend in Burlington center should send an email to burlingtonlexington@mathnasium.com

Make-up Sessions will be offered for any weather-related cancellations.
Payment, Student Drop-off and Pick-up Policy.
1. Contest and workshop fees are non-refundable for any reason.
2. Make-ups will be offered for any weather-related cancelations or cancelations due to teacher absence.
3. All students must be dropped/picked up from the school premises by their parent or legal guardian.
4. At no time, students will be permitted to leave the school premises without an adult supervision.
5. Please inform the staff if your child is carpooling with another parent.
6. All students must be picked-up within 15 minutes after the end of the session.Students cannot stay at school after the session even if there are members of staff present.

Mathnasium Of Acton is excited to host it's 3rd annual Math Kangaroo Workshop. During the months preceding the competition, we will hold mentoring and practice sessions to help our young competitors get prepared. We have designed the competition preparation program for children in grades 1 through 6.
So, you have a young math genius and you want him or her to get as close as possible to those 96 or 120 points. What are the challenges?
1. Children need to read the problems carefully. Often a problem is purposely worded to sound complicated, and it is the student's job to untangle it.
2. Be careful with the multiple-choice answers. Those answers could often be misleading; some problems can be solved by eliminating the incorrect answers. Most of the time, it is better to solve a problem and mark the correct answer. A child will need to pick the strategy that works best for him or her.
3. The 75 minutes is quite a long for a young child, so time management is a challenge. Everyone needs to know their own pace. There is no time to waste but rushing through isn't a good approach either.
4. The actual math in the problems isn't very complicated but many kids lack fluency in calculations. It either slows them down or results in silly mistakes.
5. Often, children encounter unfamiliar words or terms in the text of the problems. Not understanding the statement of the problems, children resort to guessing and picking a random answer out of the 5 possible. This is only a 20% chance of getting it right and isn't reliable enough if one wants to get a high score.
This is a 8- session course where the students will meet for 90 minutes at a time on the weekend to work on the 5 major elements of our formula for success:
practice tests,

focus and attention,

mental math,

logic and reasoning, and

reading comprehension.
Students who take this test need dedicated practice prepared specifically for the workshop in Math Kangaroo pattern in order to reach their full potential. We will also provide homework for extra practice. Enrolled students will also have access to previous year question papers for further practice. Here at Mathnasium, we want to ensure your child is prepared, confident, and excited on the day of the competition.
We will start each session with a segment that increases students' focus and attention. This is important for students to learn because it helps them to block out distractions and their surroundings. It is also helpful to pinpoint what is being asked in the problem; this skill is used during the test, as well as at school and beyond.
Getting the correct answer is of paramount importance. Arriving at the answer quickly and efficiently allows students to move through the test booklet like a pro, therefore saving their energy and brainpower for the more difficult, involved problems. Mental math is the difference between working quickly or efficiently and working quickly and efficiently.
Logic and reasoning are skills students learn best through games and activities that require them to solve problems systematically and with purpose. These habits allow students to use one or more of their senses in order to provide an answer to a question, whether it be consciously or subconsciously.
Reading comprehension is an integral part of not only our program but also life. It is a critical skill for school and for the test. You may be thinking to yourself, "This is a math competition … what does reading have to do with it?" The answer is - everything. All real life math problems are word problems. When your child takes a standardized test, he or she has to read each question to himself or herself. Preparation in test-specific, as well as general, reading comprehension skills is an important part of our preparation.
Our 8-week Math Kangaroo preparation program is both fun and educational, just like our math program. That's why students come: not because they have to, but because they want to! Don't let your student miss out on this 8-week opportunity for fun and learning!