Mathical Book Prize - Live Author Readings
Get ready for the 2021 National Math Festival (NMF) beginning with Live NMF Mathical Readings!
By The National Math Festival
When and where
Date and time
Thursday, December 10, 2020 · 10 - 11am PST
About this event
Math is more than numbers and equations! The Mathical Book Prize inspires kids of all ages to see math in the world around them through fiction and literary non-fiction. Everybody loves a good story: we have picture books to teen novels, and everything in between.
Join us by the fire (so to speak) for some cozy Mathical Book Prize live author readings. Mathical authors will read aloud from their works, and take questions from kids and teens in the audience.
Be sure to check out our other upcoming NMF events including our Live Performances Series (January – March 2021), and our Live Online Festival Weekend (April 16–18, 2021).
As ever, the NMF is free and open to the public, with activities designed for all ages, from very young children to adults. We invite you to celebrate the fun, beauty, and power of math through games, puzzles, math, magic, uplifting and intriguing talks, beautiful and engaging films and film panels, live performances, and much more.
The National Math Festival is organized by the Mathematical Sciences Research Institute (MSRI) in cooperation with the Institute for Advanced Study (IAS) and the National Museum of Mathematics (MoMath). The 2021 NMF is generously supported by the Simons Foundation, the Alfred P. Sloan Foundation, the National Science Foundation, Schmidt Futures, the Kavli Foundation, and the American Mathematical Society (AMS).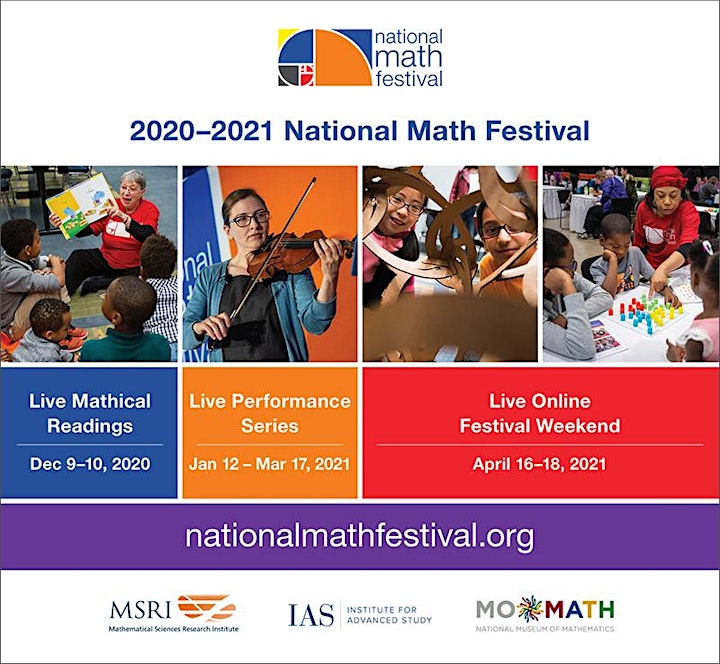 What to expect:
December 9th Mathical Readings: Tweens and Teens
Live! Solving for M by Jennifer Swender: When Mika starts middle school in the fifth grade, her neat life gets messy. Separated from old friends and starting new classes, Mika is far from her comfort zone. And math class is the most confusing of all. Art in math? Who's ever heard of such a thing?
Live! DK Life Stories: Katherine Johnson by Dr. Ebony Joy Wilkins: In this engaging youth biography, Wilkins tells the inspiring story of Katherine Johnson, famed NASA mathematician who helped the United States put the first person on the moon, and one of the subjects of the best-selling book and movie Hidden Figures.
Pre-Recorded Slay by Brittney Morris: Immerse yourself in the story of Kiera Johnson, a 17-year-old self-taught computer programmer and video game developer. Kiera has tutored her classmates in mathematics for years, but can she solve the equation of figuring out who she is as a Black girl with a secret online identity?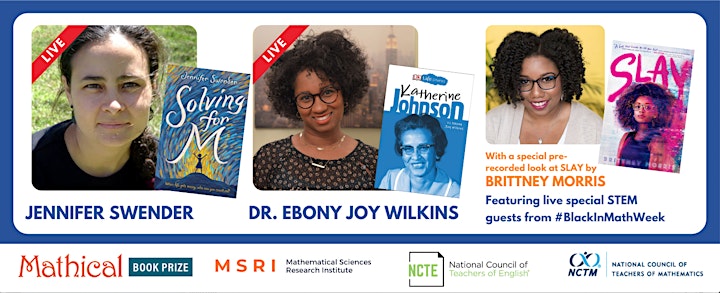 December 10th Mathical Readings: Little Ones
Live! Pigeon Math by Asia Citro: Telling a story about pigeons should be simple. But what's a narrator to do when the number of feathered friends is constantly changing? Can our intrepid storyteller use math facts to keep up with the unstable quantities. . . or is this pigeon-centric tale doomed?
Live! Cao Chong Weighs an Elephant by Songju Ma Daemicke: How much does an elephant weigh? How would you know if you didn't have a modern scale? Six-year-old Cao Chong, the most famous child prodigy in Chinese history, faced just this problem! Chong watches as the prime minister's advisors debate different methods.
Live! Nothing Stopped Sophie by Cheryl Bardoe: When her parents took away her candles to keep their young daughter from studying math…nothing stopped Sophie. And when she tackled a math problem that male scholars said would be impossible to solve…still, nothing stopped Sophie.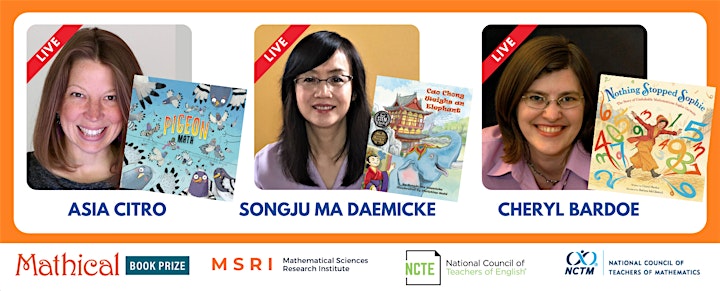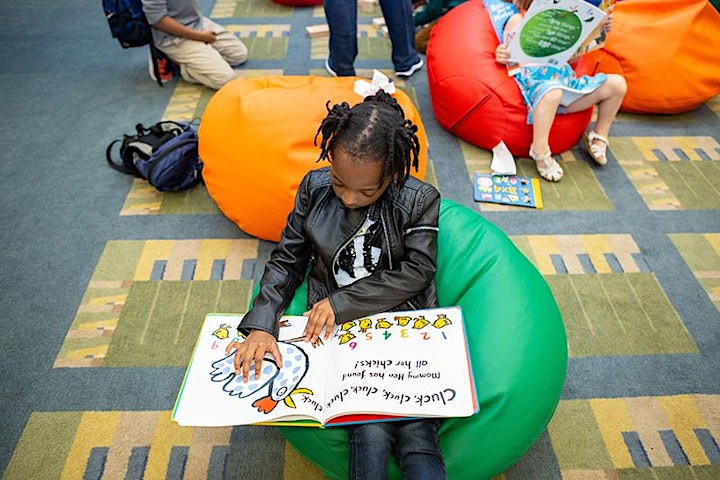 How can I get more information about the 2021 National Math Festival?
Sign up for the National Math Festival email newsletter to get news alerts about featured performances and events, guest presenters, math puzzles and resources, and more. You can follow us on Twitter and Instagram @natmathfestival and Facebook @nationalmathfestival.
About the organizer
The National Math Festival brings together some of the most fascinating mathematicians of our time to inspire and challenge all ages to see math in new and unexpected ways. The Festival is organized by the Mathematical Sciences Research Institute (MSRI) in cooperation with the Institute for Advanced Study (IAS) and the National Museum of Mathematics (MoMath).