Description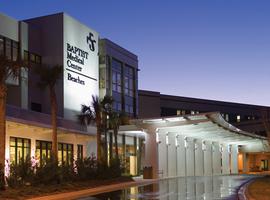 INTRODUCTION:
Baptist Health offers a complimentary tour of our maternity services for expectant parents delivering at our Baptist Health locations. We know that it's important to feel comfortable at the hospital where you will deliver your baby. Often it's the little things like knowing where to park and which entrance to use when you're in labor that help reduce anxiety. This is a walking tour so please wear comfortable shoes you will be shown around the LDRP area and will see a birthing room (if available). Your tour includes information on the variety of educational classes and have your questions answered by the nurse conducting the tour. The tour may last up to 45 minutes depending on the size of the group.
TOUR REGISTRATION:
In order to provide the optimal experience the group size is limited. Please select a ticket for the mom-to-be and then bring your significant other with you.
Note: You don't need to print out the ticket as once you are registered you are on the roster. We will check you in when you arrive for your tour. When you enter the hospital from the main entrance and you will be directed to the tour.
HOSPITAL PRE- REGISTRATION:
Pre-registration is located in the Main Entrance of the hospital to the left of the information desk.

Registration is available Monday - Friday between the hours of 7:30 am - 4:30 pm, please bring a photo ID and your insurance card.
SIBLINGS:
In order to enhance the experience for the entire group, if possible, small children should not attend. Strollers are not allowed in the maternity area.
PRIVACY DISCLOSURE:
Baptist Health has engaged Eventbrite unaffiliated company to provide a convenient event scheduling and process and service for our patients. Any information that you enter into Eventbrite is governed by the Eventbrite Privacy Policy and the Eventbrite Terms of Service Agreement.
evtDept:maternity%Maternity|evtType:tour%Tour| evtLoc:facility%Facility|evtTopic:maternity-suite-tour%Maternity Suite Tour A