Maternity Suite Tour

Saturday, June 7, 2014 from 12:30 PM to 1:30 PM (EDT)
Event Details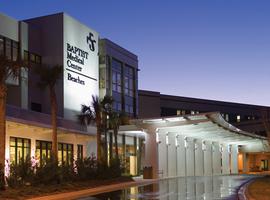 INTRODUCTION:
Baptist Health offers a complimentary tour of our maternity suites for expectant parents delivering at our Baptist Health locations. We know that feeling comfortable at the hospital where you will deliver your baby can make a world of difference. The little things like knowing where to park, how to register, and where to go when you're in labor will help reduce your anxiety. This is a walking tour, so please wear comfortable shoes.  Your tour includes information on the variety of educational classes available, as well as information on how to pre-register. You will be shown around the LDRP area and will see a birthing room (if available). Your educator will spend time answering any questions you may have. 
TOUR REGISTRATION:
In order to provide the optimal experience, the group size is limited.  Please register for a ticket to reserve your space. Please indicate the number in your party on the ticket. Note: You do NOT have to print out the ticket. Once you register, your name is on the roster, and we will check you in when you arrive. 
TOUR DURATION:
The tour will last approximately 45 minutes to one hour and meets in the back entrance of the hospital at the L&D Maternity entrance. 
SIBLINGS:
Siblings are welcome, but strollers are not allowed in the OB area.
TOUR CANCELLATION:
To accommodate others who may wish to attend this tour, we ask that all cancellations be submitted at least 72 hours prior to the start of the tour.  
VIRTUAL TOUR:
Take a virtual tour of each of our Baptist hospital maternity suites

PRIVACY DISCLOSURE:
Baptist Health has engaged EventBrite, an unaffiliated company, to provide a convenient event scheduling and processing service for our patients.  Any information that you enter into EventBrite is governed by the EventBrite Privacy Policy and the EventBrite Terms of Service Agreement.
Organizer
Baptist Health
Baptist Health is the only nonprofit, mission-driven, community-owned healthcare system in North Florida. We are here to serve the community's needs with the area's most comprehensive healthcare network, providing a full spectrum of high-quality clinical services across the continuum of care to support your family's health and wellbeing at every stage of life. Noted by our community for having the best doctors, best nurses and best overall quality, our circle of care is unlike any other in our region.