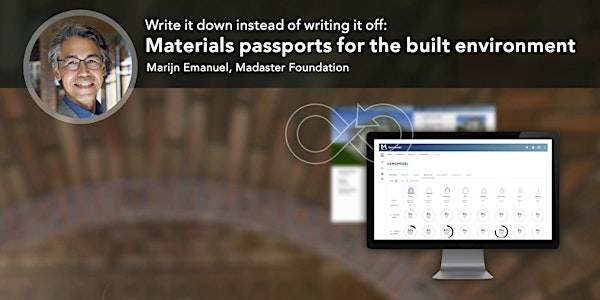 Materials passports for the built environment
Online lecture by Marijn Emanuel on April 7 at 1pm EDT Maryland time, 19.00 CET Netherlands time. Free. Advance registration required.
Refund Policy
Contact the organizer to request a refund.
Eventbrite's fee is nonrefundable.
About this event
Madaster considers the earth as a closed system where there should not be any waste. Raw materials are limited editions and scarce. Through registration and documentation of products and materials used in the built environment, they can be reused in a circular economy and waste can be eliminated. Marijn Emanuel will discuss:
Circular building strategies and case study
Materials passports
Initiatives for (inter)national guidelines and standards
The Madaster platform
TIME & REGISTRATION
1pm EDT Maryland time, which is 19.00 CET Netherlands time. The lecture is approximately 1 hr, followed by 20 min panel discussion with Q&A.
Open to the public. Admission is free. Donations are optional; proceeds will be used for architecture education programs.
Advance registration required.
The webinar will be conducted in English language.
This event was originally scheduled for March 15 but it has been rescheduled to April 7.
AUDIENCE
The lecture is geared towards architects, developers, construction companies, engineers, building deconstruction companies, and students.
About the speaker
Marijn Emanuel is one of the six founders of Madaster, the register for materials of the built environment. Before founding and working for Madaster, he has been an architect at the office of RAU architects in Amsterdam, where is he still active. Currently, he is working on the content of this platform on a daily basis.
Recent article by Emanuel: Mind over Matter
About Madaster
The Madaster platform was established in 2017 and went live immediately with one goal: to eliminate waste in the construction sector. The philosophy is clear. A management system that gives materials a future is desperately needed. There is a need for more insight and cooperation in order to clarify the environmental impact of materials. Risks must be reduced and business cases must be worked on to increase the value of used materials. And that starts with a first step: establishing who owns which materials. Waste is material without identity. It is time to exchange the linear economy for a circular one. Because only a circular system can eliminate waste. Moreover, material with identity always retains its value. Madaster is neutral and independent, but above all easy to use. The target group that can use it is quite broad: From property owners, design teams, app developers, facility companies to the general public. It is available 24/7.
About this webinar series
This lecture is one of a series of lectures in 2021 organized by Cristina Murphy, Assistant Professor at Morgan State University School of Architecture + Planning (MSU SA+P), with assistance from Baltimore-Rotterdam Sister City Committee (BRSCC). The webinar series includes speakers from the U.S.A. about Baltimore's cityscape and urban design, and speakers from the Netherlands about innovative construction materials and circular design systems such as reuse, remanufacturing, and recycling in the built environment. Special thanks to Jeremiah Ekoja, Graduate Assistant at MSU SA+P, for his help with coordinating the lecture series.
See other lectures in this series
Webinar series sponsors
Thank you to our bronze-level sponsor, Brennan + Company !
Interested in sponsoring this series? Contact Baltimore-Rotterdam Sister City Committee, the event organizer. Proceeds benefit our architecture education programs.