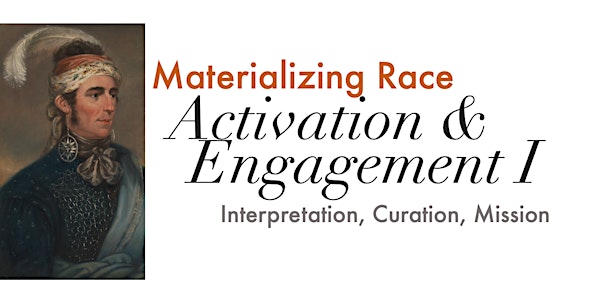 Materializing Race: Activation & Engagement I
Hear museum professionals and scholars discuss objects, identity, and early American history in museums and public history settings.
About this event
***A Zoom link has been sent to registered attendees via email, please note that this event is being broadcast using Zoom, NOT Eventbrite***
Building off of our first Materializing Race "unconference," we invite you to join us for "Activation and Engagement I: Interpretation, Curation, Mission." This free Zoom event is the first in a two-part series focused on bringing historical issues of race and identity to the forefront of museum and historic site programming and the public humanities more broadly. Our focus is on the Americas between roughly 1450 and 1830.
We will begin with a lightning round-style panel featuring four ten-minute presentations, followed by a moderated question and answer period. The second panel will take the form of a moderated roundtable discussion between curators from Canada, Mexico, and the United States, with time for audience comments and questions.
Saturday, September 26, 2020 at 1PM-3PM EST (on ZOOM)
Panel 1: Objects in Focus
"The 'Ownership Bracelet': False Assumptions, Insurgent Histories, and the Technology of Captivity," Joseph Yannielli (Aston University) and Christine Whyte (University of Glasgow)
"Extracting Presence: Interpreting a 1725-1750 Silver Tray from South America," Brittany Luberda (Baltimore Museum of Art)
"Whose Chair? Reframing Ownership within Mount Vernon's Decorative Arts Collection," Jessie MacLeod (George Washington's Mount Vernon)
"An Ecuadorian Virgin in California: the Case of the Cantor Arts Center's Virgin of Quito," Kate Holohan (Cantor Arts Center, Stanford University)
5-minute break, with event resuming at approximately 2:10 PM EST
Panel 2: Curatorial Roundtable
This panel will feature the following museum professionals:
Mayela Flores Enríquez, PhD Candidate, Universidad Iberoamericana (formerly the Museo Franz Mayer)
Michael Galban, Curator, Seneca Art and Culture Center, Ganondagan State Historic Site
Jean-François Lozier, Curator of French North American History, the Canadian Museum of History, and Assistant Professor, Department of History, University of Ottawa
Jorge Rivas Pérez, Frederick and Jan Mayer Curator of Spanish Colonial Art, the Denver Art Museum
*Event schedule subject to change. In the event of a change, we will make every effort to update the schedule as soon as possible.
About Us
In the spirit of fostering nuanced interpretations of early American objects and meaningful dialogue on historical constructions of race and their legacies, Materializing Race offers virtual opportunities to share and discuss scholarship on the intersections of identity and material culture in #VastEarlyAmerica. Energized by Dr. Karin Wulf's call for broader, more inclusive histories of the Americas, our open sessions seek to promote a diverse cross-section of scholarship.
Founded in 2020, Materializing Race is an independent, volunteer-run initiative. We are grateful to our panelists for generously donating their time and expertise, and to our audience for being the core of our community and the embodiment of our vision.
For more information about us and to learn about future events, please visit our website.
We would like to thank the Society of Winterthur Fellows for their generous sponsorship of this event.