Mater Dei Radio's Vancouver Celebration

Monday, March 12, 2018 from 7:00 PM to 9:00 PM (PDT)
Event Details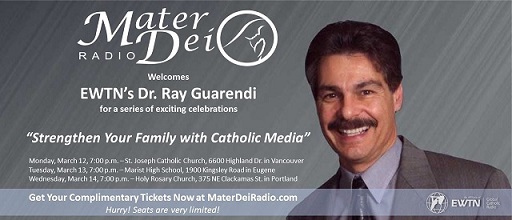 Join Mater Dei Radio for an Exciting Celebration with EWTN's Dr. Ray Guarendi!
Mater Dei Radio wants to thank you for being an important part of our family with an invitation to be our guest for a special celebration in Vancouver, featuring EWTN's Dr. Ray Guarendi! You'll discover characteristics most common to strong families, as well as the struggles and difficulties most families face. The results will reinforce some traditional ideas about family life, while offering some reassuring surprises.
Equip yourself for Lent. Don't miss Dr. Ray's "Strengthen Your Family with Catholic Media" on Monday, March 12th, at 7:00 p.m. – St. Joseph Catholic Church, 400 South Andresen Road in Vancouver. 
As a guest of Mater Dei Radio, you can enjoy up to four complimentary tickets for this memorable evening. The tickets are free, but very limited. We look forward to seeing you, your family, and friends at Mater Dei Radio's special celebration!
About Dr. Ray Guarendi:  Dr. Ray Guarendi is a Catholic father of ten adopted children, a clinical psychologist, author, professional speaker, and national radio and television host. His radio show, "The Dr. Is In" can be heard on over 440 stations, including Mater Dei Radio. His TV show, "Living Right With Dr. Ray" can be seen on EWTN Global Catholic Network and is aired in 140 countries.

When & Where

St Joseph Catholic Church
400 South Andresen Road
Vancouver, WA 98661


Monday, March 12, 2018 from 7:00 PM to 9:00 PM (PDT)
Add to my calendar
Organizer
Mater Dei Radio is a Rosary apostolate that proclaims the Gospel of Jesus Christ through our radio stations - KBVM 88.3 FM (Portland, Salem, & Vancouver, Washington) and KMME 94.9 FM/100.5 (Cottage Grove, Eugene, & Springfield), as well as online at www.MaterDeiradio.com.  Mater Dei Radio envisions a region where there is a vibrant, expanding audience with a personal connection to Jesus Christ through Catholic media.