Description
A Match Box Mixer is a new and revolutionary way to meet people in NYC. Stop endlessly swiping on Tinder and other dating apps! Come on out and meet quality singles in real life at this fun social mixer.
HOW IT WORKS:
* Come on out an mingle with lots of fun, friendly singles while sipping cocktails in a casual setting.
* Upon arrival you'll get 7 "match cards" with your name and email address on them.
* You'll get a name badge and a number that corresponds to your "match box" located on a table in the venue.
* When you meet people you'd potentially like to see again or if anyone in the room catches your eye, simply put one of your cards in their match box.
* The day after the event our host will send you an email with the names & email addresses of the people that were interested in you! (And of course we'll email the people you were interested in with your contact info as well).

Age Range - 20s, 30s & 40s Are Welcome To Attend (Most Of The Crowd Is 25 to 45)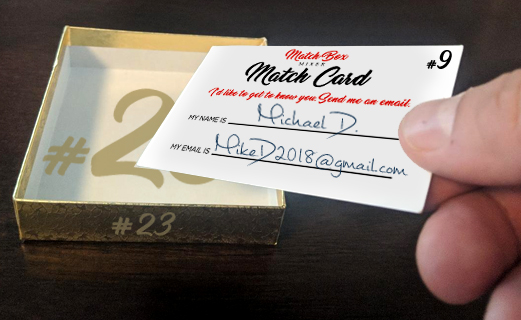 (QUICK NOTE: TICKET PRICE WILL BE GOING UP TO $40 AS EVENT TIME APPROACHES AND MAY SELL OUT. THIS IS A PRE-PAY ONLY EVENT. YOU HAVE TO GET YOUR TICKETS HERE IN ADVANCE ONLINE - YOU WON'T BE ABLE TO SIGN UP AT THE VENUE)
A recent email we received:
"Thank you so much for organizing such a fantastic event! I was pleasantly surprised with the quality of people who attended. I've been to speed dating before and enjoyed it but I liked this event because it was more free flowing and social than speed dating. The host (Ardella) was super sweet and made everyone feel welcome and comfortable. I met some nice people and ended up meeting a great man. We've been dating for 3 weeks now and it seems to be heading toward a committed relationship" - Diana T., NYC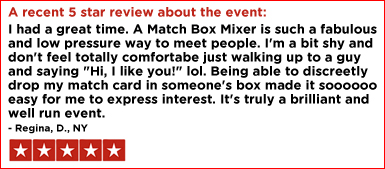 What to expect:

Between 70 and 100 Singles!


Event Goes From 7:00 PM to 10:30 PM. Arrive At Your Leisure (Doors Open At 6:30 So You Can Come Directly After Work If You'd Like)


Laid Back Icebreaker To Help Facilitate Introductions

Drink Specials!

Great Music Played At Just The Right Volume For Mingling



FAQ:
Can I come alone? Yes about 75% of those attending will be coming solo. But you can also invite friends to join you. Everyone must have a ticket to enter.
Is there a dress code? No specific dress code. We just suggest neat, casual or stylish. No gym gear or baseball caps.

Do I have to arrive at the event start time? No, you can arrive any time you'd like and you can depart at any time you'd like.

Do I have to pick 7 people? Absolutely not. You can put a match card in as many or as few peoples' boxes as you'd like.
If I don't speak to someone during the night but see them and they catch my eye, can I put my card in their box? Absolutely! You can put your match card into anyone's box you like. In fact, we'd say that this is one of the coolest aspects of the event. How many times has someone caught your eye and you wished there was a simple way to let them know you were interested?

This event takes place at one of NYC's hottest and most beautiful venues... LeGrande.