Description
MASTERS CLASS: WRITING & THE BUSINESS OF POETRY w/ BETHSHEBA A. REM AKA QUEEN SHEBA & TAMIKA 'GEORGIA ME' HARPER - AS PART OF TAMIKA FEST IX - THRIVE!

Thank you for joining us for the first instalment of our POETRY MASTERS CLASSES. We will be scheduling these classes once a quarter. Please sign up again and again! No two classes will be the same, experience. This class is open to the first 50 participants to ensure personalized attention to the work, questions and answers. The class is open to anyone 18 years old or older, at any stage of your writing/performance career.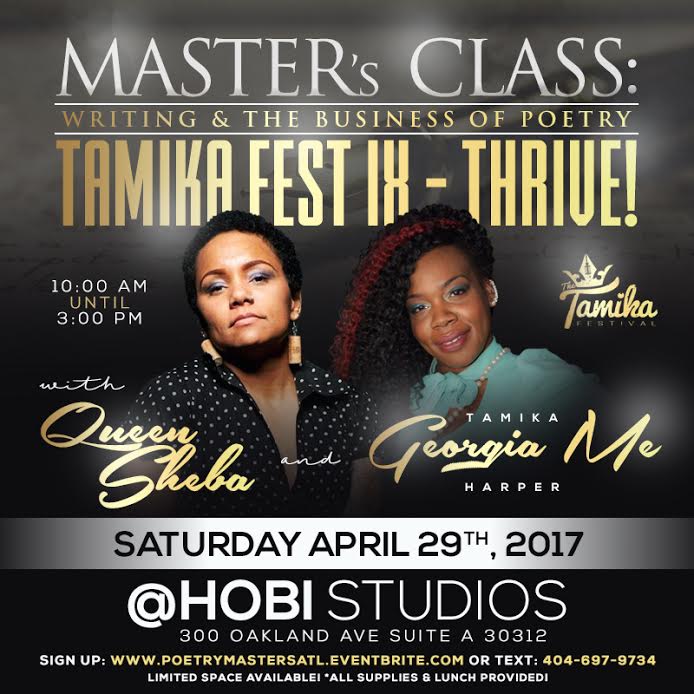 Tamika 'Georgia Me' Harper is a decorated veteran of performance poetry boasting a Tony Award, Emmy Award, BAFFTA, Peabody, KUUMBA Award winner; she is awarded her own day in the city of Atlanta: May 4th. She has been the guest poet on: Russell Simmons presents Def Poetry Jam TV, HBO Def Poetry Jam (7 Appearances), Verses&Flow Season 1 Finale, TODAY SHOW, MTV I Used to be Fat episode 113, BET Lyric Cafe ALL STAR TV, CARSON DALY, and BET MONIQUE SHOW. Founder of "ADAM'S RIB" All female performance collective
Tamika 'Georgia Me' Harper is responsible for countless poet's career boosts, appearances on national television and traveling abroad. Performed at over 200 colleges, universities and schools domestic and abroad.

Bethsheba A. Rem|Queen Sheba earned her MFA (Masters of Fine Arts) in Poetry starting at Antioch, then graduationg from Queens University (of Charlotte) which allowed her to study abroad in Argentina in her final semesters. Sheba has been seen on season two of Verses and Flow, brought to you by Lexus on TV One, and has been on the Apollo, Spoken, a featured poet on Lyric Café on BET, 106 & Park, the Apollo and the feature length film "Spit". Sheba has six albums, two of which were up for a Grammy under the Spoken Word category and she is a two-time NAACP Image Award Nominee. Her works have appeared in numerous anthologies, magazines including Vibe Online and the focus of college student's papers. Queen Sheba has two books: From Foster Care to Fame short stories and poems too long for three minutes and Run Ugly! A motivational book for runners. Performed at over 200 colleges, universities and schools domestic and abroad.
*PLEASE ARRIVE ON TIME - We only have 5 hours to get through a lot of information*
10A - Arrive and Welcome
10:30 - First Half Writing & Editing
12:30 - Active Lunch Break
1P - The Business of Poetry: How to do what, where. The truncated version.
2P - Sharing and Q&A
3P - HARD OUT (there is an event after hours that needs set up. Pictures and extended play can be moved outside)
Bring: One (1) completed one page poem for editing suggestions.
Tuition Includes: light breakfast: coffee, bagels, fruit, juice, water lunch: sandwiches, salad, fruit, dessert
open bar will be available throughout the entire class. Participants are expected to drink responsibly. If participants fall asleep, due to drinking or any other reason, you will be asked to leave immediately.
Tuition Includes: Notebook, folder and pens and one book of poetry
FMI: 404-697-9734 TEXT ONLY
*Brought to you by: Below the Radar, Lady Girl Production as a part of Tamika Fest IX - THRIVE!
*HOBI STUDIOS is a black owned business.