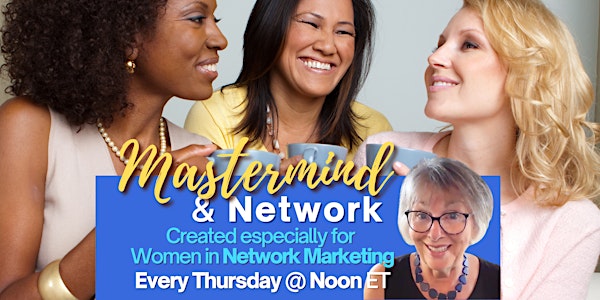 Multiple dates
Mastermind & Network for Women In Network Marketing
Join women in Network Marketing to share products, insights, and support. We believe in empowerment and abundance. We'd love to meet you!
Date and time
November 10, 2022 · 9am - March 30 · 10:15am PST
About this event
Women are unique in building their businesses in that they are open to sharing and supporting other women.
We may be in different companies with different products and philosophies, but for those with an abundance mentality, you know that we are collaborators rather than competitors.
Round 1. will be a 60-second introduction to a product or service you offer. We suggest for those of you with multiple products that you choose just one to talk about.
Round 2. will be focused on addressing challenges you may be having in your business. You are asked to state the challenge as briefly as possible, and the floor will then be open for input from others. This is where everyone is invited to offer their wisdom.
We will end at the top of the hour, but the room will stay open for another 15 minutes for any follow-up discussions and networking.
This is a group specifically brought together to meet each other. It has been created and will be facilitated by veteran Network Marketer and DSWA-certified coach Lorna Rasmussen. Join Lorna on Facebook to learn more about her and her approach. If you are not already a member, please join us at Women in Network Marketing from Start to Success
What others are saying about Lorna,
Nicki Keohohou, Co-Founder of the Direct Selling World Alliance (formerly the Direct Selling Women's Alliance)
"I have known Lorna for over 20 years. She was one of the first members of the Direct Selling World Alliance and has been involved throughout the years. She has gone through all the courses to become a Certified Business Coach with Coach Excellence School."
"Lorna is an intelligent, knowledgeable, and gifted coach who has the ability to support anyone in business. She is thought-provoking in her coaching and supports her clients in discovering their own answers. Lorna's diverse and successful background in business gives her the ability to support people who have the desire to grow their businesses and live a better life."
Angela Nelson, one of Lorna's client
"Lorna is a dedicated business coach who is determined to educate and empower women to create their own success stories. She generously shares her wealth of knowledge and expertise.
I am thankful for her insight and guidance and for her friendship."
Audrey DeBarros: Life Mastery Coach
"You are the best person to offer this kind of program to not only network marketers but to any other entrepreneur! When I was in network marketing, I could not have been effective without your leadership, coaching, and loving support!"
About the organizer
Women entrepreneurs hire me to Dream it and Fund it because most are wasting time, money, and their sanity trying to figure out how to have their dream lifestyle. So I help them get focused, with efficiency, consistency, and profitability for a massive impact.  Bottomline by working with us, you can build an amazing business and a lifestyle to match. Guaranteed.
My company, Pura Vida Wisdom, was born out of a desire to integrate running a business with enjoying a healthy, satisfying, and fulfilling life. We have looked to the Costa Rican Pura Vida Lifestyle as inspiration for an intimate, inspirational, and affordable support system for women in business. Whatever and wherever you want your business to be, we hope to inspire and support you to build a business that works with your life rather than trying to wrap your life around your business.
We exist to empower, enlighten, and encourage women in their businesses. To help them take control of their lives and livelihoods to experience financial abundance and make an impact on the world.
In short, to make your soul sing, the cash register ring, and the world a better place because you do what you do.
Join our FACEBOOK Group to learn more and interact with us. https://www.facebook.com/groups/fromstart2success