Description
Looking for an affordable life-changing gift idea for yourself, a family member, friend, co-worker or employee? Look no further! Ready to rise higher in 2019? Perhaps you know you'd like to make a difference with your life, but not quite sure what that might be. Wouldn't you like to have the cash, time and resources to DO more, BE more and ACHIEVE more? Maybe you are entering into a new "phase of life," and ready for some changes in this new chapter. Some of you are soaring to new heights and may be ready to go to the "next" level, would like to do it in record time, but not quite sure of the steps you need to take to get it done. Perhaps you have been living and working far beneath your potential and you "know that you know" you are destined for so much more than what you've been producing in your life. If you aren't inspired by the people around you...perhaps it's time to meet some new people!!! Are you or anyone you know... ready to get serious about your future and make 2019 one of the best years ever? If so...this is OPPORTUNITY banging on your front door!
Register today to Host and/or Attend one or more of our Bon Appetit Mastermind Lunch & Dinner Parties for High Achievers each MONTH and let us help you get on the fast track and stay focused towards achieving all the dreams and aspirations you have for your personal & professional life in 2019. "Iron sharpens iron." Mastermind groups have transformed the world; let's bring that same concept to NWFL.
A Mastermind is the fastest way to get to your next level. It's a group of like minded individuals all working together to elevate their game - to achieve the life they've always dreamed of.
What We're About
Inspiration - Achievement - Recognition - Mastermind Collaborations - Personal & Professional Development - Networking - Socializing - Food - Friendships - FUN!.
Ordinary People: Extraordinary Lives: Most of us would say we want to make a difference with our lives and know we are living far beneath our potential. Come join the fun in a comfortable setting where you are free to share your big dreams and aspirations, ask, seek and give advice, learn, have a ton of fun, make new friends and leave filled with inspiration, tools and resources to create, fund and live the life of your dreams; a life worth smiling and talking about!
Better Life 90-day Challenges: If you are serious about radically changing your life over the course of the next 12 months, join our group and accept the "Better Life Challenge," a 90-day challenge where we strive to improve every area of our lives by setting goals and making small incremental changes each day, week, month and year.
Our vision is to create, fund and live a well-balanced life filled with purpose, achievement and financial prosperity. We believe that actions speak louder than words, so we hold one another accountable and track results. Each month, participants set goals, we track and report our results and recognize one another for our achievements.
We work as 20 Teams of 5 individuals per Chapter. 90-day competition periods. Individual - Team - Chapter - Regional Awards & Recognition. Save over 50% when you register before December 15th!
***********************************
Expectations: We inspire and challenge one another to rise higher; to do more, be more and achieve more. We aren't afraid to call a spade a "spade." We celebrate all achievements, no matter how small or large. Everyone contributes and brings something to the table besides "food & drinks;" i.e. relevant and timely topics for open discussion, ideas, questions, advice, knowledge, skillsets and expertise. Our goal is to live a life worth smiing and talking about; as well-balanced as possible with wins in ALL areas of our life.
HQ Location: We've found a wonderful space at the mall that could serve as a Personal & Professional Development Training Academy Regional Headquarters that could be available 7 days a week for public and private use if we can secure enough Sponsorships to fund the facility. (More details to come.)
How You Can Help: There are several ways you can help; (1) Register as a Mastermind Member, attend & participate in our events each month, (2) Host an event in your home or business, (3) Sponsor our events and advertise and promote your business to our Network each week or (4) Become a Project Supporter by signing a 12-month pledge commitment, making you eligible for Revenue-sharing royalty rewards.
******************
How Does Revenue-Sharing Rewards Work?
We're launching some very exciting programs in 2019. This is an AFFORDABLE option for everyday families and business owners to support their community and be rewarded for their efforts.
We pitch & fund each of these programs via CROWDFUNDING campaign, which means alot of everyday people like you and I are invited to make a small donation of $30, $50 or $100 for the purpose of funding small business startup grants throughout the region. We offer our Supporters a revenue-sharing royalty reward as a thank you for their efforts. Every time one of our projects generates a dollar in revenue, a percentage is set aside as a reward for our Supporters. Each month we meet and discuss each of our projects. Rewards are distributed every month or every 90-days depending on the project. A win-win for all participants.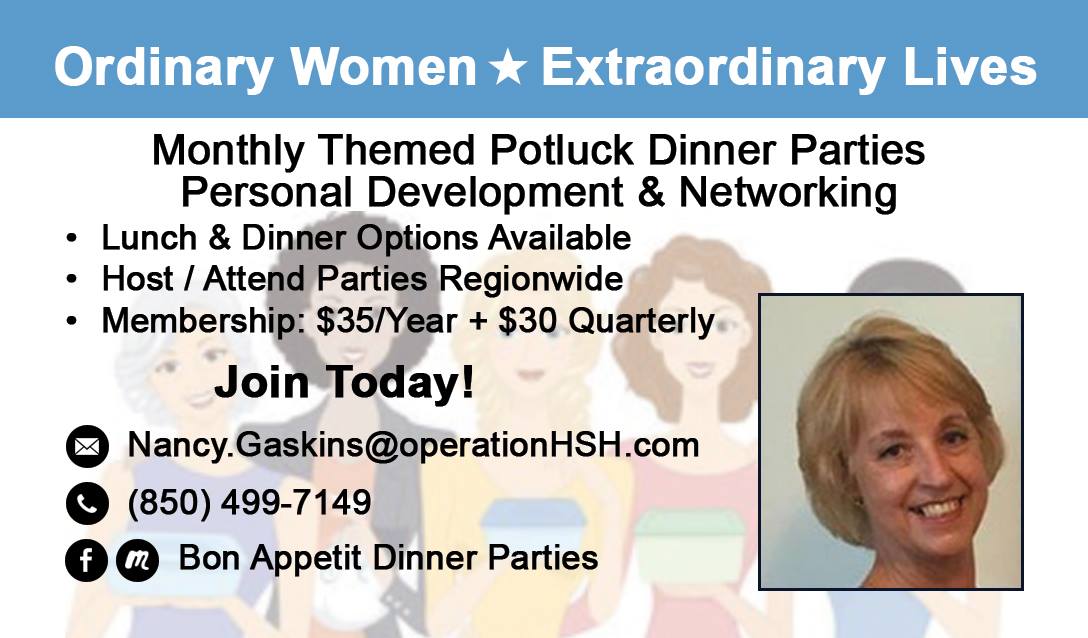 REGISTRATION INFO
January - March 2019 Party Reservations Registration is Now Open:
We schedule our parties 90-days out so we are now booking Hosts and taking Lunch & Dinner Party reservations for January - March 2019 in each of our 5 counties of NWFL. You may Host 1 or more parties quarterly, monthly or weekly. Time Slots Available: 11:30 - 1 or 6-7:30pm Monday through Friday.
********************************************
Due to the enormous size of our region, 375 thousand households, We are launching this program in phases every 90-days throughout NWFL. Phase 1 registration is open for LADIES only. ***
Early Bird Mastermind Membership Annual Registration: (Save over 50% - Save $30) Only $35 if you register in December.
Lunch/Dinner Party Reservations: $120/Year, payable $30 every 90-days beginning January 2019.
Business Host Sponsorships: $100 Quarterly (Unlimited Hosting 90-days) or $50 to Host 1 event during a 90-day period.
To Register: click on the next available date and category you're registering for. You will receive a confirmation of receipt for your payment from "Jeremiah 29:11 Ministries, Inc." I will email you with further details and schedule a time for us to chat, meet and finalize the details of your participation.
Nancy Gaskins (850) 499-7149.
Date and Time
Refund Policy