Mastering Your Seasons | Women's Conference 2017

Friday, June 2, 2017 at 6:30 PM

-

Saturday, June 3, 2017 at 6:00 PM (CDT)
Event Details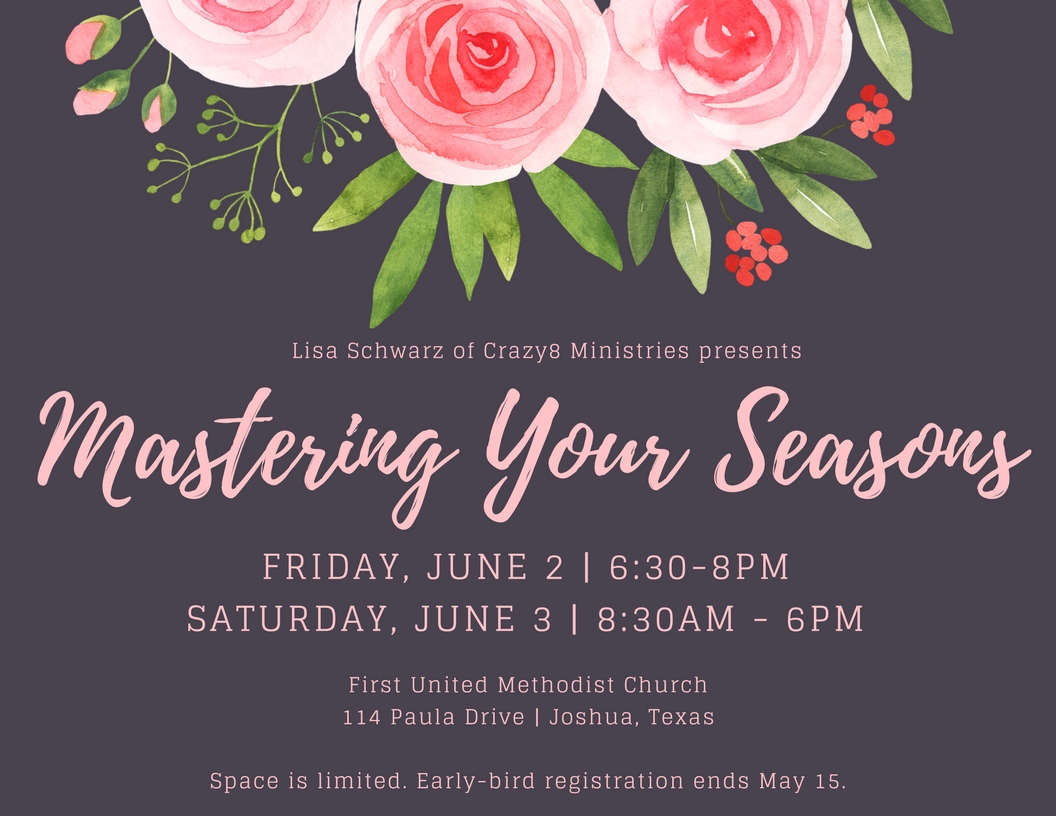 Mastering Your Seasons
We've invited Lisa Schwarz, author of Mastering Your Seasons and Founder/CEO of Crazy8 Ministries to be our keynote speaker. Using biblical teaching, Schwarz will guide us through seasons of life to strengthen our resolve and embrace the purpose of our challenges that God has in mind.
Women from all over the DFW Metroplex (and beyond) will be coming to FUMC Joshua for a very special weekend packed with worship, teaching lessons by Lisa Schwarz, and breakout sessions designed to equip and empower you - giving you new ideas and strategies to master your seasons for God's glory. We'll laugh, we'll cry, we'll sing, and we'll eat ... it's guaranteed to be a great event!
Bring your mom, your girl friends, and your sisters and join us for amazing worship, music, laughter, and what will certainly be a conference you won't want to miss.
LISA'S TEACHING LESSONS
WINTER: There's A Feast in Your Famine
SPRING: Embracing New Beginnings
SUMMER: A Time to Play
FALL: Rise Up and Harvest
BREAKOUT SESSIONS (select two)
Mastering Your Seasons offers a unique conference format that allows YOU to choose two breakout sessions — making it easy to jump from topic to topic and choose the workshops most relevant, important, and applicable to you. You'll have the opportunity to meet other women and nurture relationships that will be valuable long after the conference has ended.
Healthy Relationships // 12:30pm & 1:10pm - One of the greatest obstacles in the lives of individuals is the inability to establish healthy relationships. Many people don't know how to define a healthy relationship, nor are they able to set healthy boundaries. Instead, we struggle with fears and often feel trapped or stuck. This session is all about understanding God's design for relationships and enforcing that design in your own life. Discover the truth about your relationships and learn how to move into the freedom of God's most excellent design in all your connections. This session is led by Lisa Schwarz, our keynote speaker and Founder/CEO of Crazy8 Ministries.
Balanced Living & Aromatherapy // 12:30pm only - Would you like to feel less anxious and more relaxed? Come learn about aromatherapy - the practice of using natural ingredients to enhance your well-being - and how to use essential oils to manage your mood and emotions. Participants will also create their own essential oil perfume. Materials provided by Tracy Juarez, a doTerra Wellness Advocate and busy mom committed to healthy living for her growing family!
Spiritual Gift Assessment // 12:30pm only - Spiritual gifts are the expression of God's heart through His people into the world around them. Not only do they serve to build up His church, but they also reveal his character to a broken, hurting world. In this session, participants will complete a short survey to assess and determine her spiritual gifts. Then, discuss ways these gifts are manifested through your personality, strengths, and interests. Led by Rev. Dale Wilbanks, Senior Pastor at First United Methodist Church, Joshua, Texas.
Building Community // 1:10pm only - Explore how to make your neighborhood your mission field and build an authentic Biblical community. Participants will discuss practical ways of nurturing relationships to be hospitable and mission-focused with those they live, work, and worship with. Led by Nicole Hutchison, Director of Discipleship and Outreach Ministries at First United Methodist Church, Joshua, Texas.
I Like to Move It, Move It // 12:30pm & 1:10pm - For those who are tired of sitting or need to burn off some energy, meet Coach Hollie in the Gymnasium. Session One (12:30pm) is Tabata-style, interval training. Session Two (1:10pm) will be outdoors for a casual walk around the neighborhood, weather permitting. Led by fitness enthusiast Hollie Walsh, Personal Trainer AFAA, NASM.
Unleash the Power of Prayer // 12:30pm & 1:10pm - Explore four keys that unlock your ability to discern the voice of God within your heart. God is not a silent friend - He longs to speak to you. When you begin to listen, using vision and recording by way of flowing thoughts and pictures, you will hear His voice. Your prayer life will never be the same! Led by Shirley Greenroy, Intercessory Ministry Director at Crazy8 Ministries.
Color & Doodle // 12:30pm & 1:10pm - If you need some quiet time to reflect or a place to listen to music, here's your opportunity to sit, relax, meditate, and color or doodle. Colored pencils, crayons, markers, and coloring pages are provided. 
Missions That Matters // 12:30pm & 1:10pm - FUMC Joshua is blessed with a thriving outreach ministry devoted to its mission: loving God, growing in grace, and serving others. Today, YOU have the opportunity to support this ministry by assembling birthday bags for inner-city youth, organizing canned goods in the Helping Hands Food Pantry, packing essential kits for the homeless, or getting your hands dirty in our Community Garden.
CONFERENCE AT A GLANCE
Friday, June 2 | 6:30-8pm
Worship & Teaching Lesson
Saturday, June 3 | 8:30am -6pm
A day filled with worship, three teaching lessons with Lisa, personal reflection, prompted small group discussion, and breakout sessions. Light refreshments and lunch are provided for conference attendees.
CHILDCARE | provided SATURDAY only
Childcare is provided SATURDAY (8am-6pm) for $20 per child (0-8 years). Space is limited to 25. A separate registration form must be completed by a parent or legal guardian at drop-off. Lunch and snacks for the entire day must be provided for each child by the parent/guardian. 
CANCELLATION POLICY
Cancellations received by May 15 will received a refund minus a $20 administrative fee. After May 15, no refund will be provided. However, registrations are transferable. Contact Nicole Hutchison (nicole.m.hutchison@gmail.com) to transfer a registration.
When & Where

First United Methodist Church
114 Paula Street
Joshua, TX 76058


Friday, June 2, 2017 at 6:30 PM

-

Saturday, June 3, 2017 at 6:00 PM (CDT)
Add to my calendar
Organizer
First United Methodist Church - Joshua, TX

First United Methodist Church is a diverse body of Christian disciples actively engaged in the community and committed to loving God, growing in grace, and serving others. Our ministry activites for children, youth, adults, and families exist to provide an environment where everyone is empowered to know Jesus Christ more fully and encouraged to share His love with others. Join us for worship every Sunday at 8:30 and 11am or watch or live stream at www.joshuaumc.net. 
Mastering Your Seasons | Women's Conference 2017