Mastering the Entrepreneurial Mind

Monday, June 29, 2015 from 6:00 PM to 7:30 PM (EDT)
Event Details
Mastering the Entrepreneurial Mind
Monday, June 29, 6:00-7:30pm
Led by: Amita Shukla, Founder and CEO of Vitamita, Author of Enduring Edge
About the Class
In today's fast-changing business world, disruption has become the norm and agility is critical for survival and success. Entrepreneurs need to know how to harness resilience in the face of failure, master the art of pivots, and lead transformation in organizations and industries often resistant to change. Yet, while there are many manuals and bootcamps on startup best practices, where does an entrepreneur go to master the inner game of entrepreneurship? How do you learn to train your mind to drive success?
In her new book, Enduring Edge, Amita Shukla presents a groundbreaking new paradigm on the mind that emerged from over a decade of diligent research and experience in the trenches of entrepreneurship and innovation. She reveals practical insights for how we can learn to overcome weaknesses—and harness the strengths—of our mind to gain an enduring edge in how we use it. Join us for a discussion with the author that promises to enlighten, inspire, and stretch your mind. For, as Shukla writes, "those who learn to harness the power of their mind do more than transform their lives—they change the world."
Note: Each attendee will receive a free copy of Enduring Edge
About the Teacher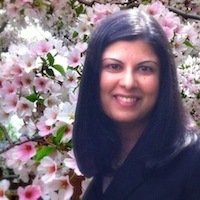 Amita Shukla is focused on creating and scaling simple yet powerful ideas to advance human health, well-being, and potential. She is the Founder and CEO of Vitamita and the author of Enduring Edge. Previously, she spent nine years at New Enterprise Associates, one of the world's largest venture capital firms with close to $17 billion in committed capital, where she invested in healthcare companies. Amita regularly mentors startups, advises organizations, and speaks to audiences of innovators, entrepreneurs, and leaders in industry, academia, government, and the military. As a Governor's appointee, she has served on the board of Maryland's Technology Development Corporation (TEDCO) since 2010. She is also a Mentor in Residence at Johns Hopkins and a founding board member of the Global Liver Institute. Amita has a BA in biochemistry from Harvard and an MBA from Stanford. She holds 10 patents. Learn more at http://www.vitamita.com
 --
REFUND POLICY: Please let us know at least 7 days before the scheduled event if you cannot make it by emailing us at registrar@betamore.com. No refunds will be issued within 7 days.
INCELEMENT WEATHER POLICY: In the case of inclement weather, notice of a class cancellation will be provided at least 24 hours in advance. The class will be rescheduled for a later date and details will be provided as soon as the new date/time is confirmed. If you have a conflict, a full refund will be given for the ticket price, less any servicing fees.
Organizer
Established in 2012, Betamore is an award-winning coworking space, incubator and campus for technology and entrepreneurship. Our mission is to make Baltimore a global entrepreneurship destination.
Interested in becoming a member? Apply here.
Interested in teaching a class at Betamore? Let us know.