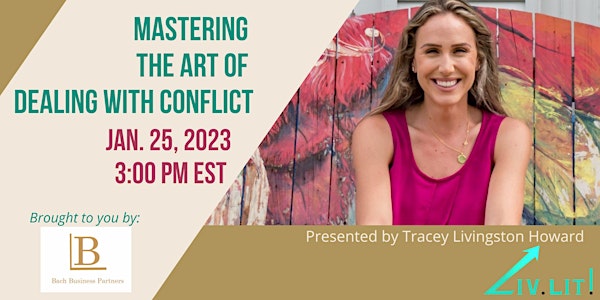 Mastering the Art of Dealing With Conflict
Focus on recognizing and resolving conflict with Bach Business Partners and Liv.Lit! co-founder Tracey Livingston Howard
About this event
Great leaders recognize and resolve conflicts in their organization early and often. In practice, it can be challenging to know how to best deal with difficult people, stressful situations, and complex problems.
During this one-hour webinar, we'll introduce you to the 9 essential skills of conflict resolution and how to put them into practice. This introductory session will help business owners and senior managers learn how to:
• STOP avoiding people and situations that need your attention
• START resolving conflicts early and often
• AND BEGIN to master the art of dealing with conflict
If you're ready to take your team and your company to the next level of success, join us at 3:00 pm on January 25th, compliments of Bach Business Partners.
Your Presenter
Tracey Livingston Howard, the Co-Founder of Liv.Lit!, coaches high-growth CEOs and is a master-licensed trainer in conflict resolution. Tracey has facilitated more than 60 in-person and virtual workshops across 8 countries for people who seek transformational ways to grow their leadership, communication, and conflict-handling approaches.
Liv.Lit! is the only KD Licensed organization in Europe, Africa, and the Middle East that delivers Kilmann Diagnostics' Intellectual Property in the Thomas-Kilmann Instrument (TKI Assessment) and their material in the 8-tracks of quantum transformation.
Your Host
Bach Business Partners is a coaching and consulting organization dedicated to working with small business owners in the green industry. Through one-to-one coaching, group training, best practice discussions, and annual events, Steven and Jonathan Bach -- along with a team of coaches -- work to address the four core functions common to all businesses: people & resources, financial performance & tracking, customer relationships, and continuous improvement. As a result, businesses in the Bach Business Partners Network experience 10-15% growth year-over-year while adding 10-15% to the bottom line.