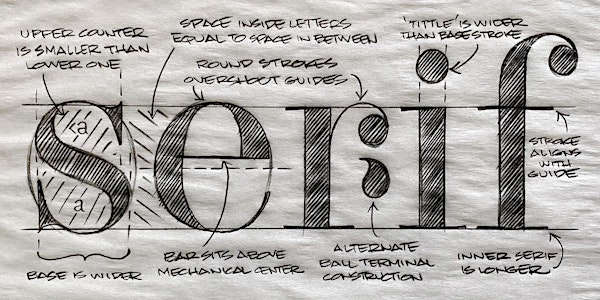 Mastering Serif Letterforms
Level up your hand-lettering by unlocking the secrets of serif letterforms. Open to all skill levels, from beginners to experienced artists.
Refund Policy
Refunds up to 7 days before event
Eventbrite's fee is nonrefundable.
About this event
The ability to correctly draw well-constructed serif letterforms is an essential skill for all lettering artists. But, understanding how to proportion and place those extra stroke endings can be confusing if you haven't mastered the style. Have you ever wondered: Which strokes should be thick, and which ones are thin? How should the letters be shaped? Or, where the heck do I put the serifs, anyway?! In this fun and informative online workshop, you'll learn how to produce stylish serif letterforms with confidence and ease.
Using a popular thick–and–thin style as our guide, we'll focus on standard upright serif letterforms. Starting with the lowercase, we'll organize them into basic groups to gain a deeper understanding of their shared traits. You'll grasp the nuances and special characteristics of serif forms as I draw and explain core letters. We'll also look at alternate constructions and various stylistic features that you can use to customize your work and produce truly distinctive lettering.
Next, we'll analyze the different upright capital forms, concentrating on their unique structural details. Sketching a selection of individual letters, I'll highlight defining features while illustrating how certain qualities relate to both uppercase and lowercase. A detailed 30-page instructional PDF will provide additional information and valuable guidance as you learn how to properly size and space letters, evaluate and harmonize negative shapes, adjust stroke weights, and create balanced letter-based designs.
Join me for this entertaining info-packed workshop, and observe professional lettering techniques firsthand. Sketch along with me as I take you through a letterer's decision-making process, and answer all of those deep burning questions you have about serif letterforms!
In this class, you'll learn…
• The anatomy of uppercase and lowercase serif letterforms, as well as their distinct features
• The defining traits that characterize common serif letter styles
• How to work more efficiently by identifying the shared qualities of similar letterforms
• Effective ways to create, evaluate, and balance both positive and negative shapes
• How to correctly proportion uppercase and lowercase serif letters
• Best practices for spacing serif letterforms
• Practical drawing techniques to produce consistent and engaging serif lettering
This class is ideal for…
• Newcomers and casual artists interested in gaining a solid foundation for drawing serif letterforms
• Experienced letterers looking to sharpen their skills
• Designers who want a deeper understanding of serif letters to help with type selection, or to enhance their own work
• Aspiring type designers seeking to create a successful systematic set of letters
• Artists and illustrators curious about the details of serif letterform construction
You'll need these materials if you choose to draw along with me…
• pencils and a pencil sharpener
• an eraser
• some tracing paper
• grid/graph paper
• a ruler
• a stable internet connection and access to the Zoom app
• you're also welcome to use a digital drawing tablet if that's your thing
• a copy of the House Industries Lettering Manual is recommended
Because this workshop is structured as a live lettering demonstration with audience Q&A, I won't be able to comment on attendees' individual lettering pieces as I do in my smaller more intimate workshops.(Unfortunately, there will not be a recording of the event available after the end of the class.)
Open to students of all skill levels—register today!

Meet your instructor…
Hi! I'm Ken Barber, a letterer, type designer, author, and instructor. I blame Don Martin comics, Santa Cruz skateboard graphics, and speed metal logos for my obsession with letterforms. For over 25 years I've produced distinctive logos for global brands, in addition to a number of award-winning fonts. My work is part of a few fancy institutions, including the Cooper-Hewitt National Design Museum, and the Henry Ford Museum of American Innovation. I'm the type director and studio letterer at House Industries, and I teach at The Cooper Union in New York City. I've authored three books, the most recent of which is my Lettering Manual released in 2020.